John Henry Morgan
Length of Service: 1 year
His tour began April 16, 1966
B Company, 4th Battalion, 9th Infantry, 25th Infantry Division
Died at the age of 18 in Binh Duong, South Vietnam
Cause of Death: Hostile, Ground Casualty, Misadventure
The Knoxville News Sentinel
Saturday Evening, May 28, 1966
Knoxvillian, 18, Killed in Vietnam War
"I just don't see no need of the war in Vietnam." These were the words of Mrs. Mildred Morgan, 1209 W. Fourth Ave., upon hearing about the death of her 18 year-old son, Pvt. John Henry Morgan, in Vietnam.
According to the telegram she received, Pvt. Morgan was killed Thursday, "as a result of wounds received from metal fragments from friendly artillery." His mother said that from what she understood, her son was returning from a patrol and was mistaken for an enemy soldier. Mrs. Morgan said her son never said too much about the war, but in one letter he said it was like "hell."
Young Morgan had talked about building a home for his mother and three sisters when he returned. "I just don't see no need of the war in Vietnam. It doesn't seem like they're going to quit till they send all of these young boys over there to get killed," Mrs. Morgan said.
Pvt. Morgan, who attended Farragut High School, had been in the Army a little over a year and in South Vietnam barely one month. Besides his mother he leaves his father, Raymond Morgan, Concord; three sisters, Mary Rosetta, Sarah Loretta and Grace Marie Morgan, and one brother, Charles Clifford Morgan, Concord.
Rank: Private First Class
Date of birth:
21 June 1947
Date of death: 26 May 1966
County: Knox
Service Branch: Army
Division/Assignment: 9th Infantry, 25th Infantry Division
Conflict: Vietnam
Awards: Bronze Star, Purple heart
Burial/Memorial Location: Shady Grove Cemetery, Knox County, TN
Location In Memorial: Pillar XXIII, Middle Panel
---
Image Gallery
Click a thumbnail below to view at full size.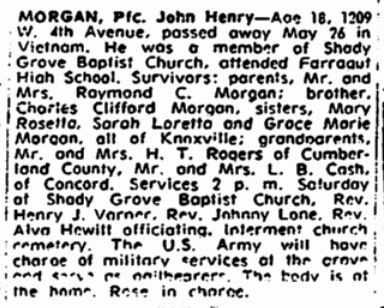 ---