Private First Class Joseph "Joe" Maynard Cox was assigned to the 319th Infantry Regiment, 80th Infantry Division, part of General Patton's Third Army. On 7 November the division was assaulting the Saar Valley.
PFC Cox was killed in action on the 10th of November 1944, and is interred at the Lorraine American Cemetery, St Avold, France, located at J,9,28.
Joe attended Fall Branch High School and before enlisting in the United States Army worked at a rayon plant in Johnson City, Tennessee. He enlisted on 3 December 1942 and after completing basics was assigned to Company I, 3rd Battalion, 319th Infantry Regiment, 80th Infantry Division.
At 1730 hours (5:30pm) on 11 October 1944, Company I left the assembly area in attack formation as the forward element to assault Hill 236, northeast of Bois du Fort des Trappes, France. Company gained it's objective by 1900 hours (7pm), but had met with heavy artillery and mortar fire with some small arms resistance. 2330 hours (11:30pm) the company returned to their defensive positions, but Joe wasn't with them. He was killed in action this evening earning him a second Purple Heart. Joe had been wounded prior to this engagement on 7 October 1944.
Joe was 20 years old and the son of Samuel T. Cox and Alma R. Collins. His two older brothers: William Paul Cox and Garland D. Cox both served during World War II. William in the United States Army Air Forces and Garland in the United States Army with Company F, 343rd Engineers.
Submitted by Allen D. Jackson USAF (Ret.)
Rank: Private First Class
Date of death: 10 November 1944
County: Washington
Service Branch: Army/Army Air Forces
Division/Assignment: 319th Infantry Regiment, 80th Infantry Division
Theater: Europe
Conflict: World War II
Battles: Hill 236 France
Awards: Purple Heart with Oak Leaf Cluster
Burial/Memorial Location: Lorraine American Cemetery, St. Avold (Moselle), France
Location In Memorial: Pillar XIX, Middle Panel
---
Image Gallery
Click a thumbnail below to view at full size.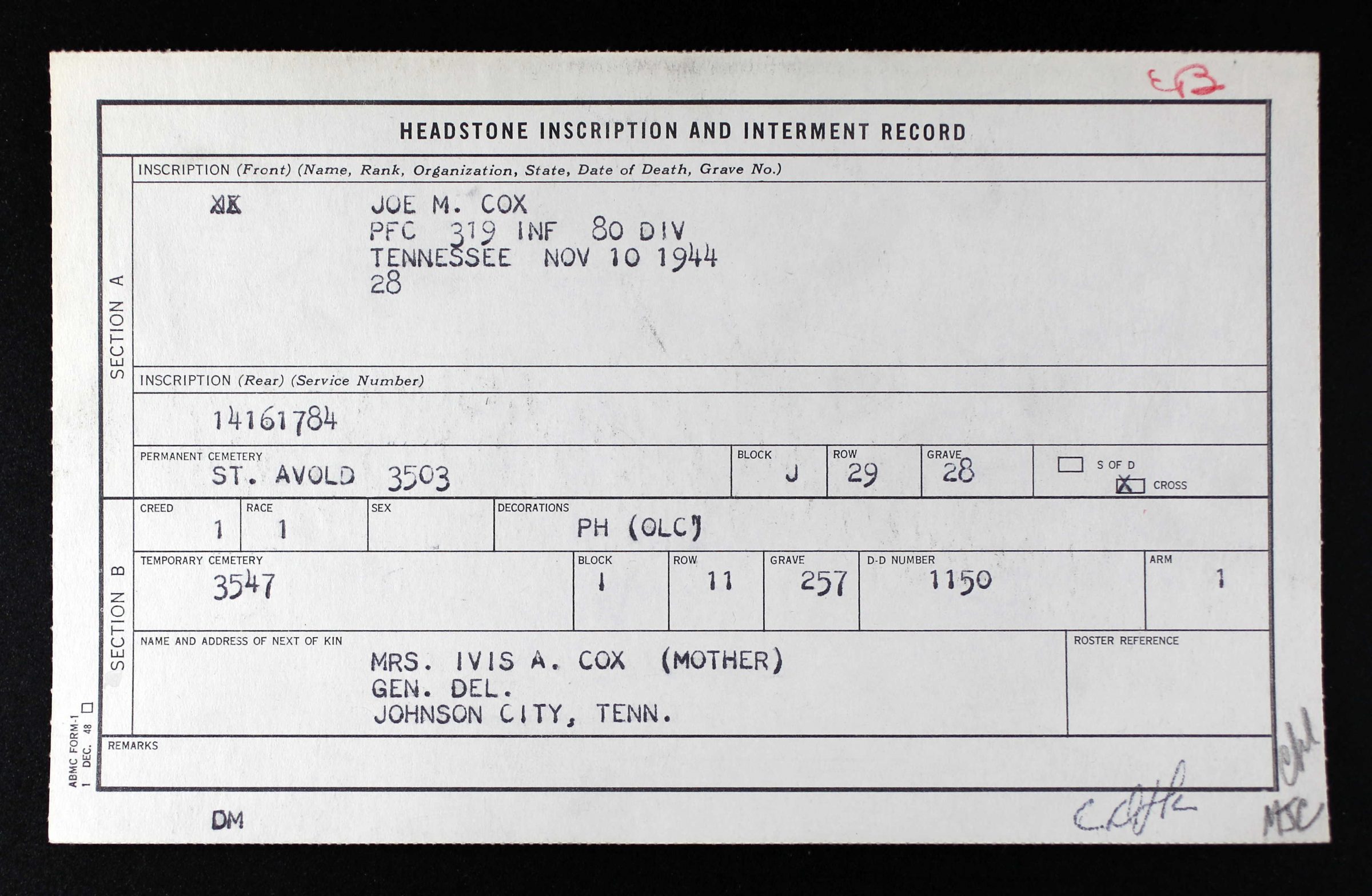 ---