Born 11 March 1911, North Carolina
Died non Battle 9 April 1944
Master Sergeant
Air Corps, 420 A.A.F. Base Unit
M/Sgt Church is buried at Greenwood Cemetery, Montgomery County in Alabama. Cenotaph in Arlington National Cemetery.
Fresno Bee Republican, 10 April 1944
Mojave Air Crash kills 10 fliers. March Field, April 10 – Ten men were killed, the army air forces here announced today, when a B-24 bomber on a combat mission crashed three miles west of the marine base at Mojave yesterday. Bodies of two have not been recovered. The public relations office said these dead were identified:
Second Lieutenant Frank A. Gurley, Jr., 24, son of Frank A Gurley, Sr., 974 South Third Street, Louisville, Ky.
Second Lieutenant William H. DeThorn, 20, son of Mrs. Betty DeThorn, 1716 Hyde Park Avenue, Waukegan, Ill.
Sergeant Michael Rudick, 19, son of Mrs. Bertha Rudick, 1029 Meeting Street, Charleston, S.C.
Master Sergeant Jessie H. Church, 35, whose widow, Mrs. Sybil Church lives at 2876 Fifth Street, Riverside, Calif.
Corporal Morris J. Youngblood, 19, son of Mrs. Chess Youngblood, Okla.
Corporal Thomas Perry, 20, son of Vernon Perry, 907 South Sherborne Drive, Los Angeles.
Sergeant William Mahan, 19, son of Mrs. Isabelle Mahan, Fort Lewis, Wash.
Sergeant George W. Beck, 21, son of Arne Beck, New Holland, Ill.
Rank: Master Sergeant
Date of birth:
11 March 1911
Date of death: 9 April 1944
County: Sullivan
Service Branch: Army/Army Air Forces
Division/Assignment: Air Corps, 420 A.A.F. Base Unit
Conflict: World War II
Awards: Greenwood Cemetery, Montgomery County, Alabama
Location In Memorial: Pillar XVIII, Top Panel
---
Image Gallery
Click a thumbnail below to view at full size.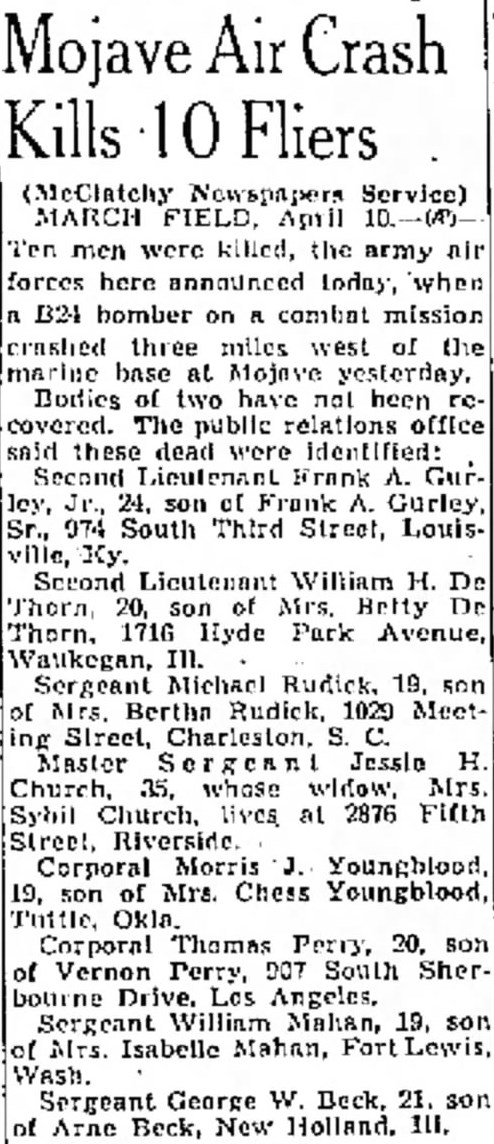 ---