Jefferson Clifford Chesnutt
Military Data
MOS 7335 Pilot HMH
Length Service 06
Unit HMM-263, Marine Amphibious Group-15, 9th Marine Amphibious Brigade, FMFPAC
Casualty Data
Age at Loss 24
Location Quang Nam Province, South Vietnam
Remains Body recovered
Casualty Type Non-hostile, died of other causes
Casualty Reason Helicopter – Pilot
Casualty Detail Air loss or crash over land
Marine Amphibious BrigadeWall Panel 19E Line 056
Jefferson Chesnutt attended the University of Chattanooga in 1962-1964
Jefferson the husband of Wanda J. Chesnutt and loving father of sons Jefferson C. II, and Charles S. Chesnutt, the son of Mr. and Mrs. Joseph Chesnutt all of Hixson TN was a veteran of over six years of service in the U.S. Marine Corps. In Vietnam he was a assigned as a helicopter pilot to and served with HMM-263, MAG-15, 9th MAB, FMFPac.
During troop extraction and Med-Evac operation during lift-off from a designated Landing Zone the main rotor of a UH-34 struck the tail section of another aircraft and crashed. One of the Marines killed was Capt Chesnutt who was the pilot on the aircraft.
Rank: Captain
Date of birth:
22 May 1942
Date of death: 8 May 1967
County: Hamilton
Hometown: Hixson
Service Branch: Marine Corps
Division/Assignment: 9th Marine Amphibious Brigade
Conflict: Vietnam
Awards: Distinguished Flying Cross
Burial/Memorial Location: Hamilton Memorial Gardens, Hixson, Hamilton County, TN
Location In Memorial: Pillar XXIII, Top Panel
---
Image Gallery
Click a thumbnail below to view at full size.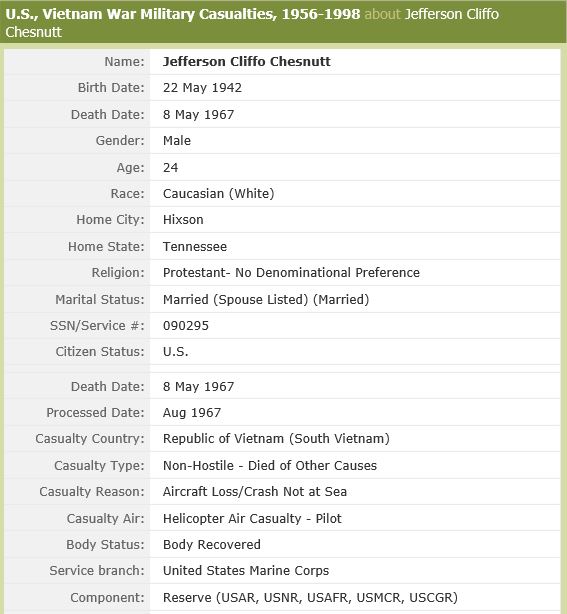 ---