James William Dial
Married
Company B, 1st Batallion, 69th Armor, 4th Infantry Division
Length of Service: 18 years
His tour began on November 19, 1967. He died at the age of 39 in Binh Dinh, South Vietnam.
Cause of Death: Hostile, Ground Casualty, Artillery, Rocket, or Mortar
Service Occupation: Armor Crewman
SSG Dial died during the Battle of An Bao, 5 May 1968 to 7 May 1968. This was a large scale battle against elements of the 3rd NVA Division including the 97th Battalion, 2nd VC Regiment; the 7th Battalion, 22 NVA Regiment; and the 9th Battalion, 22 NVA Regiment. B Company 1/69 was supporting Companies A, B, and C of the 1st Bn 50th Infantry (Mech). The ferocity of the battle is indicated by the statistics: there were 117 enemy KIA; friendly losses were 22 KIA and 93 WIA. 5 M113A1 APCs were destroyed, 1 UH1C gunship was destroyed, and three additional helicopters were damaged.
Sgt. James W. Dial, who was to have retired next February after 22 years with the Army, was killed on May 6 in Vietnam, his family here has learned. Sgt. Dial. 38, son of Mrs. Wilhelmena Dial Posey, 98 Summitt Ave., was killed by a Communist rocket during a battle in a jungle, according to a telegram Mrs. Posey received. He had been in Vietnam since November. He had served in Korea during the conflict there and in Germany. He was employed by S.H. Kress and Co. before entering the Army. He attended Austin High School. He was marred to Mrs. Joanna Dial, New York City, but the couple had been separated for several years. He also leaves a son, Reginald Eugene Dial; daughter, Deborah Marie Dial; both of New York City; James Dial; Cincinnati; brother, Nathaniel Dial, Knoxville; sisters, Mrs. Barbara Jean Thomas, Cincinnati; and Mrs. Mable Scales, Oklahoma City. He was the grandson of the late Mrs. Mable Minus of Knoxville. The body will be returned to Knoxville for burial. Sgt. Dial was the 39th Knox Countian to be killed in Vietnam. – The Knoxville News Sentinel, Sunday, May 16, 1968
Rank: Staff Sergeant
Date of birth:
12 November 1928
Date of death: 6 May 1968
County: Knox
Service Branch: Army
Division/Assignment: 69th Armored Regiment, 4th Infantry Division
Conflict: Vietnam
Burial/Memorial Location: Knoxville National Cemetery, Knoxville, TN
Location In Memorial: Pillar XXIII, Middle Panel
---
Image Gallery
Click a thumbnail below to view at full size.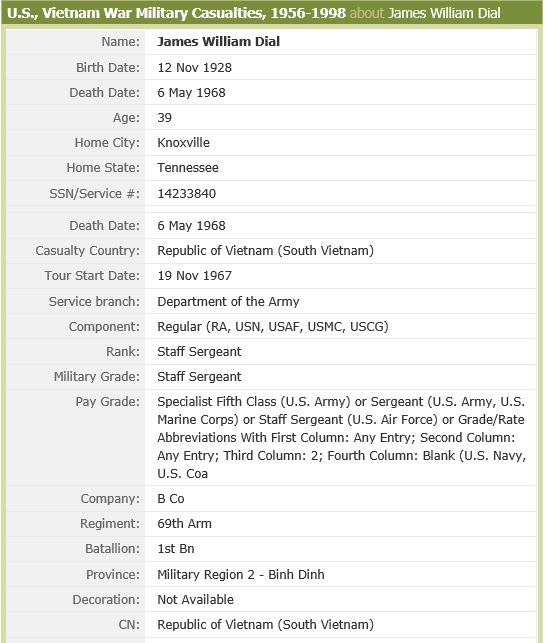 ---