Private First Class James Vernon Gross of Lake City was born on October 31, 1918. He was the son of Isaac Thomas and Dora Belle Kinley Gross. He served in the European theater of the war in the 723rd Railway Operating Battalion. He died in Germany on March 31, 1945. He was buried in Beech Grove Cemetery on October 31, 1948.
Private First Class Gross was the brother of Earl Gross, Arnold Gross, Evelyn Gross, Mildred Gross, and Joe M. Gross. His death is listed as died non-battle.
"Prior to his service in the 723rd Railway Operating Battalion, PFC James V. Gross, Ser# 7083530, served in L Company, 119th Infantry Regiment, 30th Infantry Division. This is confirmed by two Morning Reports M.R. for that Company
M.R. of 4 Aug 1944, Pvt. Gross was assigned to L Company from the 86th Replacement Bn. MOS 607 light motor crewman. Then on M.R. of 16 Aug 1944, Pvt. James V. Gross, MOS 607, light motor crewman was appointed PFC, MOS not changed.
Presently, I am only researching L Company from the time that they landed on Omaha Beach on 13 Jun to 20 Aug 1944. Therefore, I do no know when he transferred out of the unit. However, it must have be after 20 Aug which is the last date that I have a Morning Report for."
-Submitted by Michael P. Kramer, son of a member of L Company
Clinton Courier News, Oct. 28, 1948
Pfc. James V. Gross, age 26, was killed in action in Aachen, Germany in March 1945. He had been wounded twice before in action. He was a member of the Beech Grove Baptist Church. He attended the Lake City High School before entering service. Survivors are his mother, Mrs. Issac Gross of Lake City; three sisters, Mrs. Evelyn Oldham of Maryville, Mrs. Mildred Phillips of Lake City, and Miss Eunice Gross of Lake City; three brothers, Carl of Oak Ridge, Arnold and Mack of Lake City.  The funeral services will be conducted Sunday Oct. 31 at the Beech Grove Baptist Church with the Rev. W.H. Lee and Dr. W.B. Yates officiating. The burial will be in the church cemetery with the American Legion Post 205 in charge at the grave.
Rank: Private First Class
Date of birth:
31 October 1918
Date of death: 31 March 1945
County: Anderson
Hometown: Lake City
Service Branch: Army/Army Air Forces
Division/Assignment: 723rd Railway Operating Battalion
Theater: Europe
Conflict: World War II
Awards: Purple Heart with Oak Leaf Clustr
Burial/Memorial Location: Beech Grove Cemetery, Lake City, Anderson County, TN
Location In Memorial: Pillar VI, Top Panel
Sponsored by: Paul R McNiel
---
Image Gallery
Click a thumbnail below to view at full size.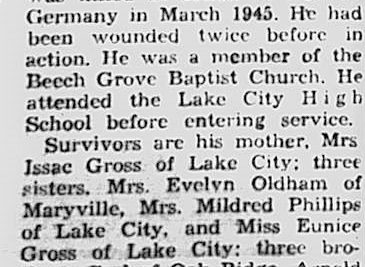 ---