James Timmons Bell
Born 23 February 1923, Colorado Springs
Died 26 August 1944
Son of Ralph W. Bell, Colorado Springs, Colorado.
Second Lieutenant
448th Bomber Group, 715th Bomber Squadron, 8th Air Force
Aircraft B-24H, with serial number 41-28924 departed from Seething on a bombing mission to Ludwigshafen, Germany. The aircraft was hit by flak over the target. It crashed at Friesenheimer island near Mannheim-Sandhoven. 6 Chutes were seen.
Crew members
Pilot, 2nd Lt Edmond G. Postemsky
Co-Pilot, 2nd Lt Clifford Bruce Unwin
Navigator, 2nd Lt Wyllys B. Jennings
Bombardier, 2nd Lt James T. Bell
Top Turret Gunner, S/Sgt Leroy J. Canning
Radio Operator/Gunner, S/Sgt Alessandro L. Falconi
Waist/ Aerial Gunner, Sgt Adley V. Benoit
Ball Turret Gunner, Sgt Leroy J. Brizzolara
Waist/Armored Gunner, Sgt Ernesto Concepcion
Tail Turret Gunner, Sgt Charles C. Payne
Two East Tennesseans were on the same aircrew. See entry for Charles C. Payne: https://etvma.org/veterans/charles-c-payne-8911/
See pages 40-43: http://willisrowe.com/DownloadableFiles/ROWE%20CREW.pdf
Quote:
"As detailed above, I was looking directly at Ed's plane when he was hit between #3 & #4 engines. Fuel cells are located here and I was looking directly at a huge ball of fire as the wing buckled & separated. The plane (B24H 41-28924) crashed on the Friesen-heimer Island near Mannheim-Sandhofen, Germany. Nine (9) men KIA and lone survivor, Copilot Clifford B. Unwin became a POW. Our 2nd mission and their 15th mission. The MISSING AIR CREW REPORT (#9467) is mostly illegible. However, Lt. Unwin lived and was captured."
Rank: Second Lieutenant
Date of birth:
23 February 1923
Date of death: 26 August 1944
County: Hamilton
Service Branch: Army/Army Air Forces
Division/Assignment: 448th Bomber Group, 715th Bomber Squadron
Theater: Europe
Conflict: World War II
Location In Memorial: Pillar XI, Middle Panel
---
Image Gallery
Click a thumbnail below to view at full size.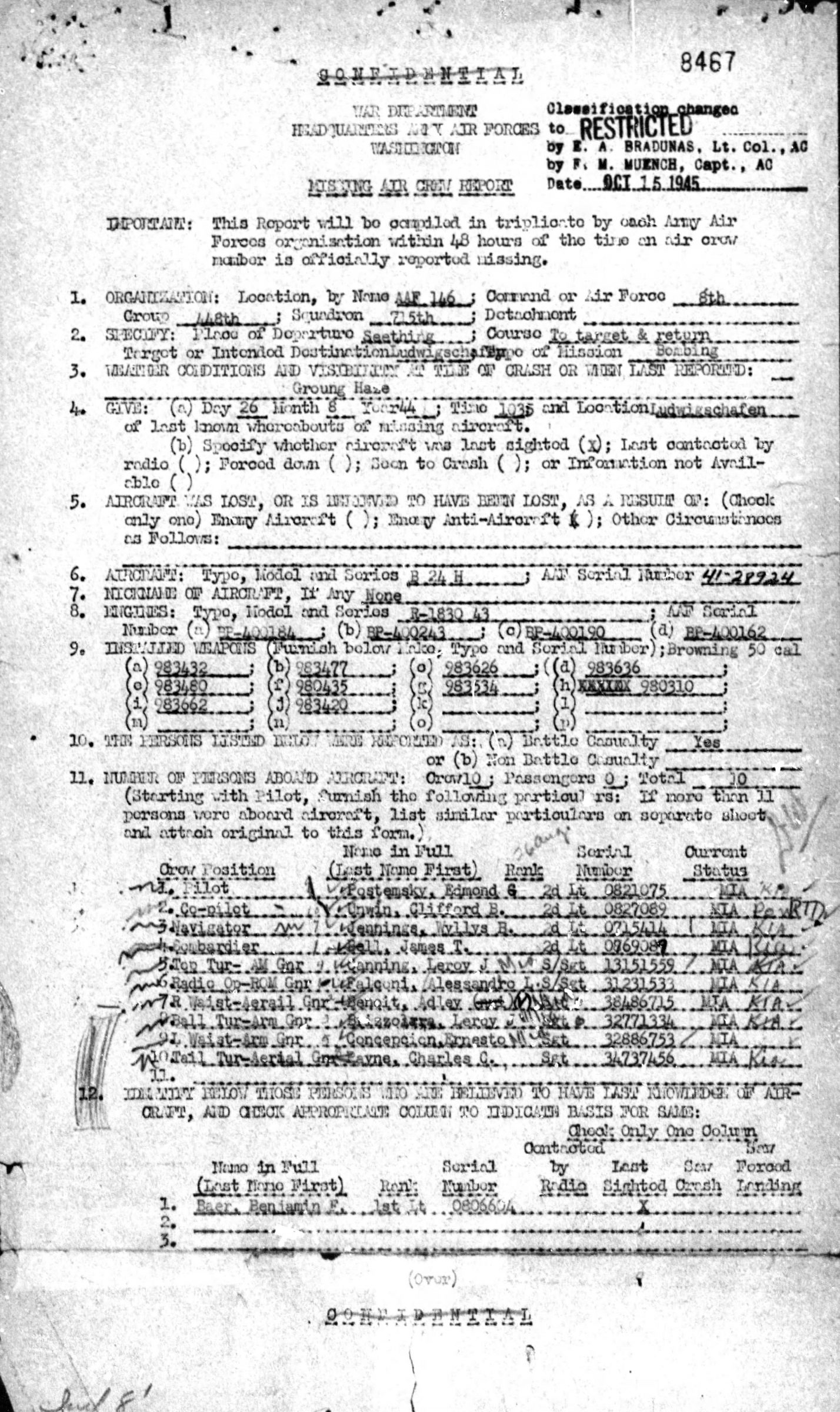 ---