Private James Oscar Joyce, Jr. died of wounds he received in action on June 1, 1951, during an advance near Hwachon, South Korea. Buddy, as he was known by, entered the service November 27, 1950, and arrived in Korea on May 1, 1951. He was serving with the 31st Infantry Regiment, 7th Infantry Division.
Buddy was a graduate of Rutledge High School class of 1947 and was employed by Enka Corporation in Morristown at the time he entered the service. He was a member of Tate Springs Masonic Lodge Free and Accepted Masons number 438. He professed his faith in Christ at the age of eighteen and attended church services at Bean Station Baptist Church.
He was born April 25, 1929, the son of James Oscar Joyce, Sr. and Etta Mills Joyce. At the time of his death, Buddy also was survived by one sister, Mrs. Wanda Ruth Gass, brother-in-law John Paul Gass, Jr., niece, Joyce Gass, and grandparents, Mr. and Mrs. J.B. Mills.
Funeral services were held for Buddy at Rutledge Baptist Church on December 2, 1951. He was laid to rest at Jarnagin Cemetery in Morristown. The American Legion and Masons were in charge of services at the graveside.
The Knoxville Journal, November 15, 1951
The body of Pfc. James O (Buddy) Joyce Jr., killed in Korea last May 2, has arrived in this country and will be received at his home in Rutledge for burial in the next week or two. The son of Mr. and Mrs. James O Royce of rutledge, Private Joyce was a graduate of Rutledge High School, where he starre don the school's basketball team. He worked in Morristown until he entered the service last October, and was in action in Korea for only five weeks before he was killed. He was 22 years old. Joyce was the nephew of Lon Mills, greenskeeper at Knoxville Munical Golf Course, and the double cousin of Bobby Mills, city and Appalachian golf champion, who was killed on the last day of World war II in Germany,
Rank: Private
Date of birth:
25 April 1929
Date of death: 1 June 1951
County: Grainger
Hometown: Rutledge
Service Branch: Army
Division/Assignment: 31st Infantry Regiment, 7th Infantry Division
Conflict: Korean War
Awards: Purple Heart, Combat Infantrymans Badge, Korean Service Medal, United Nations Service Medal, National Defense Service Medal, Korean Presidential Unit Citation, and Republic of Korea War Service Medal
Burial/Memorial Location: Jarnagin Cemetery, Morristown, TN
Location In Memorial: Pillar XX, Middle Panel
---
Image Gallery
Click a thumbnail below to view at full size.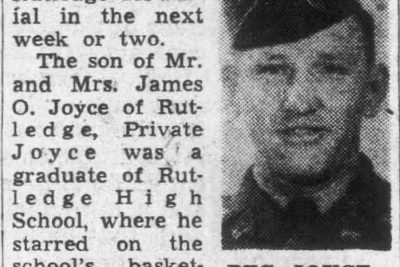 ---