James Henry Bass Jr.
His tour began on December 18, 1967
Casualty was on January 20, 1968
In Kontum, South Vietnam
Burial: Beverly National Cemetery, Burlington County, New Jersey
Plot Section J Site 3887
PFC James Henry Bass, Jr. was born on January 13, 1943, and was originally from Chattanooga, Tennessee. He served his country in Vietnam with the United States Army, as a member of C Company, 3rd Battalion, 12th Infantry, 4th Infantry Division. PFC Bass began his tour in Vietnam on December 18, 1967 and had only served a few days over a month when he was killed from fragmentation wounds on January 20, 1968, in Kontum, South Vietnam, at the age of 25. PFC Bass is buried at Beverly National Cemetery in Beverly, Burlington County, New Jersey, and is memorialized on the Vietnam Veterans Memorial on Panel 34E, Line 83. PFC Bass left behind his wife, young son and many family members, some of whom have left their thoughts and memories about him.
Beverly Freeman Jennings–
Cousin
I Remember
Dear Cousin. You were so very young. Only on this day, though, did I realize just how young for when you were taken away, I was just a teenager. Now more than 30 years later do I fully understand the sacrifice you made for your country. I remember you well.
Saturday, May 11, 2002
Monroe Freeman Jr–
cousin
I often think of you and still want to visit the Vietnam Memorial Wall when I visit Washington DC just to touch your name and say a prayer. We are again at war, this time in Iraq. Why we still think that wars solve anything is beyond me. We all miss you and often wonder what you would be doing now. Rest eternal my cousin and I know that you and Aunt Nell are together once more.
Tuesday, March 25, 2003
My Father, My Hero, My very Soul.
My Father, My Hero, My very Soul.
Posted for: JAMES HENRY BASS JR:
I am Gregory David Bass, son of James H. Bass,Jr.
I was just three and a half years old when my father lost his life in Vietnam. Because I was so young when my father died, I only have two strong memories of him. One is when he gave me a big, yellow, metal Tonka truck. (I was visiting Pensacola, FL and he came just for a short stay before making that fateful trip to the last place he would see; Vietnam.) I loved that truck and held onto it for many years. It was rugged and took quite a beating. No matter how scratched up or dented it became, it was by far my favorite toy vehicle. As a child, I had no understanding of why I loved that truck so much. A three year old does not know the meaning of sentimental value but unknowingly that is exactly what that truck had over me.
The second memory, although not of a physical nature of the man himself, will forever have a lasting affect on my life: The Funeral. The 21 Gun Salute, the folding of the Flag and the handing of the Flag to my mother Sandra, will forever ring loud in my mind. Pictures as gripping as seeing JFK,Jr saluting his father's casket; seeing Jessie Jackson pointing to the direction of where the shots came that took M.L. King's life at the Lorraine Motel; The hijacked planes crashing into the Twin Towers and all of the aftermath. Just as these pictures will ring forever in America's history, My Father's funeral will in mine.
My father came from a large family; five boys and two girls. He was the eldest child to James, Sr and Nellie Bass.
He was the ultimate older brother and looked up to by all of his siblings. James,Jr was the apple of his mother's eyes, not because he was the first born but more because of who he was and what he stood for as a person. His life was taken away far too short before this world could feel the full impact of a greatness he would have imposed upon it. Those of us that have survived him, felt and will continue to feel that greatness. "The legacy of a great man, no matter the capacity, will never die. It lives on in the hearts and minds of those he left behind".
I have not mentioned yet that I have a younger sister, Pamela Bass, who loves and is just as proud of her father as I am. She was just two when his life was taken.
Growing up without a father, you cannot help but wonder how things would have been and would be if he were still alive. Would I be who am I am today? Would I have made the same decisions I have made in my life? Would I have the things I have now or would they be more or less? These questions, of course can not be answered, but being a father myself of four girls, I know it would have been great if he were in my life.
I am proud to be my father's son and although I am presently thirteen years older than my father was when he died, I am still striving to fill his shoes.
James Henry Bass, Jr. He was my Father, My Hero and is still my very Soul.
I love you Dad and you are in my life every day.
Your Son,
Gregory D. Bass 09-16-02
Posted by: Gregory D. Bass
Thursday, March 24, 2005
Rank: Private First Class
Date of birth:
13 January 1943
Date of death: 20 January 1968
County: Hamilton
Hometown: Chattanooga
Service Branch: Army
Division/Assignment: 4th Infantry Division
Conflict: Vietnam
Burial/Memorial Location: Beverly National Cemetery, Burlington County, New Jersey
Location In Memorial: Pillar XXII, Bottom Panel
---
Image Gallery
Click a thumbnail below to view at full size.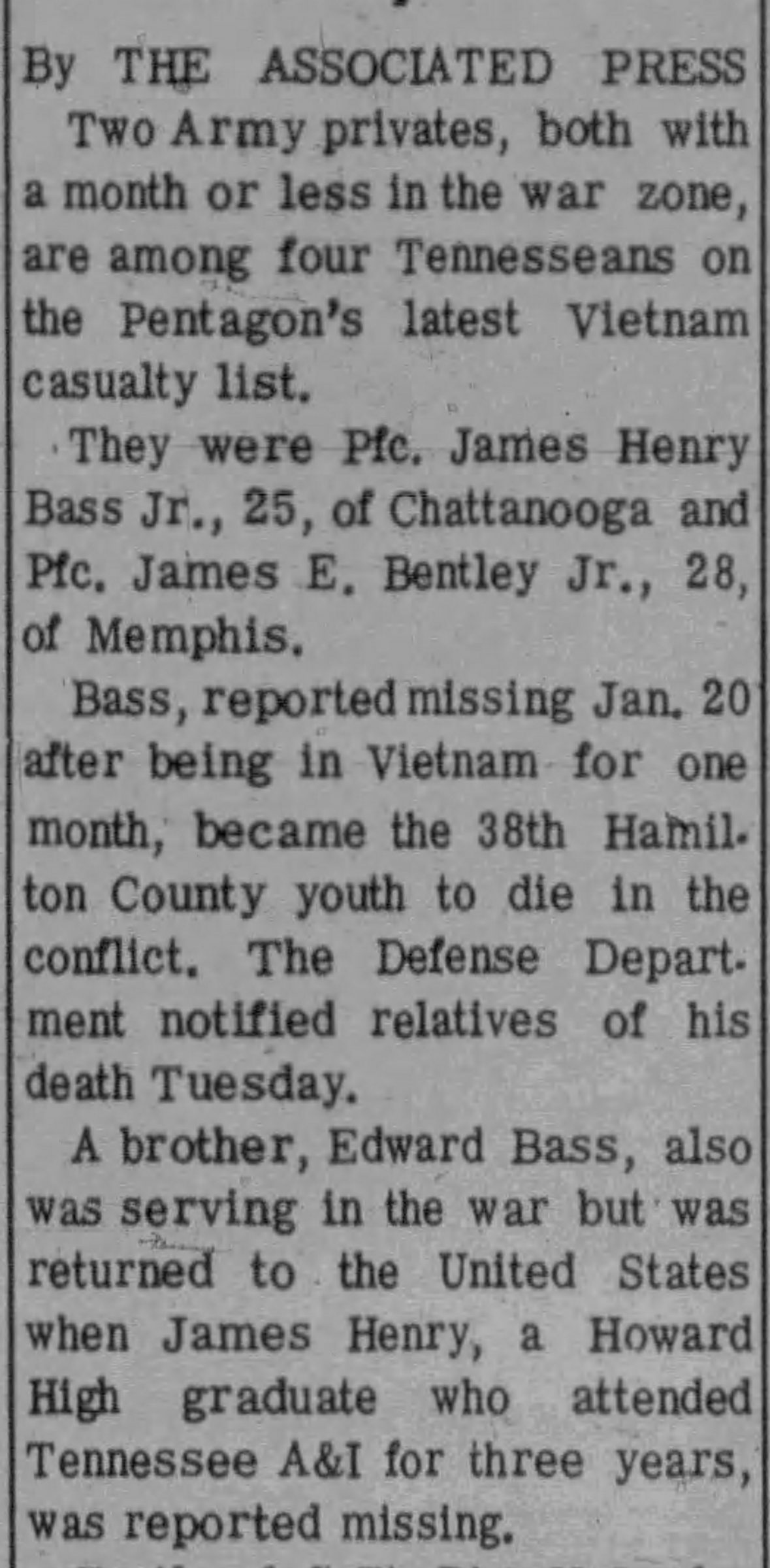 ---