James Dennis West was born in Oneida, TN, August 20, 1948, and grew up in the Foster Crossroads area of Scott County. He actually enlisted in the Marine Corps in Ohio where he was working at the time. Dennis died in the Vietnam War on May 15, 1967.
Submitted by Edward E. Sharp
The following letter was received by James' parents from Captain A.C. Slater, USMC, after Young West died of wounds suffered in the Vietnam fighting:
20 May 1967
Dear Mr. and Mrs. West:
The untimely death of your son, Lance Corporal James D. West, at 2:35 p.m. on May 15, 1967, at the Station Hospital NSA, near the city of Dan Nang, in Quang Nam Province, Republic of Vietnam, is a source of great sorrow to me and to his many friends in Company "A."
As you know, James was an automatic rifleman in our second platoon. On the afternoon of 13 May, our company was assigned a search and destroy mission in the area near Phu An. James' platoon was our lead element of this operation. As they moved out to their objective they were fired on by a large force of Viet Cong. There was a heavy exchange of fire and James fell seriously wounded. A corpsman rushed to his side and quickly administered first aid. Within minutes he was flown by helicopter to a field hospital where he received the best medical care possible. James's courage and calmness just prior to his evacuation to the hospital led us to believe he was going to be all right. It was a great shock to us all when we were informed by the hospital that James had passed away.
A memorial service will be held in James' honor on 28 May 1967.
Even though James had been with us only a short time, he became very highly respected and well liked by his fellow Marines. It is a privilege and an honor to be associated with such persons as your son, and my personal grief is great when such a fine man must pass from us. You can be sure that his many friends share in your sorrow at this sad time.
Rank: Lance Corporal
Date of birth:
20 August 1948
Date of death: 15 May 1967
County: Scott
Hometown: Foster Crossroads
Service Branch: Marine Corps
Division/Assignment: 9th Marines, 3rd Marine Division
Conflict: Vietnam
Awards: Purple Heart
Burial/Memorial Location: Cumberland View Cemetery, South Pittsburg, TN
Location In Memorial: Pillar XXIV, Top Panel
---
Image Gallery
Click a thumbnail below to view at full size.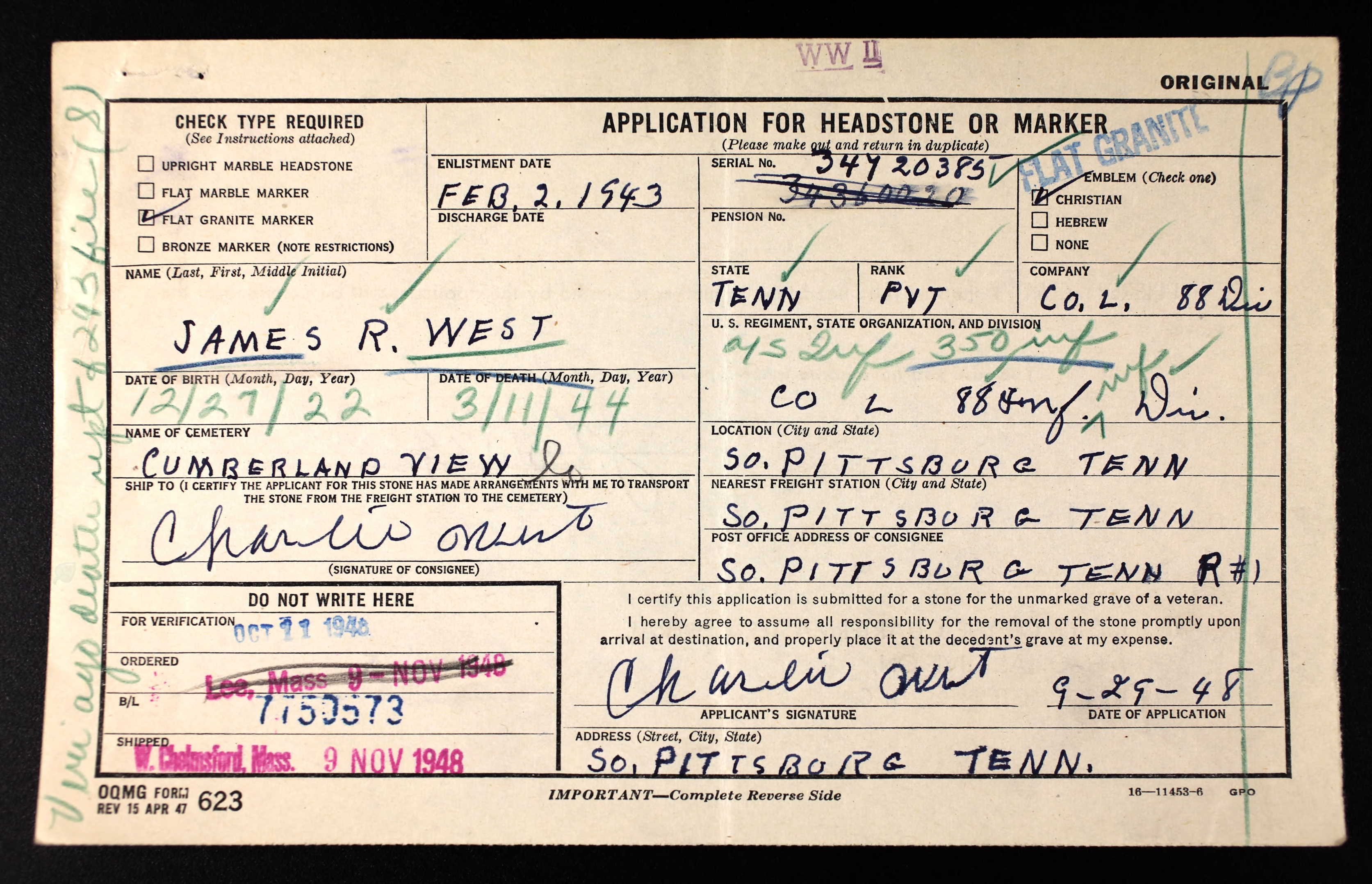 ---