Enlisted on September 16, 1940, in Fort McPherson, Atlanta, GA
Memorialized at Manila American Cemetery in Fort Bonifacio, Manila, Philippines
Son of Floyd O. Douglas, Route Number Eight, Knoxville, Tennessee
Aircraft B-25C was on a combat raid against enemy installations in the vicinity of Lao Airdrome, New Guinea. As the plane approached the target area, it was attacked by several Zero fighters. Though outnumbered more than four to one, Lt Hesselbarth dropped the bombs on the target and then engaged the enemy aircraft until his plane was destroyed. The aircraft was losing altitude with engines in flames.
Crew members
Pilot, 1st Lt John E. Hesselbarth
Co-Pilot, 2nd Lt Joseph W. Ferguson
T/Sgt Ivan M. Wright
Cpl George E. Thigpin
Cpl Hugh W. Douglas
Cpl Albert H. Smith
Rank: Corporal
Date of death: 18 November 1945
County: Knox
Hometown: Knoxville
Service Branch: Army/Army Air Forces
Division/Assignment: 90th Bomber Squadron, 3rd Bomber Group
Theater: Pacific
Conflict: World War II
Awards: Air Medal, Purple Heart
Burial/Memorial Location: Manila American Cemetery, Fort Bonifacio, Manila, Philippines
Location In Memorial: Pillar XIV, Top Panel
Sponsored by: Steven Stiles
---
Image Gallery
Click a thumbnail below to view at full size.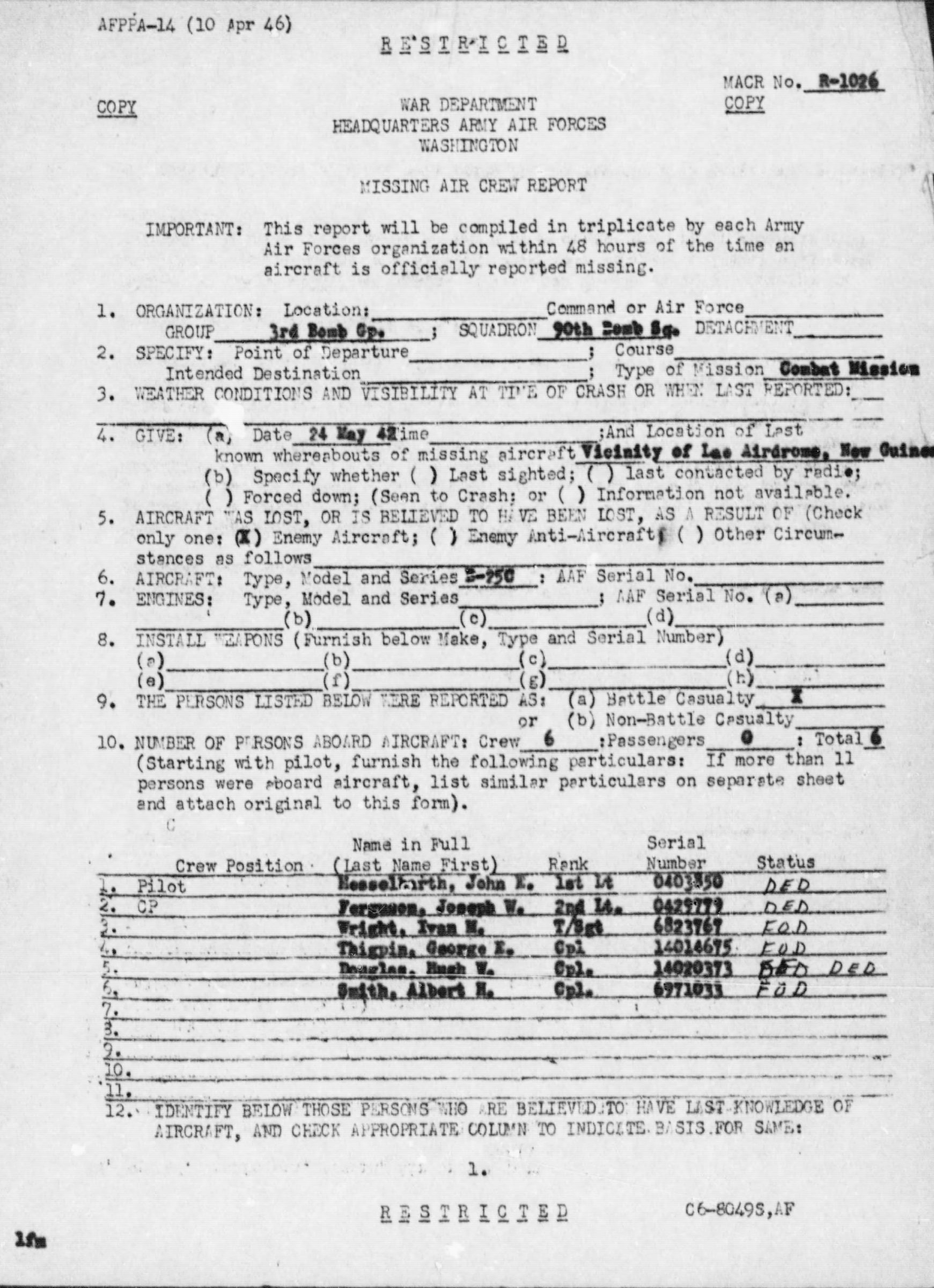 ---