Hugh Palmer Prince
Machinist First Class
Hugh Prince served on the U.S.S. Honolulu then the U.S.S. Hyman (DD-732). He died as a result of wounds received in action, when a kamikaze plane hit the ship off Okinawa.
At Okinawa the Hyman first met directly the fanatical zeal of the Japanese. On April 5 while searching for an enemy submarine off Zampa Misaki, Okinawa, the hunted suddenly surfaced, a bare fifteen hundred yards away, and fired a torpedo directly at the Hyman. The torpedo seemed a certain hit, but with a radical maneuvering, the Hyman managed to just slip clear. The submarine was immediately attacked with depth charges and is believed to have been sunk.
Om April 6, 1945, a date which will remain vivid in the memory of those who were present, while proceeding singly to an isolated station, a swarm of Kamikazes launched their attack against the Hyman. Although five were shot down, one managed to reach its objective despite his damaged and flaming condition. Considerable damage and a serious fire resulted, but the fire was quickly extinguished and the Hyman, limping slightly, made her way back to the port.
Memorialized at the Honolulu, HI Memorial.
Wife: Mrs. Grace Lanter Prince, 323 Catawba, Erwin, TN
Rank: Machinist First Class
Date of death: 6 April 1945
County: Unicoi
Hometown: Erwin
Service Branch: Navy
Division/Assignment: USS Hyman (DD-732)
Theater: Pacific
Conflict: World War II
Battles: Okinawa
Awards: Purple Heart
Burial/Memorial Location: Honolulu Memorial, Honolulu, Hawaii
Location In Memorial: Pillar XIX, Top Panel
---
Image Gallery
Click a thumbnail below to view at full size.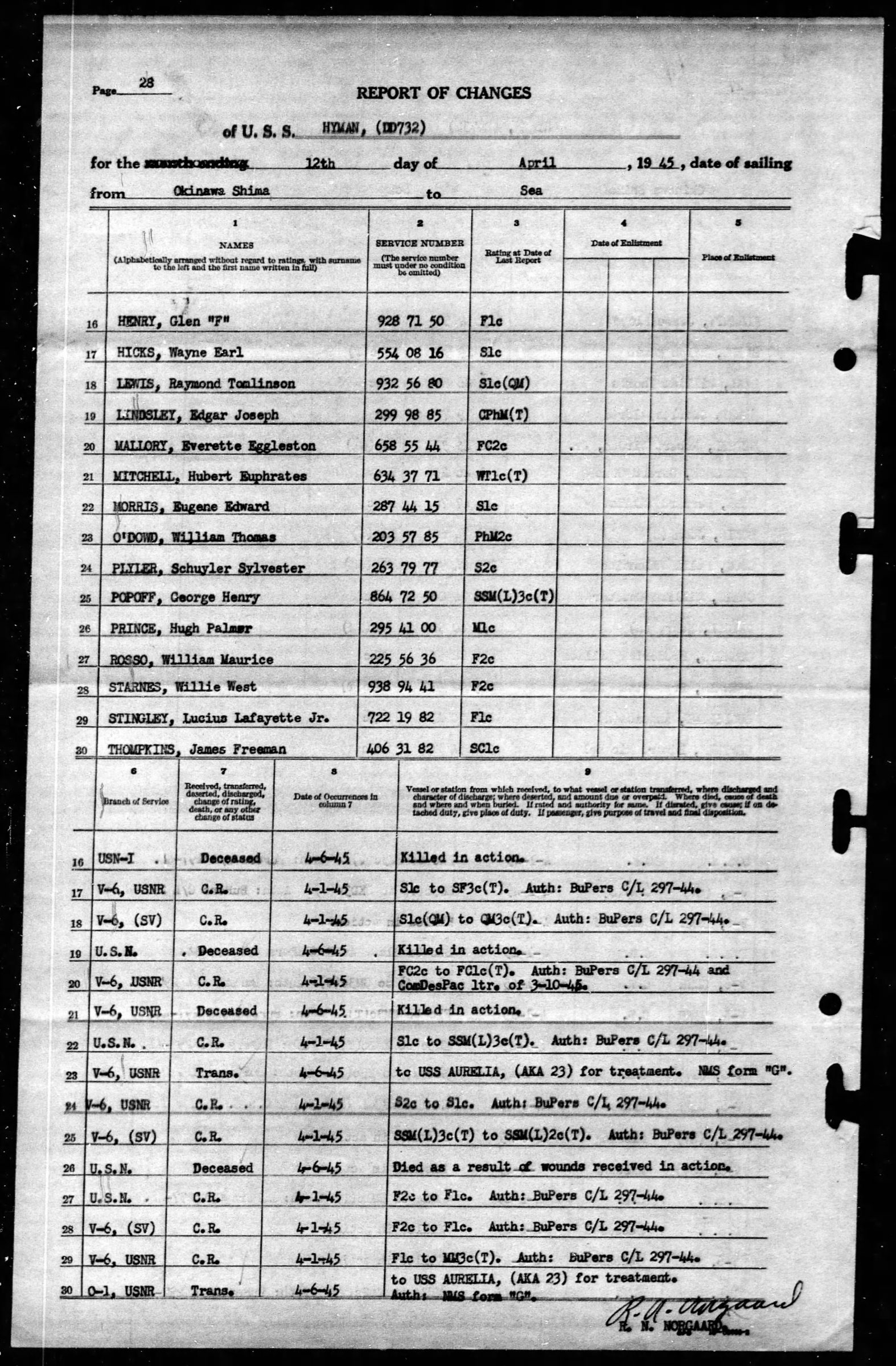 ---