Volunteered for the U.S. Army Air Corps at age 20. He was inducted on November 19, 1940. He was a bomber in the North African Campaign. He was Killed in Action on October 28, 1943. He attended Christenberry School and was a member of the Baptist Church. Son of Mrs. W. M. Dezorn, 101 E. Vermont St., Knoxville, TN.
Memorialized in North Africa American Cemetery in Carthage, Tunisia
Died 28 October 1942
Officially declared dead on 29 October 1943
376th Bomber Group, 515th Bomber Squadron
Aircraft B-17E departed from Maleme Airdrome at Crete on a bombing mission. 1st Lt John W. Kidd and his entire crew failed to return from a bombing mission in the Middle East Theatre on October 28, 1942. This mission was at night and of the several airplanes participating were in contact with each other. This fact eliminated the possibility of other airplanes observing the nature of the disappearing of this aircraft. The weather was bad in places and the ack-ack fire over the target was heavy and accurate. Other crews on the same mission reported seeing a light on the water near the island of Kase, off the north-east end of Crete. Rescue search in this area the next day showed no signs either of the plane or crew.
Crew members
Pilot, 1st Lt John W. Kidd
Co-Pilot, 2nd Lt Martin Smith
2nd Lt Kenneth W. Baker
2nd Lt Bernard Silbowitz
S/Sgt Hoyle E. Majors
Sgt Raymond F. Weaver
Sgt Raul R. Venegas
Sgt William S. Glaab
Rank: Staff Sergeant
Date of death: 28 October 1943
County: Knox
Hometown: Knoxville
Service Branch: Army/Army Air Forces
Division/Assignment: 376th Bomber Group, 515th Bomber Squadron
Theater: North Africa
Conflict: World War II
Awards: Air Medal, Purple Heart
Burial/Memorial Location: North Africa American Cemetery, Carthage, Tunisia
Location In Memorial: Pillar VIII, Panel
---
Image Gallery
Click a thumbnail below to view at full size.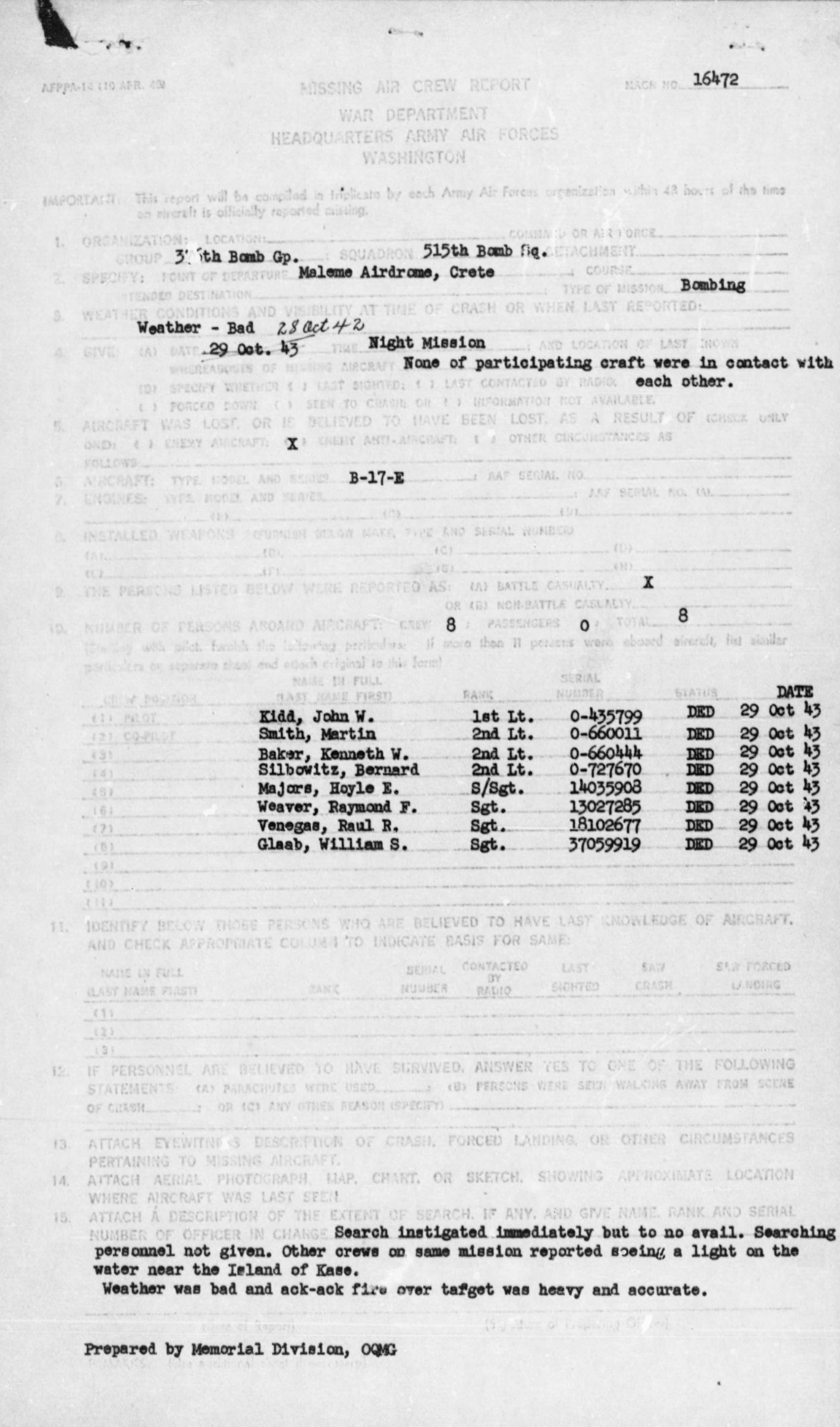 ---