Homer Lefterage Pease
Military Data
Length Service 20
Unit ADV TEAM 93, HQ, MACV ADVISORS, MACV
Casualty Data
Start Tour 14 March 1966
Incident Date 19 November 1966
Casualty Date 19 November 1966
Age at Loss 37
Location Province not reported, South Vietnam
Remains Body recovered
Casualty Type Hostile, died outright
Casualty Reason Ground casualty
Casualty Detail Gun or small arms fire
Vietnam Wall Panel 12E Line 090
A Johnson City Lad Comes Home
"The Homer L. Pease Story"
Homer Lefterage Pease was born in Mooresburg, Hawkins County, Tennessee on 18 May 1929. At a very early age, six years old, he moved to his new home, Johnson City, Tennessee and resided at 1100 East Chilhowie Avenue with his mother Jessie Mae and his two older sisters (Minnie Lou and Josephine), making it the home of his heart.  Homer, a strapping, free-willed, freckle faced, red headed lad that's full of life had dreams of one day becoming a United States Marine.  He played hard, ran with the older boys and sometimes got into a bit of mischief.
After World War II began, Homer wanted to join up, but he knew he was too young, so he had to wait.  But he couldn't and in early 1942, he went down by himself to the Marine Corps recruiter and was turned away.  Not to deter Homer, he went back later to the Army recruiter, this time it was said with a transient gentleman, a Hobo, from Kentucky that his uncle hired to pose as Homer's father and this time he was accepted.  The Hobo jumped the next train out and was never seen again.  On top of this, Homer also volunteered to be a paratrooper and was assigned to the 101st Airborne Division.  Homer's mother thought he had runaway, I guess in a way he did, but she never dreamed it would have been to the United States Army.
Off to Georgia Homer went, he completed his training and qualified as an airborne paratrooper.  Next stop England to meet up with the rest of his unit.  They continued to train and prepare for the invasion they all knew would one day come.  Homer jumped into France on the morning of 6 June 1944 and fought the Germans throughout D-Day and the days there after until he was wounded.  For this he received a Purple Heart and a Bronze Star for his valor.  While healing up back in England he missed his unit's jump into Holland, Operation Market Garden, but was back with them soon afterwards. He also fought the Germans at the Ardennes Forest in Belgium, at a little place called Bastogne, the Battle of Bulge when the Germans completely encircled his unit, again fighting bravely until the Germans were beaten.  After that, on to Germany and at Berchtesgaden, (Hitler's Eagle Nest), he was again wounded and at this time his real age was discovered.  Homer was only 15, he had lied about his age and joined up at age 13, so with another Purple Heart in hand, busted in rank to Private from Sergeant, Homer comes home to Johnson City to rest up and recover, but his story doesn't end here, No Sir, not for Homer.
Homer attended Science Hill High School, but still longed to be a soldier, fighting was in his blood, so on 2 March 1946 at the age of 16, Homer did it again while his mother was in Florida.  He went back to the Army recruiter and joined for another two year hitch. This time he was assigned to the 82nd Airborne Division at Fort Bragg in Fayetteville, North Carolina.  Soon after this his Commanding Officer (CO) received a letter from Homer's mother informing him that Homer was only 16. After his military records caught up to him, his CO reviewed them and another letter that he had received from Homer's mother, Homer was ordered to report to him. Homer standing tall in full dress in front of his CO, was informed that he wasn't going to be busted for fraudulent enlistment, but is being sent back home again for the second time.  Homer pleaded his case stating: "Sir, I have a Bronze Star, two Purple Hearts, I'm Airborne qualified, I have a Combat Infantryman's Badge, loads of ribbons and I just want to serve my country."  The CO was impressed with Homer, but his mind was made up, I'm sure greatly influenced by Jesse's letters, he gave Homer these words: "You've done your duty and now it's time for you to be a kid, go home, attend high school, play football and get an education, then come on back, if you still feel the need, we'll still be here."
Homer comes home again and this time he took that officer's advice.  He went back to Science Hill, played football, Defensive Tackle #96 and was a Reserve Officer Training Corps (ROTC) cadet. While playing Elizabethton High's team the center kept hitting a fellow player in the face with his rings after snapping the ball and blooded his face.  Homer asked the coach for permission to go in for a play to give Jimmy a break.  Homer stood there with his arms crossed while the center snapped the ball and when he came up, Homer knocked him cold, walked off the field and sat down on the bench.  At another game against Unicoi High, a man in the stands pulled a pistol and was threating folks, Homer went up into the stands, smacked the man on his head, took the pistol away and then returned to the game after handing it over to the police.  Homer was still looking after and protecting his friends and others in danger.
Homer has the distinction of graduating Science Hill High School twice.  First in 1949, his yearbook quote states "I Came, I Saw, I Conquered!" and in the 1950 yearbook, he states "I Came, I Saw, I Conquered Twice!"  Homer learned after his 1949 graduation, he had not earned all the credits he needed and had to come back and complete them the following year.  After graduation, the second time, he immediately joined the Tennessee Army National Guard and was selected by them to further continue his education.  Homer attended both East Tennessee State College (ETSC) now a university and finished up at Milligan College.  He volunteered for the ROTC Program at ETSC, but did not complete the course of instruction.  Homer was also a member of the Phi Beta Chi and the Veterans Club.  At his two year (1952) point at ETSC after receiving enough credits for an associate's degree, he was given a commission as a Second Lieutenant in the 130th Tank Battalion, 30th Armored Division of the Tennessee Army National Guard.
Homer did a lot of jobs during his 12 years after high school, but staying active in the Guard and being able to share his knowledge with them and the Reserves was first and foremost.  He always had fun and whether it was drilling with his troops, driving a deuce and a half truck wide open through downtown Johnson City or firing mortar rounds into the Boone Lake.  The Guard was his life, but not all.  Driving racecars, either his own or one he sorta borrowed from another driver or two at Johnson City Sportsman's Speedway, a speedway that he co-founded and ushering at the John Sevier Theater came in next.  He also served a couple of years as a Policeman in Johnson City.  In 1960, Homer decided it was time to run for public office.  He dropped his paperwork for the position of Tennessee State Representative for Johnson City.  That year nine party members in Washington County were arrested for voter fraud for stuffing absentee ballots and by buying votes, Homer was one of them.  At the end of the trial, he was acquitted of all wrongs, but his dream of a public service career was over.  As Homer stood tall in his uniform in front of the judge to await his words, the judge took Homer's military service into consideration and he gave him this advice.  "Son, I think your services and your energies would be better served by going back into active service with the United States Army" banged the gavel and stated case dismissed.  Homer in a way took that judge's advice and when he returned to the Guard Armory that day, he volunteered to attend the U. S. Army's Ranger School.  Homer completed and graduated with Ranger Class #7 on 10 May 1961, just eight days short of his 32 birthday.  This time when he returned to the Guard Armory, he submitted his paperwork to request a change of status to active duty in the United States Army.
This request was granted and off Homer went as a First Lieutenant to Fort Knox in Radcliff, Kentucky.  He was assigned to an Armored Unit and worked as a maintenance officer.  One of Homer's new duties was to test newly acquired armored vehicles and write detailed reports on their performance and durability.  Later in 1961, he relocated with his unit, the 37th Armored Regiment to the 3rd Infantry Division at Schweinfurt, Germany.  In Germany, Homer did his duties well, but still longed for more adventure and he applied for a military advisor position, but was denied.  In 1965, when this enlistment was up, his chance came again and he volunteered to be a Military Advisor in Southeast Asia or more specifically: Vietnam.
With Homer's qualifications and experience he was accepted by the Military Assistance Command, Vietnam (MACV), but first he had to attend the Defense Language School and become proficient in French.  He completed this course at age 36.  Homer started his tour of duty in Vietnam on 14 March 1966 after a short stop to visit family in California.  Captain Pease was assigned to Military Advisory Team 93.  He was further assigned as a sub section advisor to an Army Republic of Vietnam (ARVN) Regiment in the Ba Tri District.  Homer along with one non-commissioned officer (NCO) advised and helped to lead this force.
On this fateful day; November 19th, 1966 at Ba Tri, Kien Hoa Province, South Vietnam, Homer along with his NCO (Staff Sergeant Reims) were accompanying a composite 50 man unit of both Regional and Popular Forces to help in the relief of an outpost that was being attacked by Viet Cong Forces.  At 1030 hours (10:30am) while en route, Homer and his Vietnamese forces encountered heavy Viet Cong resistance.  They returned fire and bravely fought the enemy, but what Homer and they didn't know was the force they were up against numbered over 200, possibly up to 500 Viet Cong soldiers and they were being hit hard from three sides.  Homer and his NCO split and Homer moved some of the forces to cover their withdrawal from inside a Rice Mill. When the Viet Cong assaulted the Rice Mill, Homer had run out of ammunition and he wasn't as lucky as he had been in World War II. Sgt Reims was able to get away with the forces he took with him and when they returned later with a bigger force they found Homer with over 100 Viet Cong bodies in, around and near the mill.
At the age of 37, Homer died on that field of battle and for his actions and bravery, was awarded the Silver Star and promoted to Major.  A Joint Memorial service was held at 1400 hours (2pm) on Monday, November 21st for Homer.  In attendance were not only his brothers in arms, but Distinguished American and Vietnamese, both Military and Civilian.  Homer is sent home by the U.S. Army to Johnson City for the third and final time.  Homer came home a true American, Tennessean, Washington Countian and a Johnson City Hero!!!
Homer's the son of Leftwich "Leff" Pease and Jessie Mae Seals.  He was married, but divorced and had one daughter.  Homer's sister Josephine served in the United States Marine Corps as a Nurse during World War II and after.  The United States Post Office on Main Street, Johnson City was dedicated and renamed the Major Homer L. Pease Post Office in his Honor and Memory on Friday, October 25th, 2019.
If you get the chance, since Homer has no family really left in this area, go by Monte Vista Memorial Park, Section F, Lot 37, Space 4.  Take a small flag or a flower and tell Homer, Thank You and I remember…
(Bio: Updated 18 November 2019)  Sources available upon request.
–Submitted by Allen D. Jackson, USAF (Ret)
"My father Lt Mike Senus worked with Homer in same unit with 3rd Armored in Germany. I have a picture of them both together [see below] as my father took over his spot when Homer went to Vietnam. Would love to speak with any of his family."
–Submitted by Joseph Senus
Rank: Major
Date of birth:
18 May 1929
Date of death: 19 November 1966
County: Washington
Hometown: Johnson City
Service Branch: Army
Conflict: Vietnam
Burial/Memorial Location: Monte Vista Memorial Park, Johnson City, Washington County, TN
Location In Memorial: Pillar XXIV, Top Panel
Sponsored by: Harry Montgomery
---
Image Gallery
Click a thumbnail below to view at full size.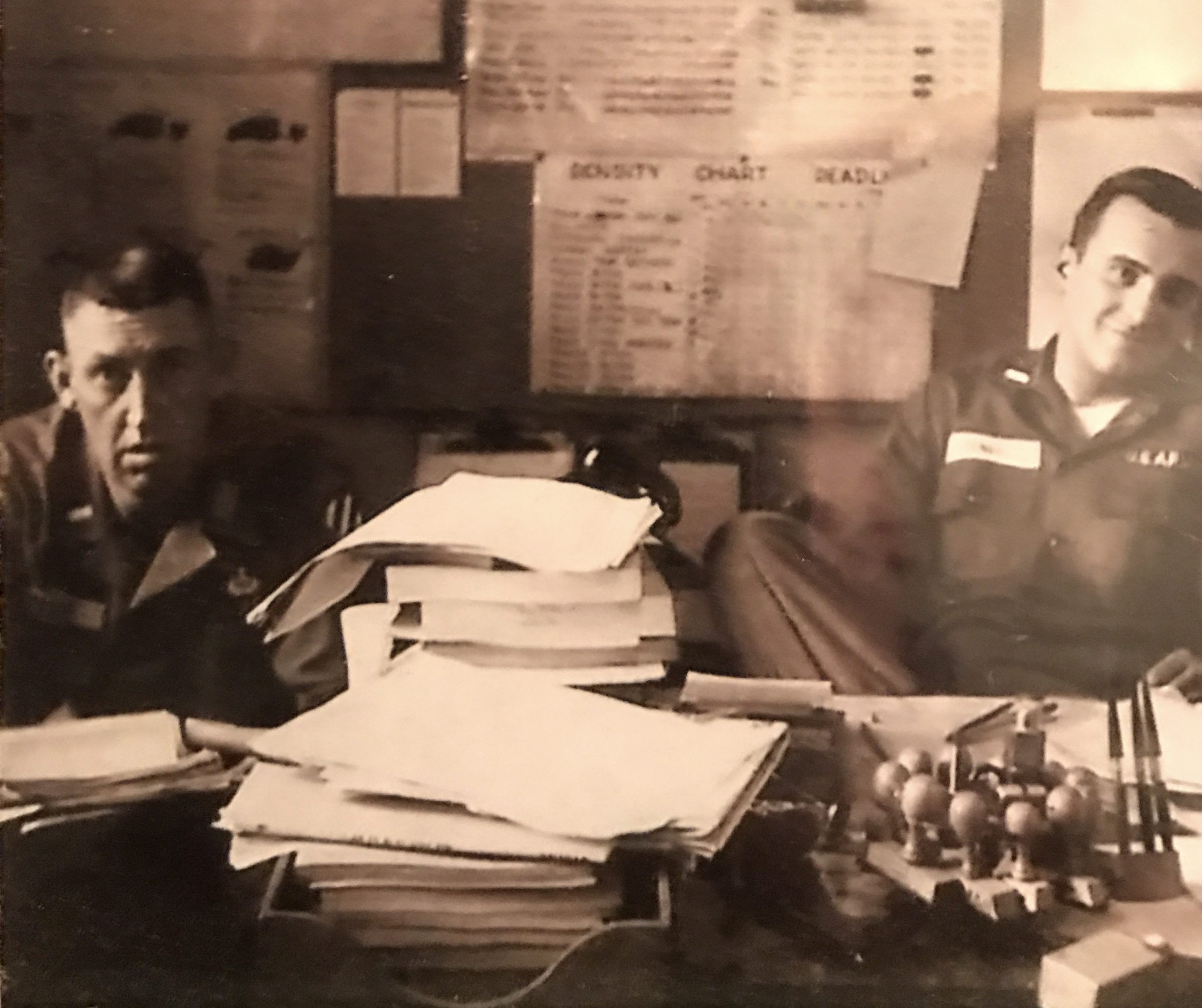 ---