Herbert Kenneth Idol was born June 15, 1929. He was the son of Henry C. and Anna K. Idol. The family home was at 325 Springdale Avenue, where he was raised with his brother, Kenneth, and sisters, Rosa Lee, who died five years before Herbert, and Imogene, the wife of Mr. Edsel Davis who assisted with writing this memorial biography.
Picture from US School Yearbook, Knoxville High School 1947
Herbert was educated in Knox County schools and attended Oakwood Grammar School, Christenberry School, and graduated from Knoxville High School with the Class of 1947. At the conclusion of his school days, he was an assistant manager of Fleet Oil Company before entering the United States Army. He was a member of Oakwood Methodist Church and regularly attended Sunday school and worship services. Herbert K. Idol was drafted into the Army and was assigned as a radio operator with Company E, 19th Infantry Regiment, 24th Infantry Division. He was promoted to the rank of corporal and had served with his unit for seven months.
Herbert was engaged to Joan Dance of Knoxville and they had planned to be married after Corporal Idol returned from Korea. Their anticipated wedding was tragically cut short when Corporal Herbert Idol was wounded in action by a missile on October 15, 1951, and died the next day on the 16th of October 1951.
Corporal Idol had participated in several fierce battles and had been awarded the Bronze Star medal for his bravery. In October, the 24th division was east of the fallen iron triangle and poised at the city of Kumsong in an area known as the Kumsong Salient. The August 1951 peace talks had been broken off and the 24th was part of a new limited offensive to push north to new objective lines. It was during this offensive to secure Kumsong that Corporal Idol was injured and died as a result of his injuries.
The news of his death reached Idol's family in Knoxville around the first of December 1951, and the anticipated wedding between him and Joan Dance turned tragically to preparing for his funeral services. Corporal Idol was returned to Knoxville February 8, 1952, over the Southern railway and was taken to Rose Mortuary in North Knoxville, where funeral services were held on Sunday afternoon, February 10, 1952, at 2 p.m. Idol was laid to rest in Lynnhurst Cemetery following his funeral services attended by his fiancee, parents, siblings and other family and friends.
In addition to the Bronze Star, Corporal Idol was awarded the Purple Heart the Combat Infantrymans Badge, the Korean Service Medal, the United Nations Service Medal, the National Defense Service Medal, the Korean Presidential Unit Citation and the Republic of Korea War Service Medal for his meritorious service in Korea.
Rank: Corporal
Date of birth:
15 June 1929
Date of death: 16 October 1951
County: Knox
Hometown: Knoxville
Service Branch: Army
Division/Assignment: 19th Infantry Regiment, 24th Infantry Division
Conflict: Korean War
Awards: Bronze Star, Purple Heart, Combat Infantrymans Badge, Korean Service Medal, United Nations Service Medal, National Defense Service Medal, Korean Presidential Unit Citation, and Republic of Korea War Service Medal
Burial/Memorial Location: Lynhurst Cemetery, Knoxville, Knox County, TN
Location In Memorial: Pillar XXI, Top Panel
---
Image Gallery
Click a thumbnail below to view at full size.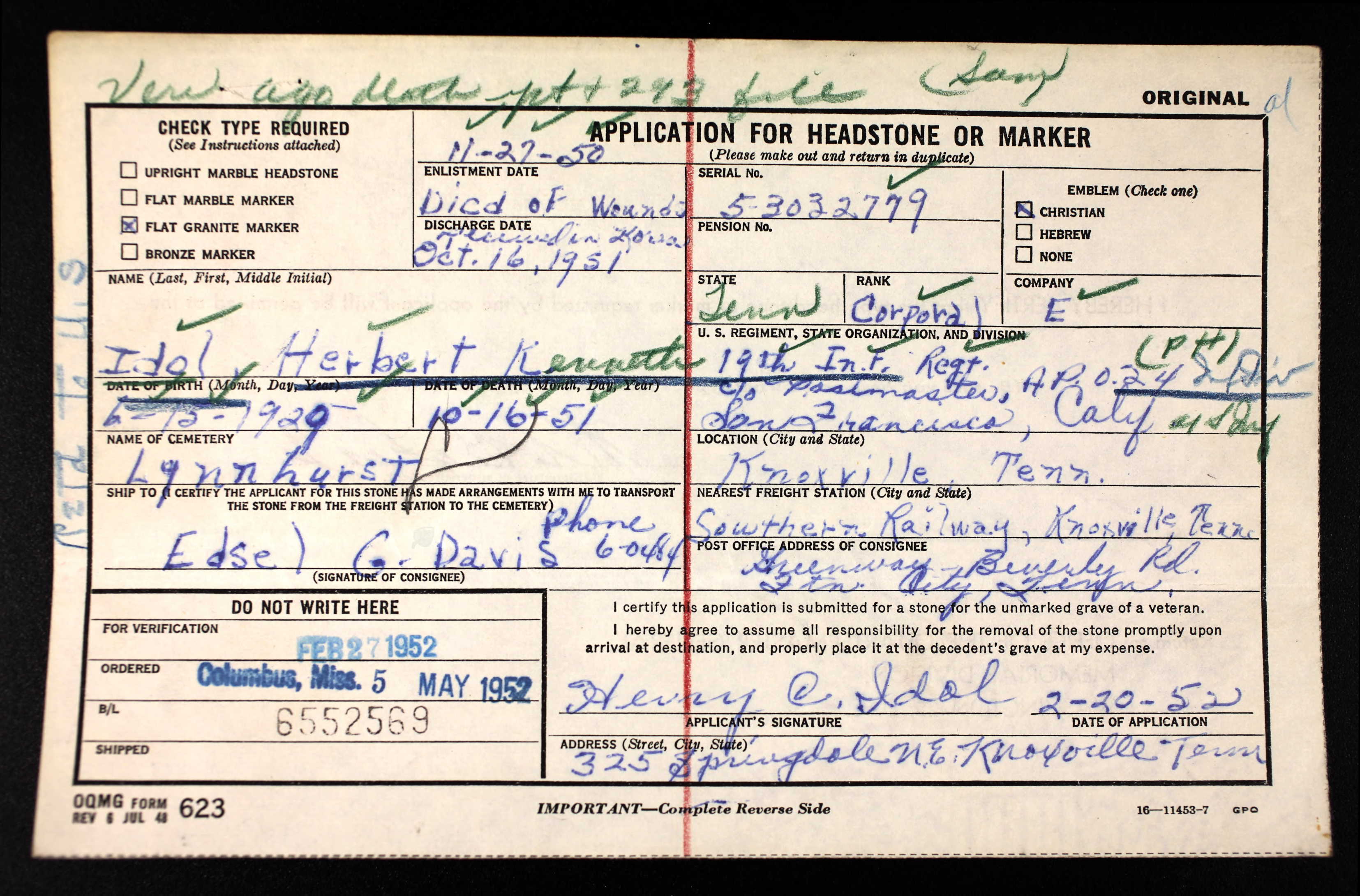 ---