Corporal Henry Andregg Jr. was killed at the battle for Tarawa on 20 November 1943. He is listed on the Tablets of the Missing at Honolulu Memorial Cemetery, Hawaii.
Guardian: Mr. Steven R. Jenkins, 501 McCallie Avenue, Chattanooga, TN.
MARION COUNTY, TN (WRCB) –
A Marion County family is crediting an article in an Atlanta newspaper for reuniting their family. Corporal Henry Andregg Jr. died in November 1943 in World War II. For 74 years, he was considered missing in action, until Andregg's nephew read an article in the paper about matching the Corporal with his family.
Henry Andregg Jr. was killed when he was 23 years old, serving as a Marine in the Battle of Tarawa. For over seven decades, the family mourned his death without a proper homecoming until Thursday, when the United States military showed up at their door.
"It is bittersweet that we have closure," said Andregg's niece, Nancy Harris.
Corporal Henry Andregg Jr. was one of over 500 missing heroes from the Battle of Tarawa, until now. "We got a reunion, they are bringing his body back," said another niece, Glenna Raulston.
The service members killed were buried in battlefield cemeteries on the island. Despite multiple grave recovery operations, Andregg's remains were never identified, leaving his family with a lot of questions.
"I was 10 when Henry got killed, but I remember 74 years ago," said his nephew, George Wagner.
Recently, an organization discovered the island burial site and recovered the remains of what they believed were United States service members who fought in the 1943 battle.
"It is sad, but so happy because we never thought we would have this time again," said Raulston.
Shortly after their find, scientists in Hawaii were able to identify Andregg's remains using DNA analysis. His remains are now being returned to his family for burial with full military honors.
"After 74 years, this man is finally going to the national cemetery where he deserves to be honored," said Andregg's great nephew, Skip Rodgers.
Members representing the United States Marine Corps traveled to Marion County to honor the family with Andregg's military decorations, including a Purple Heart to display proudly in their home.
"Makes me proud of him but sad on what he had to go through," said a niece, Dot Rodgers.
It's a bittersweet moment for this family and a long deserved homecoming for their loved one. But, they realize other families are still waiting.
"Paid the price, he paid it with his life. So we are free. Thank God for veterans, thank God," said Wagner.
The family is planning a funeral for Andregg at the national cemetery in Chattanooga, after his remains arrive in Tennessee.
JAKE LOWARY. USA TODAY NETWORK – TENNESSEE, August 25, 2017
NASHVILLE – For the second time in a week, the state Department of Veterans Services announced a World War II veteran would return to Tennessee permanently. On Wednesday, the state announced Cpl. Henry Andregg Jr., of Whitwell, would be returned to Chattanooga after nearly 75 years.
Andregg, who was 22 when he died, was killed during the battle of Tarawa, one of the bloodiest battles of the Pacific theater during the war. More than 1,000 Marines and 2,000 other service members died.
Andregg, a Marine assigned to Company C, 2nd Amphibious Tractor Battalion, 2nd Marine Division, had been buried in an unidentified grave in Honolulu.
His remains were exhumed in October 2016 and identified in May, and will be buried permanently at the Chattanooga National Cemetery at 1200 Bailey Ave., in Chattanooga on Friday after the funeral services. It's the second time in a week a World War II veteran's remains have been returned to and buried in Tennessee. On Tuesday, Staff Sgt. William Turner was buried in Nashville.
"The heroism of those who fought in World War II and the Battle of Tarawa continues to inspire us today," Gov. Bill Haslam said in a statement. "As a 22-year-old Marine, Henry had just started his adult life, but courageously chose to give the ultimate sacrifice for his country."
"Several of Corporal Andregg's nieces and nephews will receive valuable closure by laying their uncle to rest in Tennessee," state Veterans Services Commissioner Many-Bears Grinder said.
"We are honored to have the chance to recognize the valor of this American hero and to remember the loss suffered by his family, friends and community."
Funeral services will be held at the Reed Funeral Home at 11675 Highway 28 in Whitwell on Friday at 11 a.m. EDT
The Jasper Journal, January 13, 1944
Cpl. Henry Andregg Jr., son of the late Mr. and Mrs. Henry Andregg of Whitwell, has been killed in action, the Marine Corps commandant informed his sister, Mrs. Steven R. Jenkins, 501 McCallie Avenue, Chattanooga. Scene of the action was not disclosed, but he was serving in the South Pacific. He made his home with a sister, Mrs. Wayne Wagner, 1306 Union Avenue, Chattanooga. Other survivors are three sister, Mrs. Gaither webb, Whitwell; Mrs. Louis Lasater, Jasper and Mrs. L.E. Dawson, Clinton; one brother, William Andregg, Chicago.
Rank: Corporal
Date of birth:
17 March 1920
Date of death: 20 November 1943
County: Marion
Hometown: Whitwell
Service Branch: Marine Corps
Division/Assignment: 2nd Marine Division, 2nd Amphibian Tractor Battalion
Theater: Pacific
Conflict: World War II
Battles: Tarawa
Awards: Purple Heart
Burial/Memorial Location: Honolulu Memorial, Honolulu, Hawaii
Location In Memorial: Pillar XV, Middle Panel
---
Image Gallery
Click a thumbnail below to view at full size.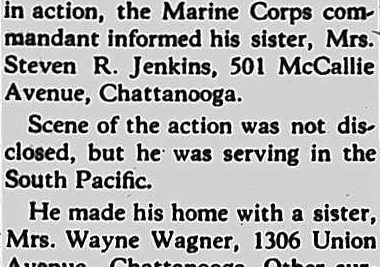 ---