Harold Gene Ayers
Military Data
MOS 11B10 Infantryman
LenSvc Between 1 and 2 years
Unit A Company, 1st Battalion, 28th Infantry Regiment, 1st Infantry Division
Casualty Data
Start Tour Tuesday, 21 September 1965
Cas Date Sunday, 26 June 1966
Age at Loss 18
Remains Body Recovered
Location Province not reported, South Vietnam
Type Hostile, Died
Reason Gun, Small Arms Fire – Ground Casualty
Vietnam Wall Panel 08E Line 096
When I was 15 years old, I bought the book 'Last Man Out' by James Parker Jr, at a local bookstore. It was the story of Lt. Parker's time in Vietnam and it was a book that I couldn't put down. I had been reading about Vietnam for quite some time – reading the stories of the young men who fought and died there, determined that they wouldn't be forgotten. I had even gone to a local Memorial Day service honoring the Vietnam Veterans of my town. I couldn't tell you why I was so passionate about learning about the men whose names line the Wall, only that I was.
As Lt. Parker was describing the NCOs in his platoon near the beginning of the book, a sentence he wrote jumped out at me. He described a teenager named Ayers, an 18 year old private. Being that he was so young, only three years older than most of my boyfriends, he tugged at my heart. And later in the book, when Lt. Parker mentioned how Ayers never got any mail during mail call, I wanted to cry. Speaking of mail call Lt. Parker writes this about Ayers
Ayers was always in front, but he never seemed to get any mail. Bratcher said that it was painful for him when he had say to Ayers that he got no mail the big lug always looked so hurt. It wasn't that Ayers didn't write to anyone. Every couple of days he gave the company clerk a painfully addressed letter to someone in the Midwest. As far as we knew, no one ever responded …
I would have written him. I wanted to yell at whoever it was who he was writing that never wrote him back!
A few months later Ayers went on patrol and was killed in an ambush. Lt. Parker said that he stayed on point until he dropped, and never complained. He was strong as an ox, quiet, responded to praise. I've read many more books about the Vietnam War, and I've heard many more stories, but his story, his memory stays in mind. I've looked in numerous places on the net, but could never find a memorial for him. He can rest in peace knowing however that not everyone has forgotten him, that I will always remember him.
Roger Bush
roger10234@aol.com
Friend
P.O., Box, 704, Bryon, GA., 31008, USA
You will always, be, a hero
he died, on my right, side, about five feet from me, still firing, his rifle, as he fell. We were, on night patrol and were ambushed. Ayers, was always at, or near, the front, of the line and died like, a true soldier. He never showed, fear, always did more, than his share of figthing, we fought many firefights together, but this was, his last one. He, is not forgotten by me, i think of him almost, every day. Rest in peace, my friend and one day we will, meet again.
Friday, August 29, 2003
Harold G. Ayers is buried in the Seviers Cemetery, 957 Hwy 107, Jonesborough, Tennessee.
Rank: Private First Class
Date of birth:
4 October 1947
Date of death: 26 June 1966
County: Washington
Hometown: Jonesboro
Service Branch: Army
Division/Assignment: 28th Infantry Regiment, 1st Infantry Division
Conflict: Vietnam
Awards: Purple Heart
Burial/Memorial Location: Seviers Cemetery, Washington County, TN
Location In Memorial: Pillar XXIV, Middle Panel
---
Image Gallery
Click a thumbnail below to view at full size.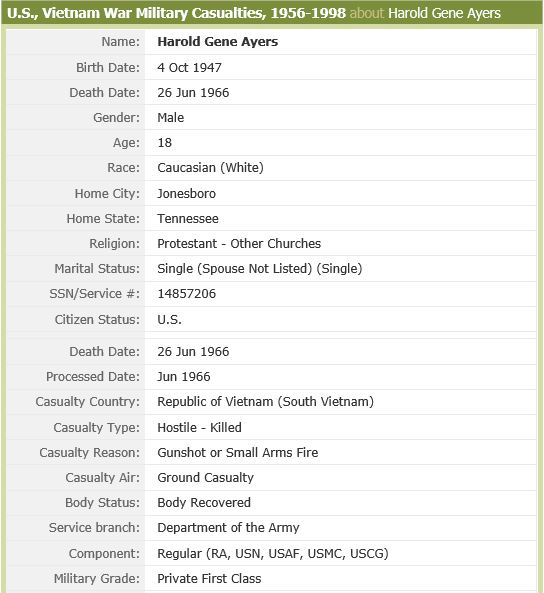 ---