Fireman First Class Grover Gordon Phillips, U S Navy Reserve. Was shipped aboard the U.S.S. Frederick C. Davis (DE-136) a destroyer escort. He was lost at sea on 24 April 1945.
He is Memorialized at the East Coast Memorial, New York, NY.
From the Dictionary of American Fighting Ships:
Returning to duty (following a refit in New York), in the western Atlantic early in 1945 Frederick C. Davis served on coastal convoy escort and antisubmarine patrol service and in mid-April joined a special surface barrier force, formed to protect the Atlantic coast from the threat of close penetration by snorkel-equipped German submarines. It was one of these, U-546, which was contacted 24 April by Frederick C. Davis. Within minutes, as the destroyer escort prepared to attack, the submarine torpedoed her, hitting on the port side, forward. Five minutes later, she broke in two, and efforts to preserve the buoyancy of the stern, where the damage was less and the majority of survivors were located, failed. Her survivors abandoned the ship, with a loss of 115 men. They were taken from the water within 3 hours, and other escorts sank her attacker the same day.
Wife: Mrs. Daisy Aileen Phillips, Rt 3, St. Elmo, Chattanooga
My name is JoAnna Lynn Phillips, I am also a United States Naval Veteran, USS Holland, AS-32. (Decommissioned). I am Grover Gordon Phillips was my Grandfather, my father's father. In World War II, he was assigned to the USS Frederick C. Davis (DE-136), in the western Atlantic. Approximately April 24, 1945, a German U-546 submarine torpedoed the ship on the port side. According to the survivors, my grandfather, Grover saved a lot of sailors before he lost his life. His best friend Chester Oliver, who was in the Army at the same time and flying planes, had made a pact with Grover and told him that if anything happened to him that he would take care of his wife Aileen, and his three children, Floyd, 5 years old, Johnny, 3 years old, and Jimmy, 1 year old. Chester stayed with Aileen until he passed away in 1983. My Grandmother Aileen passed away this year at the wonderful age of 98. I would like to know what I would need to do to help upkeep my Grandfather's memorial. I am on disability and don't have a lot of money, but I will do what I can.
Thanking you in advance.
–Submitted by JoAnna Lynn Phillips, Granddaughter of Fireman First Class Grover Gordon Phillips, United States Naval Reserve.
I found Mr. Phillips' name in the Report of Changes for the ship. He reported to duty on the USS Frederick Davis on 11/3/44. He appears on the 6th in the attached report.
My grandfather, Bill Glass, died that day 24 April 1945.
My condolences to the family for their loss so long ago.
–Submitted by Marc Tepe
See also https://www.ussfrederickdavis.com
Rank: Fireman First Class
Date of death: 24 April 1945
County: Hamilton
Hometown: Chattanooga
Service Branch: Navy
Division/Assignment: USS Frederick C. Davis (DE-136)
Conflict: World War II
Awards: Purple Heart
Burial/Memorial Location: East Coast Memorial, New York, New York
Location In Memorial: Pillar XI, Middle Panel
Sponsored by: JoAnna Lynn Phillips and the USS Frederick C. Davis Family
---
Image Gallery
Click a thumbnail below to view at full size.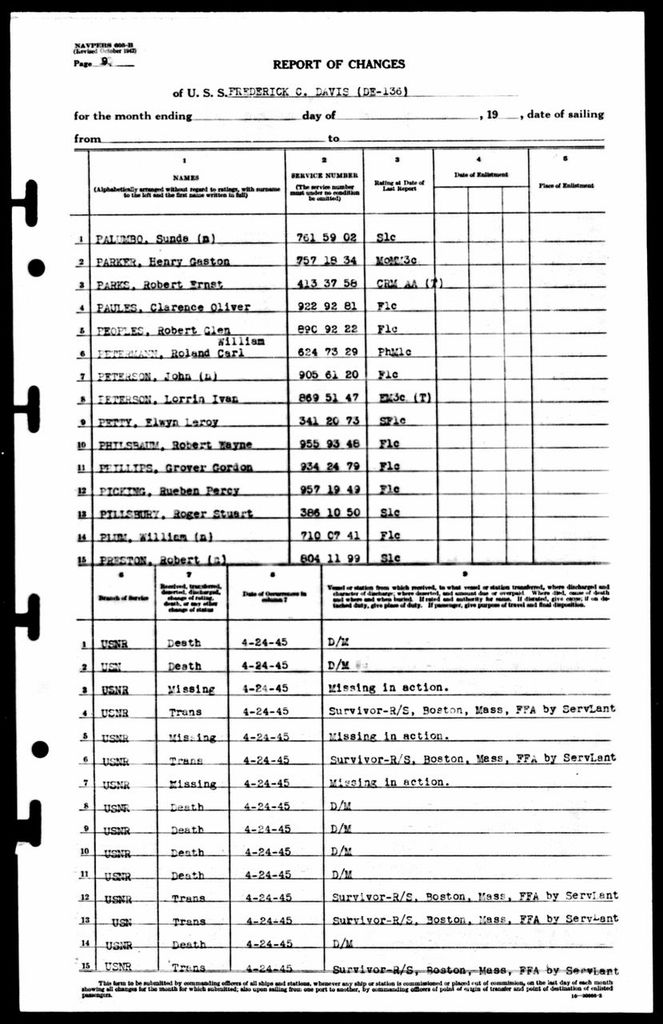 ---