Gerald Thomas Dobbs
Military Data
LenSvc Between 2 and 3 years
Unit Golf Company, 2nd Battalion. 1st Marines, 1st Marine Division
Casualty Data
Start Tour Tuesday, 25 July 1967
Cas Date Sunday, 19 November 1967
Age at Loss 22
Remains Body recovered
Location Quang Tri, South Vietnam
Type Hostile, died outright
Reason Other explosive device – Ground casualty
Vietnam Wall Panel 30E Line 024
Tennessee, Pfc. Co. G, 2nd BN, 1st Marines, Vietnam – Purple Heart
In Loving Memory of My Son, Gerald, who Gave His Life in the Service of His Country
Burial
Delano Cemetery, Delano, Polk County, Tennessee
John Weigand
johnweigand@yahoo.com
40, years ago, this month, we completed training, together, at Parris Island, SC., 1st, Recruit, Training Battalion, Company, B, Platoon, 114. On 6, May 1965, we parted ways, as Marines never, to meet again. You made the ultimate sacrifice, for your country. I'm proud, to have served, with you and will, never forget you. Semper Fi, Sgt., John L. Weigand, USMC., Memorial Day, 30, May 2005.
Monday, May 30, 2005
12 Jul 2006
I was Dobbs's platoon commander. He was the best man in the platoon, and I don't think anyone would disagree. He always carried a 100 round belt of 7.62 ammo for the machine guns. He always carried six grenades. M-26 grenades can get mighty heavy for those of you who don't know. Most troopers carried no more than two. He always carried a stick of C-4. He always finished digging his foxhole among the first, and then helped others in his squad finish digging theirs. He never hesitated to walk point. He inspired confidence. If I knew I was going to be in a firefight and could pick just one man to be with me, I'd pick Dobbs.
I remember well his death. We were on a patrol on Hill 31 about 20 clicks south of Quang Tri. We had found a lot of land mines there, and had blown them in place. I can't remember now how many – a couple of dozen or so I guess. So many that the First Division newspaper propaganda sheet did a story on it. Anyway we were walking down a trail in the late afternoon. We were in single file coming back from a place we had just cleared of mines. Dobbs stepped to the side to take a photograph of the unit, and he tripped an anti-tank mine.
Like the song says, The worst men live to fight, and the best of men must die.
From a friend,
William J. Donahue
william.j.donahue@verizon.net
Rank: Private First Class
Date of birth:
27 November 1944
Date of death: 19 November 1967
County: McMinn
Hometown: Etowah
Service Branch: Marine Corps
Division/Assignment: 1st Marines, 1st Marine Division
Conflict: Vietnam
Awards: Purple Heart
Burial/Memorial Location: Delano Cemetery, Delano, Polk County, TN
Location In Memorial: Pillar XXIII, Bottom Panel
---
Image Gallery
Click a thumbnail below to view at full size.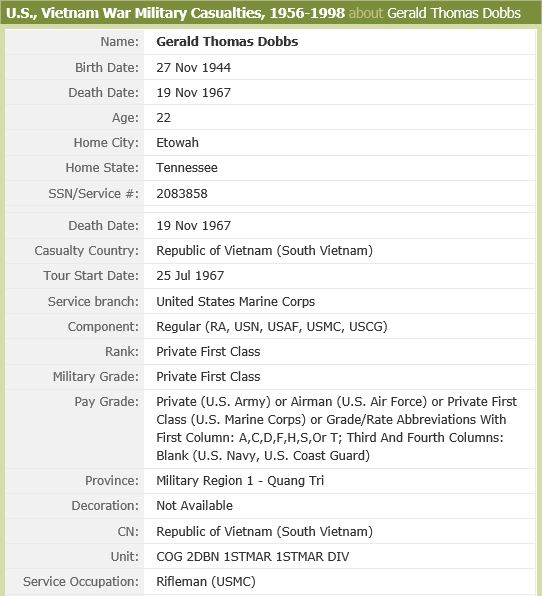 ---