Gilley Terrell Brand
Died 22 March 1944
Husband of Elizabeth F. Brand, 205 Unaka Avenue, Chattanooga, Tennessee
Second Lieutenant
466th Bomber Group, 786th Bomber Squadron
Buried at the Zachary Taylor National Cemetery, Louisville, Jefferson County, Kentucky, together with 2nd Lt Paul Brill, Sgt Kenneth Cassada, S/Sgt Edwin K. Lankford, 2nd Lt Glen W. Morris Jr. and Sgt Frank D. Pfeifer.
2nd Lt Gilley T. Brand was initially buried at Neuville in Belgium.
Aircraft B-24H-15-CF, with serial number 41-29416, nicknamed Rebbel Gal, was on a bombing mission over Germany and collided with aircraft 41-29434 about 15 seconds before bombs away.
Crew members
Pilot, 2nd Lt Gilley Terrell Brand
Co-Pilot, 2nd Lt Charles W. Beigel
Navigator, 2nd Lt Paul Brill
Bombardier, 2nd Lt Glenn W. Morris Jr.
Radio-Operator, S/Sgt Paul J. Strickler
Engineer/Gunner, Sgt Edwin K. Lankford
Gunner, Sgt Kenneth Cassada
Gunner, Sgt Glover L. Handy
Gunner, Sgt Frank D. Pfiefer
Gunner, Avery B. Houchard
Rank: Second Lieutenant
Date of death: 22 March 1944
County: Hamilton
Hometown: Chattanooga
Service Branch: Army/Army Air Forces
Division/Assignment: 466th Bomber Group, 786th Bomber Squadron
Theater: Europe
Conflict: World War II
Burial/Memorial Location: Zachary Taylor National Cemetery, Louisville, KY
Location In Memorial: Pillar X, Middle Panel
---
Image Gallery
Click a thumbnail below to view at full size.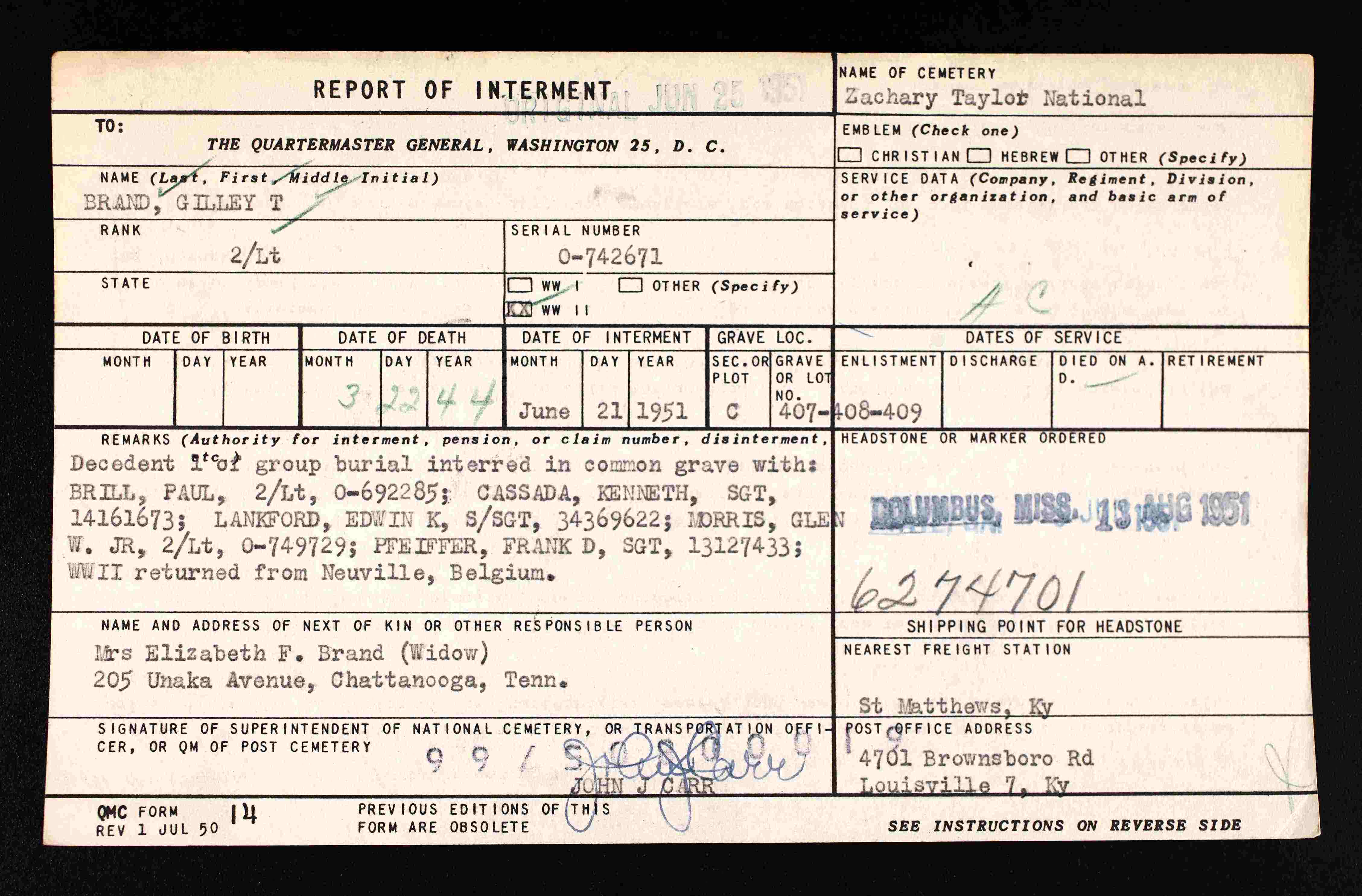 ---