Frederick Bonham Bean
Service Occupation: Infantry Reconnaissance Scout
Sergeant Bean was a member of Headquarters Company, 31st Infantry Regiment, 7th Infantry Division. He was taken prisoner of war while fighting the enemy near Uisa-ni, North Korea on November 29, 1950, and died while a prisoner on February 12, 1951. His remains were not recovered. His name is inscribed on the Courts of the Missing at the Honolulu Memorial.
Sgt. Bean entered the Army in December 1948 and received his basic training at Fort Jackson, South Carolina. He was transferred to Japan in August 1949 and to Korea in September 1950. He was in Korea two months when he was captured at the Chosin Reservoir. A letter to the Bean family in July 1953 from the Defense Department explained that he had died from malnutrition.
Before Fred entered the Army, he attended Rule High School and was an employee of the Knoxville Journal. He was the son of Mr. and Mrs. Floyd Bean of 2626 Waverly Place, Knoxville.
In addition to his parents, Sgt. Bean was survived by his sister, Mrs. W.H. Thompson, III, and three brothers, Shirley Eugene, Ernest Ray and William P. Bean one niece, Miss Gail Thompson grandparents, Mr. and Mrs. J.W. Bean of Ball Camp Pike and Mrs. R.H. Knott also of Ball Camp Pike.
Sgt. Bean was probably captured in a tragedy/disaster for the 7th Inf. Division, the destruction of "Task Force Faith".  See: http://en.wikipedia.org/wiki/Task_Force_Faith
See also: http://www.abmc.gov
NOTE: Another on the Memorial, William C. Jenkins, also was in the 31st Infantry Regt., 7th ID, and he died on the day that Bean was captured, November 29, 1950. See: https://etvma.org/veterans/william-c-jenkins-11491/
Rank: Sergeant
Date of birth:
10 October 1930
Date of death: 12 February 1951
County: Knox
Service Branch: Army
Division/Assignment: 31st Infantry Regiment, 7th Infantry Division
Conflict: Korean War
Battles: Chosin Reservoir
Awards: Purple Heart, Good Conduct Medal, Combat Infantrymans Badge, Prisoner of War Medal, Korean Service Medal, United Nations Service Medal, National Defense Service Medal, Korean Presidential Unit Citation, and Republic of Korea War Service Medal
Burial/Memorial Location: Honolulu Memorial, Honolulu, Hawaii
Location In Memorial: Pillar XXI, Top Panel
Sponsored by: Woodmen of the World #875
---
Image Gallery
Click a thumbnail below to view at full size.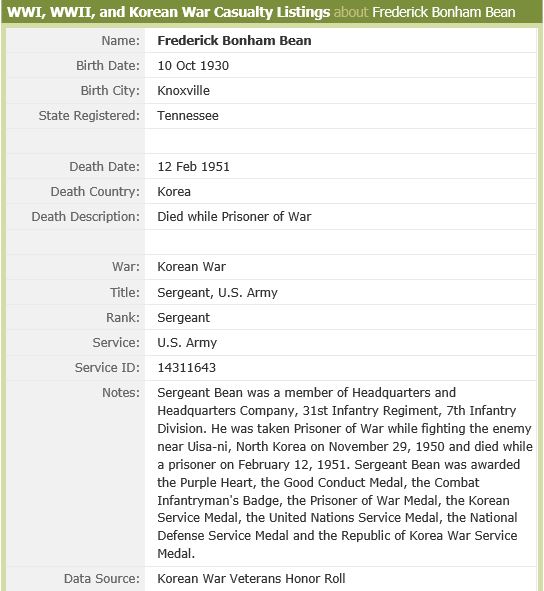 ---