Fred William Tarwater
Born 24 May 1923
Missing in action since 9 June 1944
Son of George F. Tarwater and Cassie Marinda Mashburn
Memorialized at Cambridge American Cemetery, England
Headquarters Company, Second Infantry Division, 41 Armored Infantry, 3rd Battalion
An excerpt from an article in the Knoxville News Sentinel by Don Whitehead: D-Day – June 6, 1944.
Published: 6 June 1993
From the front porch of the old home place in a Sevier County hollow, James Tarwater can trace for you the course of Fred Tarwater's walk the day he left home the last time. There were eight Tarwater children. Fred at 17, was the second eldest. His older brother Clyde and he joined the Army in 1939. Fred's parents signed for him. They thought they'd get to stay together," said James who works as a security guard at Dollywood. But Clyde was chosen for special duty in the 3rd Armored Division. Fred was in the 2nd Armored Division. Its nickname was "Hell on Wheels."
Fred served in North Africa, Tunisia and Italy, says James. His and Clyde's paths crossed only once, when both passed through a fish market in England a few weeks before D-Day. Clyde survived the war and lived prosperously in Sevier County until last year. Fred died on alien soil.
"He was a quiet sort of person," James remembers."He helped on the farm. His family meant everything to him. When he came in one time, there was an old log barn where we were working. As he came by it, he said 'I'm afraid this will be the last time I'll see you.'" It was.
On the day the telegram came, James was home alone. "My mother was at my sister Ruth's house, and they were canning. The mail always ran about 11 or 11:30. I went and got it. When I saw what it was, I took out. I came across the hill and there were these big ditches. I sat and layed there. I didn't want to take it to her. I must have dozed, I don't know it must have been 3 or 3:30 before I got it to her. "I remember the way she cried. I remember how it hurt her. It hurt us all." His eyes are rimmed with red.
He does not know much else about his brother's death. The telegram said Cpl. Fred Tarwater was missing in action on June 9. "My older brother seemed to think that in the landing he might have gotten a direct hit as he got off."
Somewhere there is a trunk. It contains the telegram, an official letter, some old photographs. Tarwater has a key, but he has had enough memories. "I can't open that trunk," he says.
Rank: Technician Fifth Class
Date of birth:
24 May 1923
Date of death: 9 June 1944
County: Sevier
Hometown: Sevierville
Service Branch: Army/Army Air Forces
Division/Assignment: 41st Armored Infantry
Conflict: World War II
Awards: Bronze Star, Purple Heart
Burial/Memorial Location: Cambridge American Cemetery, Cambridge, England
Location In Memorial: Pillar XVIII, Top Panel
---
Image Gallery
Click a thumbnail below to view at full size.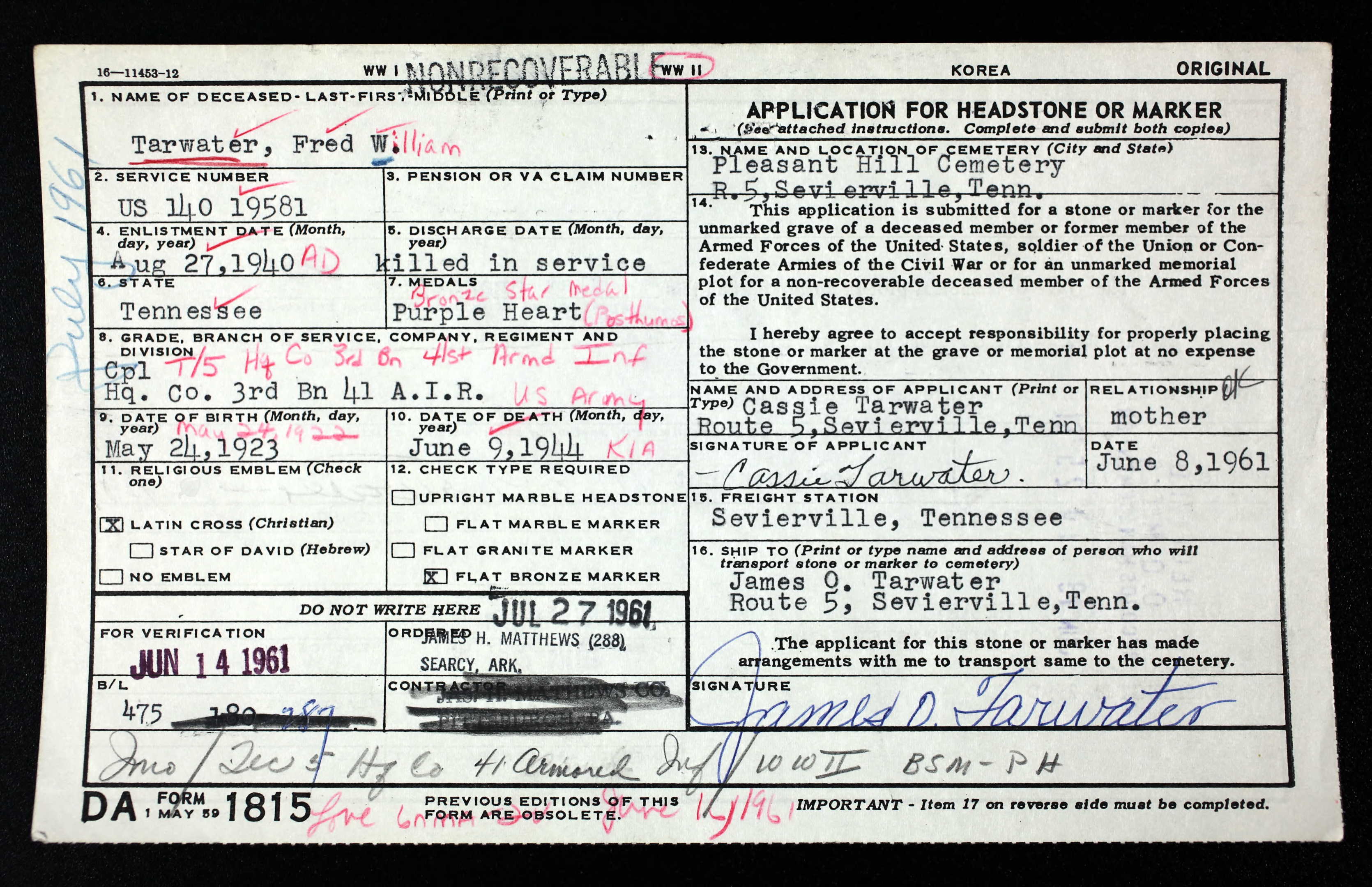 ---