Private First Class Fred Rowe Lewis, Service Number 34186129
Fred was born in Sulphur Springs, Washington County, Tennessee on 28 February 1917. He attended Sulphur Springs High School and worked for four years at Tennessee Eastman Corporation, Kingsport, Tennessee before enlisting in the United States Army. Fred signed up at Fort Oglethorpe, Georgia on 20 January 1942 and was sent to Camp Blanding, Florida for training with the First Division, The Big Red One.
Once at Fort Blanding, he was further assigned to Company G, 26th Infantry Regiment, The Blue Spaders. Fred completed his training as an infantryman and on 15 May 1942 the 1st Division was redesignated the 1st Infantry Division and moved to Fort Benning, Georgia on 22 May. He continued training until the 1st received orders to relocate overseas. The entire division was sent to New York for embarkation to England and Scotland. Fred departed with the 26th on the Queen Mary 1 August 1942 and arrived Glasgow, Scotland on 8 August. Soon after, they were shipped down to Tidworth Barracks, Wiltshire, England to rejoin the entire division. After they all came together, then began joint training with His Majesty's Forces for Operation Torch, the invasion of North Africa.
The Blue Spaders received the honor and led the assault against the Vichy French units defending the beaches at Oran, Algeria on 8 November 1942 and made very quick work of them. The French started to surrender soon after they hit the beach and completely so by 10 November. After this the 1st moved into Tunisia and the next battles would not be this easy for Fred and the Blue Spaders, because Field Marshal Erwin Rommel's Afrika Corps were next.
Battle of the Kasserine Pass began on 19 February 1943 and Rommel personally led a battle group of the 10th Panzer Division and within minutes broke the American lines. The men were not equipped or trained properly on how to defend against such heavy armor and battle hardened troops. By 25 February, the Allied Forces had reoccupied the pass, but at a costly price and lesson. Also, there came a change in command, Major General George S. Patton, Jr took command of II Corps and the mistakes at Kasserine didn't happen again. Fred and the Blue Spaders continued on and fought at the Battles of Gafsa, El Guettar and Beja-Mateur. It was here near Beja on 23 April 1943 while engaged with the enemy that Fred was killed in action, he was 26 years old. He participated in two unit campaigns, Algeria-French Morocco and Tunisia. Fred was awarded the Purple Heart.
He was interred at the United States Military Cemetery Carthage, Tunisia and a memorial service was conducted for Fred on 13 June 1943 at the Sulphur Springs Methodist Church. He was returned to his home Sulphur Springs, Tennessee on 17 June 1948 and reinterred the next morning at the Sulphur Springs Cemetery, Row 32 Right, Grave 7.
Fred was the son of Everett Matthew Lewis and Olee Kate Moore. He had a very special friend that waited for him, Mary Elizabeth Calhoun.
-Submitted by Allen D. Jackson, USAF (Ret)
Rank: Private First Class
Date of birth:
28 February 1917
Date of death: 23 April 1943
County: Washington
Hometown: Sulphur Springs
Service Branch: Army/Army Air Forces
Division/Assignment: 26th Infantry Regiment, 1st Infantry Division
Theater: North Africa
Conflict: World War II
Awards: Purple Heart
Burial/Memorial Location: Sulphur Springs Cemetery, Jonesborough, Washington County, TN
Location In Memorial: Pillar XIX, Middle Panel
---
Image Gallery
Click a thumbnail below to view at full size.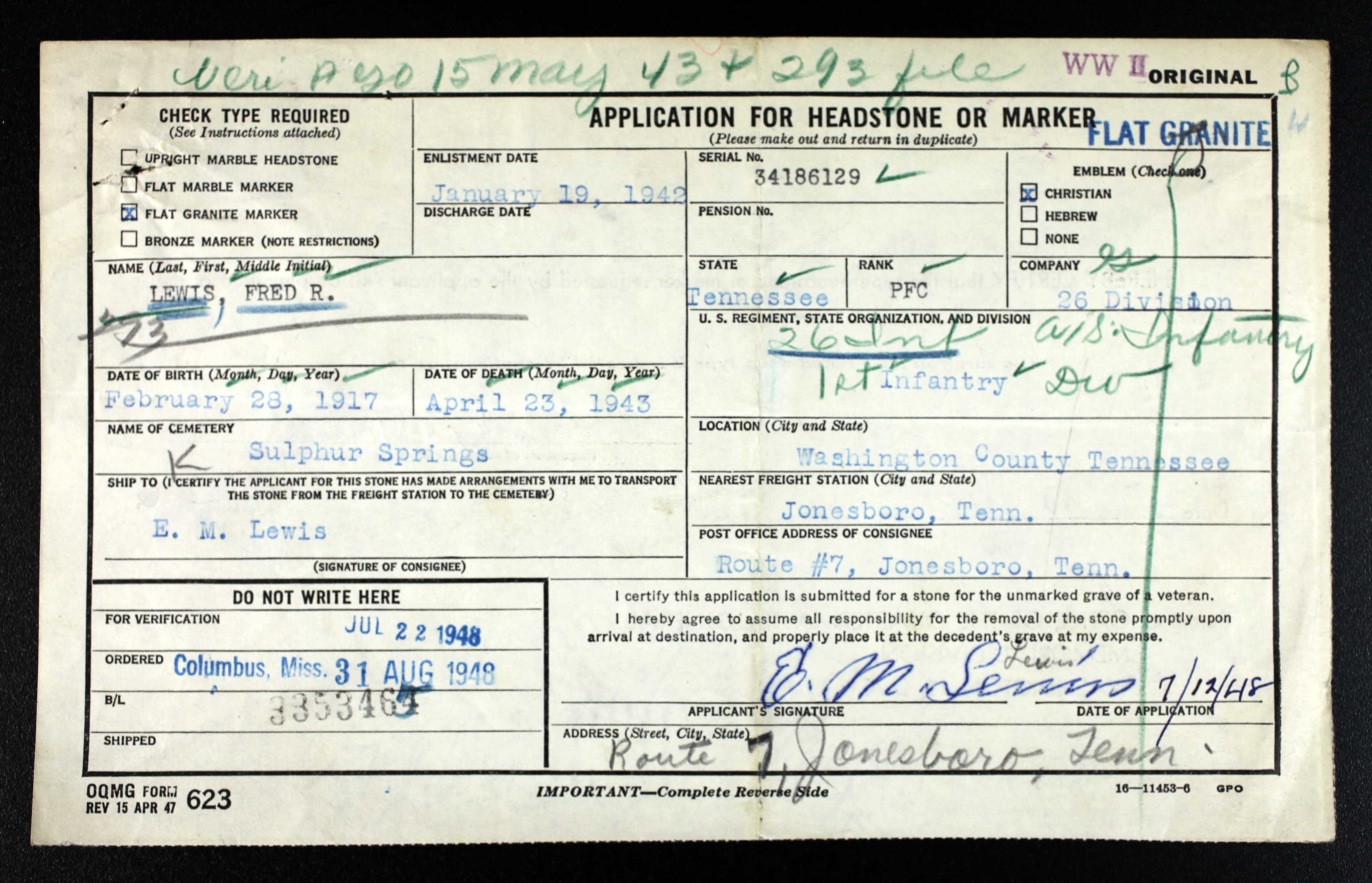 ---