KIA 8 May 1942, Battle of Coral Sea.
Frank Harwood Pennybacker shipped aboard the USS Lexington CV-2. On 15 April The Lexington sortied from Pearl Harbor and joined up with USS Yorktown and Task Force 17 TF 17 on 1 May. TF 17 was tasked with blocking the Japanese expansion into the South Pacific that would cut off supply routes to Australia.
On 7 May searchplanes located a Japanese Carrier Task Force, and Lexington's air group flew a strike against this Task Force sinking the Light Carrier Shoho. Later attacks by Japanese aircraft were intercepted before they reached the Lexington. On 8 May Enemy aircraft penetrated to the air defense to the American carriers at 11h00, and 20 minutes later Lexington was struck by a torpedo to port and a few seconds later a second torpedo struck to port below the bridge. At the same time Lexington was struck by three hits from dive bombers, producing a 7 degree list and fires. By 13h00 the ship was able to get underway at 25 knots and recover her planes when gas fumes exploded below decks.
The Lexington was abandoned at 17h07 and all survivors picked up immediately. At 19h56 she was sunk by torpedos from destroyer USS Phelps. She is considered a war tomb in the ocean.
Father: Mr. Albert Mitchell Pennybacker 2324 Windsor Court, Chattanooga
Rank: Shipfitter Third Class
Date of death: 8 May 1942
County: Hamilton
Hometown: Chattanooga
Service Branch: Navy
Division/Assignment: USS Lexington (CV-2)
Conflict: World War II
Battles: Coral Sea
Awards: Purple Heart
Burial/Memorial Location: Manila American Cemetery, Fort Bonifacio, Manila, Philippines
Location In Memorial: Pillar XI, Top Panel
---
Image Gallery
Click a thumbnail below to view at full size.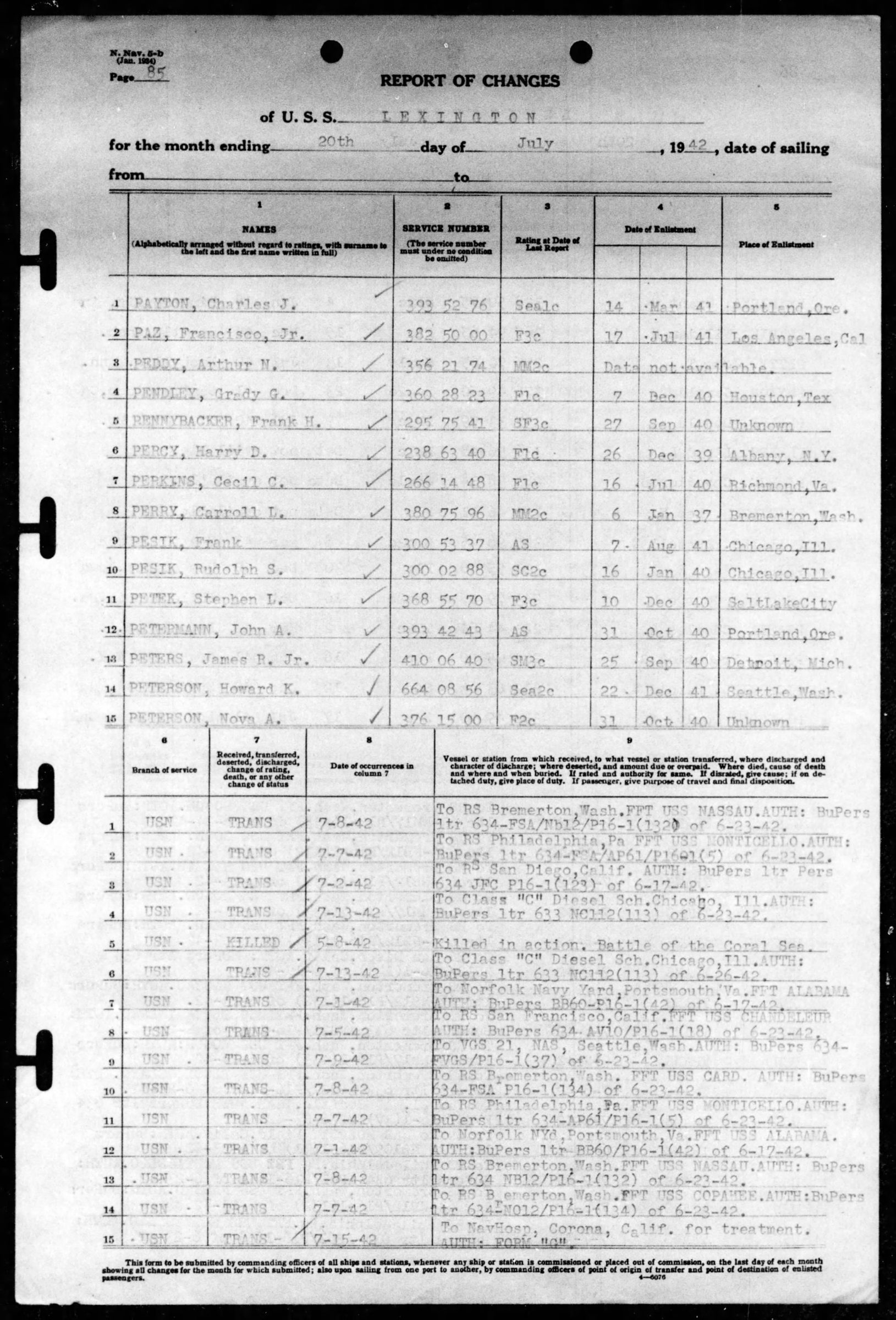 ---