Second Lieutenant Frank Bowman St. John, Service Number 0-483807
Frank was born in Johnson City, Washington County, Tennessee on 4 May 1921. He graduated Science Hill High School, Class of 1938. While there he completed three years as a cadet in the Army Junior Reserve Officers' Training Corps. After high school, Frank attended and received military training via the Citizens' Military Training Camp at Fort Oglethorpe, Georgia. He was employed by Summer's Hardware Company in Johnson City prior to enlisting in the United States Army.
Frank was commissioned a Second Lieutenant on 16 July 1942 in the United States Army after completing Officer Candidate School. After a short leave in Johnson City, he arrived Fort Riley, Kansas on 30 July where he continued his training as a Cavalry Officer. Later, Frank was assigned to C Troop, 91st Cavalry Reconnaissance Squadron (Mechanized), II Corps, Army Ground Forces and deployed to North Africa.
After arriving Tunisia, North Africa, Frank was given command of Third Platoon. They were first committed to battle on 18 April 1943 while attached to the 9th Infantry Division. Corporal Fred H. Salter in his book "Recon Scout" had this to say about his platoon leader: "He was the only officer in our troop to accompany us up About Face Hill the day we conquered it, made his order seem like a request. I had more respect for this man than any other officer in our troop. He'd shown his true colors in combat."
In Chapter IV, A Poppy Lives Forever, he also had this to say about Frank: "Unlike most officers, he quite often fraternized with the men in the ranks. As we sat around the fire, which now was only a glowing heap of embers, he came and joined us in song. I'd recently written a poem called The Zero Hour, and composed a melody for it. The lieutenant leaned over my shoulder so that he could read the words I'd scribbled on a folded piece of paper. He sang this song along with me."
The Zero Hour
I'm just a lonely sentry,
Out next to "No-Man's-Land,"
Who early in the morning.
Will fight and make a stand.
The stars just seem to whisper,
Brave soldier boy, don't fear;
Have faith, and think of loved ones,
Be glad that they're not here.
I walk my post and wonder,
If the moon, o'er the hill
Will shine upon us soldiers,
When all the guns are still?
Though we may not all return,
If it's my final fight.
There'll still be boys to follow,
For God and might, Makes right.
The cold gray dawn is breaking,
The "Zero Hour" is here,
Though "No-Man's-Land" looks empty,
Our enemy is near.
"Little did Lieutenant St. John realize that the following day he would lose his life in the assault on the 1,500-foot-high Djebel Ichkeul. Every time I read the Poem "The Zero Hour," my thoughts drift back to that evening on the plains of North Africa. I can still hear our gallant lieutenant singing the ending of the song. The night wind carried the last words he ever sang, out past the campfire's glow, to trail away into the darkness. On the morrow, the warm breeze ascending the hill whispered the words of the last verse back to him as he moved forward into battle"—
I pray that I will come back,
But my heart holds no fear.
I'd die there for my country,
And freedom we hold dear. (End of poem)
This time while attached to the 1st Armored Division, Frank again in the led of his platoon was attacking one of Germany's crack combat units: the famed Hermann Goering Division. He was mortally wounded on 5 May 1943 leading his men up Djebel Ichkeul, near Mateur, Tunisia, North Africa and died from this wound two days later on the 7th at the 47th Armored Medical Battalion's facility. Frank had just turned 22 years old three days prior on the 4th. He participated in the Tunisia, North Africa Unit Campaign and was first interred at the American Cemetery Ksar-Mezouar, Tunisia in Plot B, Row 9, Grave 42 on the 7th at 1530 hours. Frank was reinterred at Arlington National Cemetery on 10 March 1949 in Section 34, Site 4777 in Arlington, Virginia.
Frank was the son of Frank Love St. John and Ellen Rebecca Bowman. Captain Frank Love St. John was a World War I combat veteran having served in France with Company M, 3rd Battalion, 120th Infantry Regiment, 60th Brigade, 30th Division (Old Hickory), United States Army.
Submitted By:  Allen D. Jackson, USAF (Ret)
Rank: Second Lieutenant
Date of birth:
4 May 1921
Date of death: 7 May 1943
County: Washington
Hometown: Johnson City
Service Branch: Army/Army Air Forces
Division/Assignment: 91st Cavalry Reconnaissance Squadron
Theater: North Africa
Conflict: World War II
Awards: Purple Heart
Burial/Memorial Location: Arlington National Cemetery, Arlington, Virginia
Location In Memorial: Pillar XIX, Middle Panel
---
Image Gallery
Click a thumbnail below to view at full size.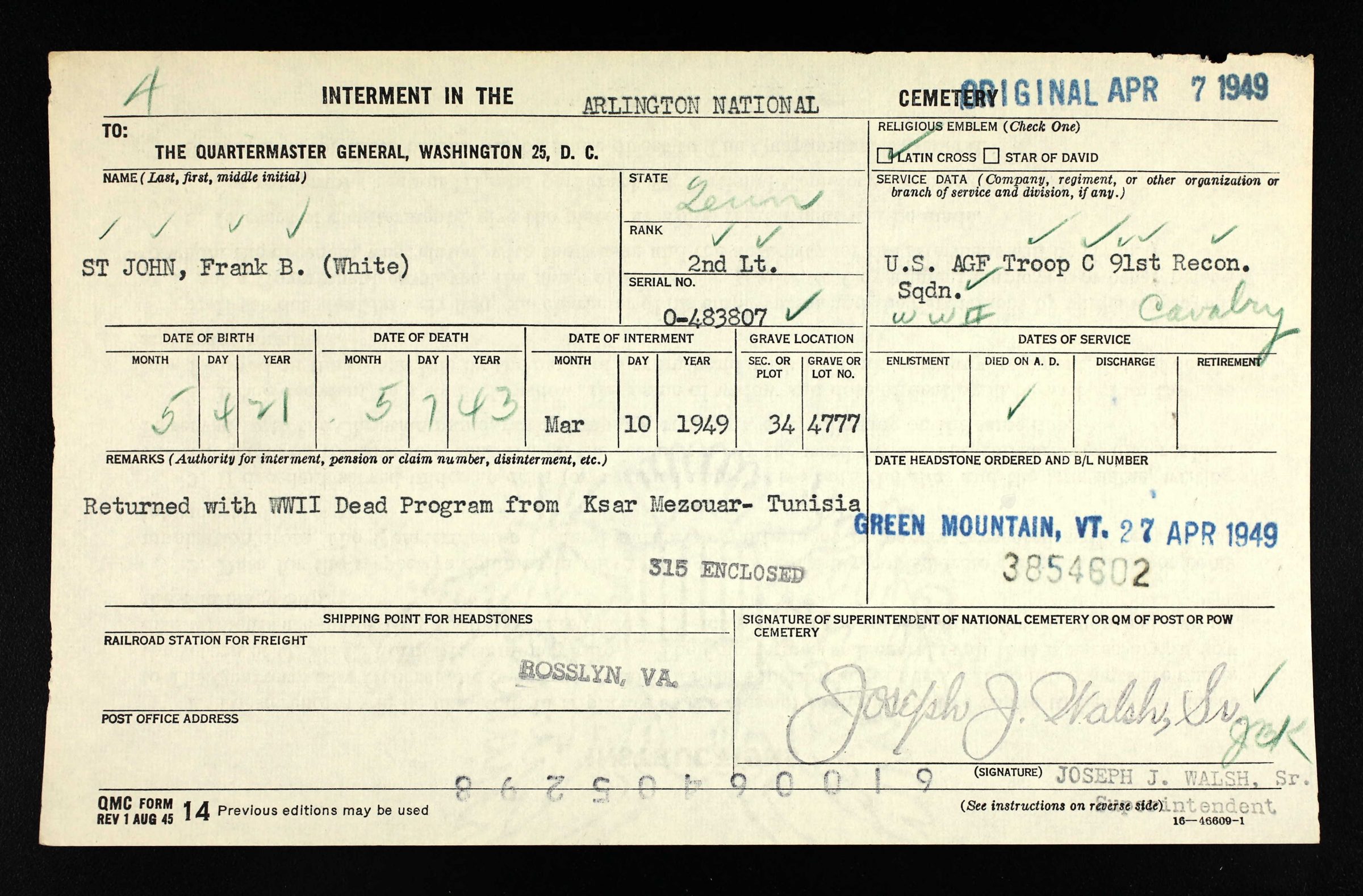 ---