Specialist Fourth Class Floyd Watsel "Jason" Lamb Jr., Service Number 411848771
Jason was born in Greeneville, Greene County, Tennessee on 4 October 1949. His parents lived in and he grew up in the South Central Community, Chuckey, Washington County, Tennessee and was a member of the Boy Scouts of America. He graduated Lamar High School, Class of 1967. Jason was a member of the Beta Club and graduated second in his class, the class Salutatorian.
After basic and advanced training, Jason was assigned to Company B, 1st Battalion, 46th Infantry Regiment, 198th Light Infantry Brigade, 23rd Infantry Division, "The Americal Division" as a Light Weapons Infantryman.
His tour of duty in Vietnam began on 10 December 1969. Jason was killed in action while participating in a search and clear operation in the Nui Yon Thon Mountains, approximately eight miles southwest of Tam Ky City, Quang Tin Province, South Vietnam on 4 May 1970. At 0830 (8:30am), Jason received a fatal fragmentation wound when a concealed enemy explosive device was detonated. For his actions, he received the Bronze Star, Purple Heart, Army Commendation, National Defense, Vietnam Service and Vietnam Campaign Medals. Jason rests in the Liberty Freewill Baptist Church Cemetery, Chuckey, Tennessee and is commemorated on the Vietnam Memorial Wall; Panel 11W Line 096.
Jason was 20 years old and a member of the Liberty Freewill Baptist Church. He was the son of Floyd Watsel Lamb, Sr., a United States Army, World War II veteran and Bonnie Bell Waddle. Jason was married with no children.
-Submitted by Allen D. Jackson, USAF (Ret)
Larry Dunbar
dunbarlkd@aol.com
141 Horace Dillow Rd.
Telford, TN37690 usa
Not Forgotten
Floyd arrived in Vietnam about the time I departed. I served with the 3rd SPS Air Force at Bien Hoa. We use to go to the same church. I still remember his smile and how much fun he was to be around. They say that time heals. May you rest in Peace. You are truly a hero. Poor is the nation that has no heroes. Shameful is the one that, having them, forgets.
Thursday, October 20, 2005
My Dad (Dan Wayne) and Jason were best friends in Vietnam. Closer than brothers. God bless all who honor him.
–Submitted by James Wayne
Rank: Specialist 4th Class
Date of birth:
4 October 1949
Date of death: 4 May 1970
County: Washington
Hometown: Chuckey
Service Branch: Army
Division/Assignment: 198th Infantry Brigade
Conflict: Vietnam
Awards: Bronze Star, Purple Heart, Army Commendation, National Defense, Vietnam Service and Vietnam Campaign Medals
Burial/Memorial Location: Liberty Freewill Baptist Church Cemetery Old, Washington County, TN
Location In Memorial: Pillar XXIV, Middle Panel
Sponsored by: James Wayne
---
Image Gallery
Click a thumbnail below to view at full size.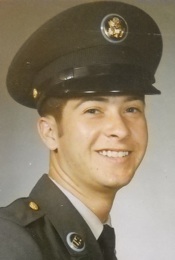 ---