Private Eugene B. Clifton #6395355 US Army was assigned to Company D, 1st 424th Infantry Regiment, 106th Infantry Division.
Wikipedia States:
During World War II, the 106th Infantry Division relieved the 2nd Infantry Division in the Schnee Eifel on 11th of December 1944, while its 424th Infantry Regiment was sent to Winterspelt. The Ardennes-Alsace Campaign Battle of the Bulge attack was thrown in force at the 106th on the 16th of December 1944. Prior to the battle, the US Army Service Manual, one division should be responsible for no more than 5 miles of front. On the eve of the battle, the 106th was covering a front of almost 26 miles.
The division's 422nd and 423rd Infantry Regiments were encircled and cut off from the remainder of the Division by a junction of enemy forces in the vicinity of Schonberg. They regrouped for a counterattack but were blocked by the enemy and lost to the Division on 18 December 1944. The two Regiments surrendered to the Germans on 19th December 1944. The Germans gained 6000 prisoners in one the largest mass surrenders in American military history. Nearly 50 of the Division's strength was brushed aside in the first days of the Battle of the Bulge.
Private Clifton was killed in action on the second day of the Battle of the Bulge, 17th of December 1944. He was listed as missing in action and memorialized at the Henri-Chapelle American Cemetery in Belgium. Later his remains were found and buried at the Ardennes American Cemetery in Neupré Neuville-en-Condroz, Belgium. B, 43, 58 There is a brass button placed at his name on the Tablets of the Missing at the Henri-Chapelle American Cemetery.
Rank: Private
Date of death: 17 December 1944
County: Knox
Service Branch: Army/Army Air Forces
Division/Assignment: 424th Infantry Regiment, 106th Infantry Division
Theater: Europe
Conflict: World War II
Battles: Battle of the Bulge
Awards: Bronze Star, Purple Heart
Burial/Memorial Location: Ardennes American Cemetery, Neupre (Neuville-en-Condroz), Belgium Hen
Location In Memorial: Pillar VIII, Panel
---
Image Gallery
Click a thumbnail below to view at full size.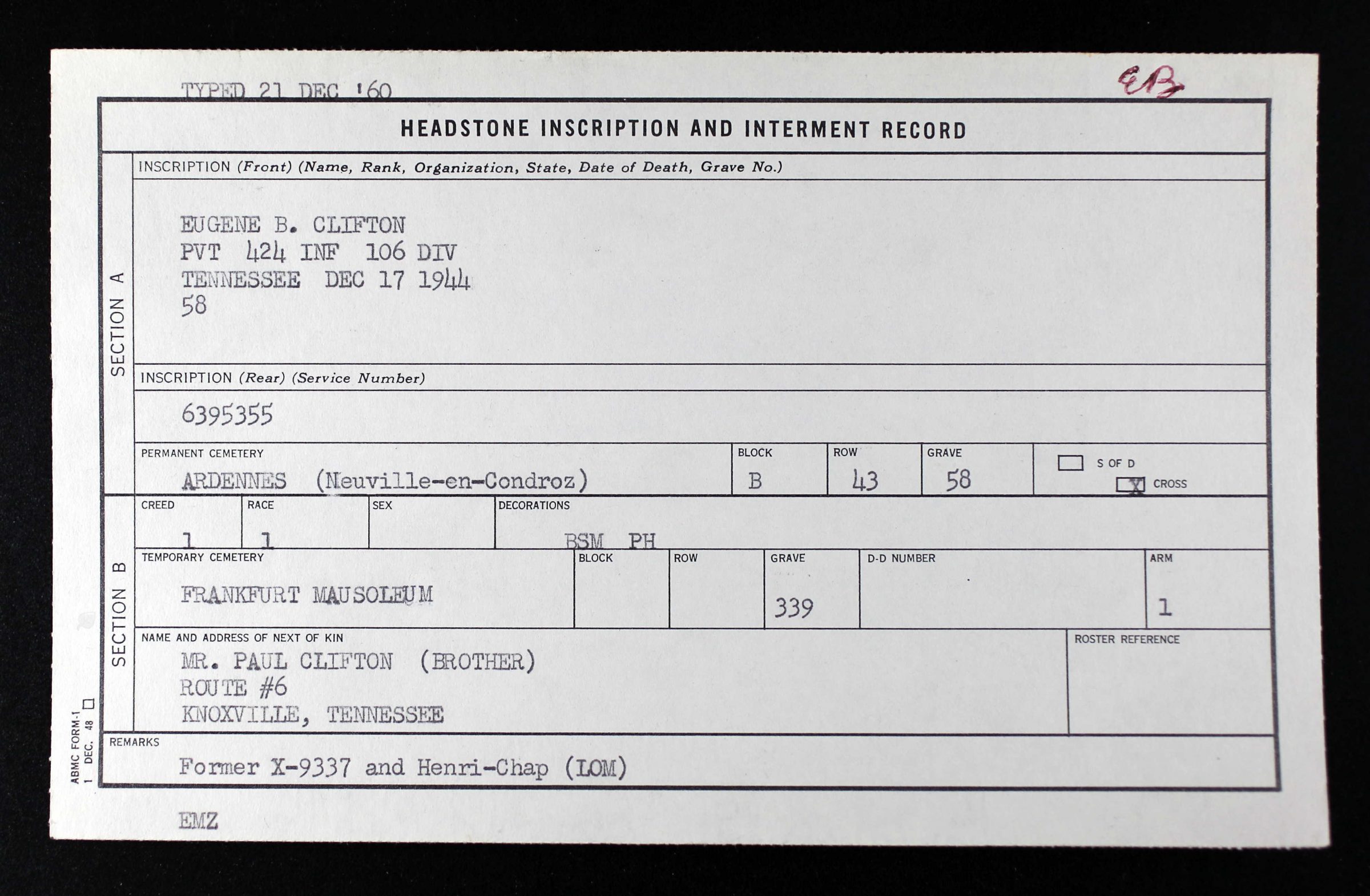 ---