Aircraft B-26B41 MA with serial number 42-43300 departed from Decive Airdrome in Sardinia on a bombardment mission to Fendi, Italy. The aircraft crashed at Itri.
Statement from 1st Lt George E. Marple, Air Corps:
I hereby state that on the 12th of May 1944, I was on a bombing mission to the area around the town of Fondi, Italy, when the B-26 (42-43300) piloted by 1st Lt Dowaine C. Daniels, was hit by flak on the bomb run at about 1609 hours. We were headed in a NE direction and had just crossed the coast of Italy.
When the B-26 was hit, flames broke out in the right engine. The A/C was held level for a while and one or two parachutes opened out of the tail. Then there was an explosion in the right wing and fire could be seen coming from the Bombay. The B-26 peeled off and headed down still on fire.
In the break it could be seen burning on the ground about 3 miles SE of Fondi and five parachutes could be seen drifting in a NE direction.
Crew members
Pilot, 1st Lt Dowaine C. Daniels
Co-Pilot, 2nd Lt Edward T. Wilson
Bombardier, Cpl Grover W. Hill
Engineer/Gunner, S/Sgt Herbert A. Grant
Radio Operator/Gunner, SSgt Frederick N. Coulson Jr.
Aerial Gunner, S/Sgt William C. Nenish
He is memorialized at the Sicily-Rome American Cemetery, Nettuno, Italy
Rank: Second Lieutenant
Date of death: 12 May 1944
County: Hamilton
Service Branch: Army/Army Air Forces
Division/Assignment: 438th Bomber Squadron, 319th Bomber Group, Medium
Theater: Europe
Conflict: World War II
Awards: Air Medal, Purple Heart
Burial/Memorial Location: Sicily-Rome American Cemetery, Nettuno, Italy
Location In Memorial: Pillar XII, Top Panel
---
Image Gallery
Click a thumbnail below to view at full size.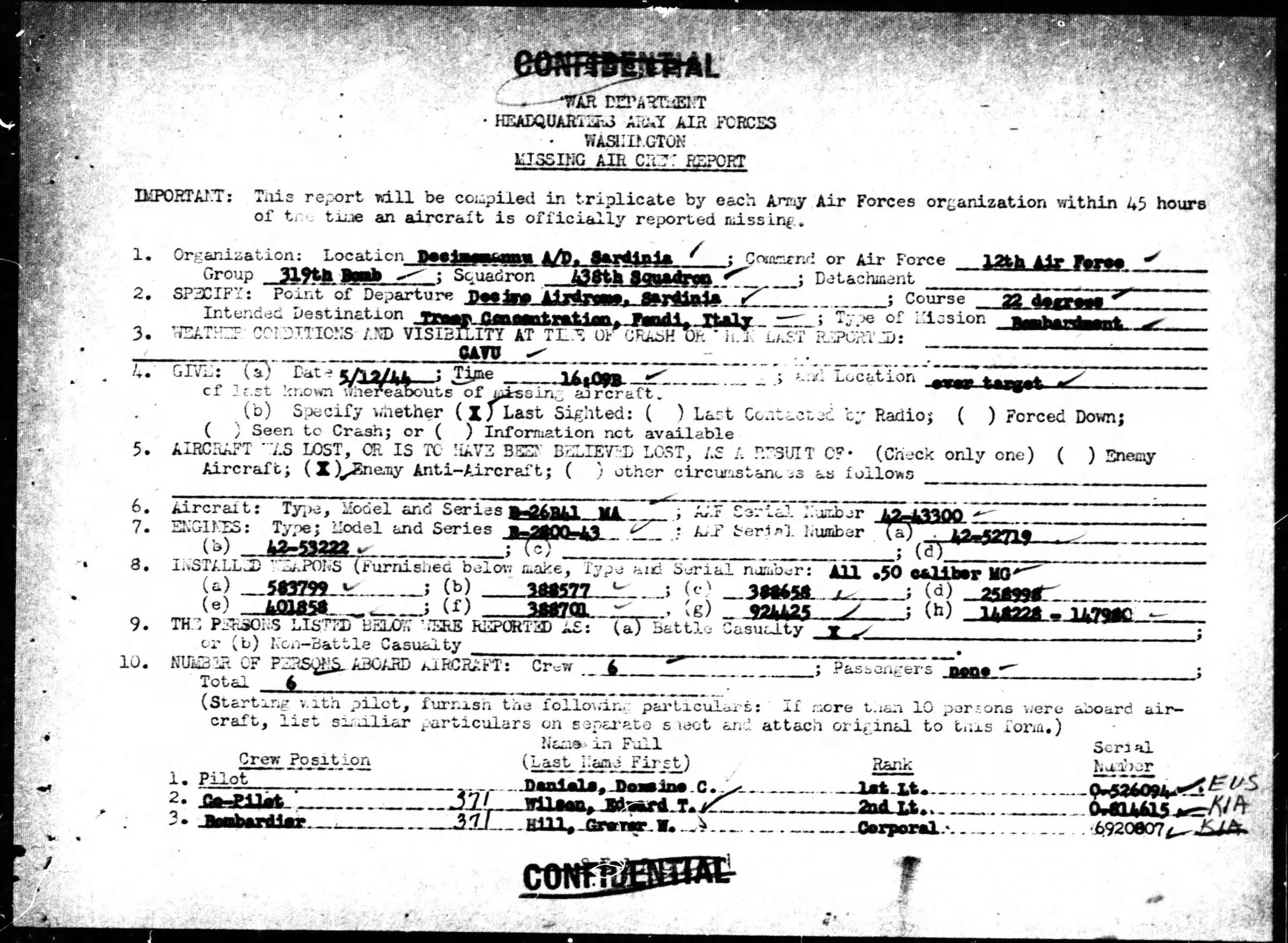 ---