Edward Arthur Bagwell
Born – 25 August 1920
Died non Battle – 26 February 1943
Buried Chattanooga National Cemetery,  Chattanogga, TN,  Sec MA Site 21
FLT O US Army Air Corps
Enlisted 4 December 1940, Ft McPherson, GA
Panama City, FL Bomber Crash, Mar 1943
Posted January 21st, 2008 by Linda Horton
Texan Believed Lost As Plane Wreck Found
PANAMA CITY, Fla., March 7 AP.—Tyndall Field officials announced Sunday that wreckage of an airplane discovered on St. George Island had been identified as that of a medium bomber which took off Feb. 26 from the Atlanta air base.
The announcement said it was believed that the crew of six had perished, and identified the men as:
Flight Officer Edward Arthur Bagwell, pilot, son of W. R. Bagwell, pilot, Chattanooga, Tenn. Second Lieut. Thomas Frederick Brown, copilot, son of Mrs. Bessie Allen Brown, Princeton, W. Va. Flight Officer Albert Dalton Braswell, son of W. D. Braswell, Blue Ridge, Texas Sergt. F. M. MORIN, crew chief, son of Peter Emil Morin, Superior, Wis. Sergt. James A. Smith, son of James A. Smith, Hahira, Ga., and Cpl. Gene D. Hofherr, son of Mrs. Minnie Hofherr, Yorktown, Ind.
The bomber was on a routine administrative flight from the Atlanta air base to Tyndall Field here, officials said.
Dallas Morning News, Dallas, TX 8 Mar 1943
Rank: Flight Officer
Date of birth:
25 August 1920
Date of death: 26 February 1943
County: Hamilton
Hometown: Chattanooga
Service Branch: Army/Army Air Forces
Conflict: World War II
Burial/Memorial Location: Chattanooga National Cemetery, Chattanooga, TN
Location In Memorial: Pillar X, Middle Panel
---
Image Gallery
Click a thumbnail below to view at full size.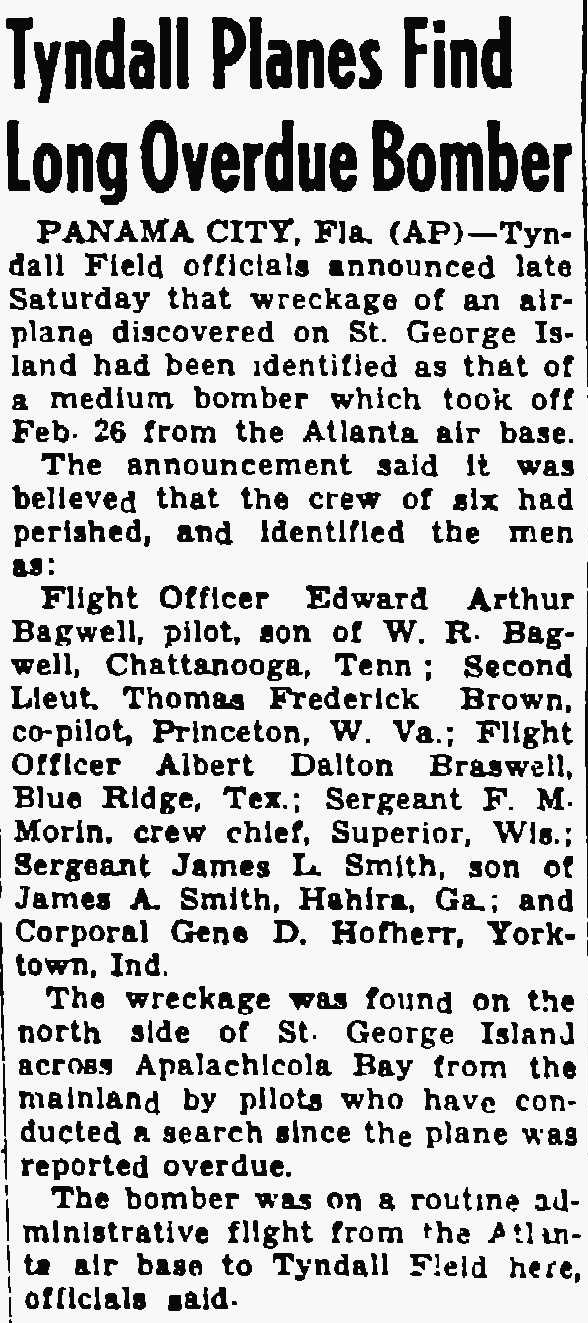 ---