Earl Cheatham served on the U.S.S. Capelin (SS-289). He is memorialized at Manila American Cemetery.
Returning from her first war patrol after only 17 days out, CAPELIN (Cdr. E. E. Marshall) came into Darwin on 16 November 1943 with a defective conning tower hatch mechanism, excessively noisy bow planes, and a defective radar tube. These flaws were corrected to the satisfaction of the Commanding Officer, and the ship then departed for her second patrol on 17 November. Her area was in the Molucca and Celebes Seas, and she was to pay particular attention to Kaoe Bay, Moratai Strait, Davao Gulf and trade routes in the vicinity of Siaoe, Sangi, Talaud and Sarangani Islands. She was to leave her area at dark 6 December.
Nothing was positively heard from CAPELIN after her departure. However BONEFISH reported having seen a U. S. submarine at 1° 14'N, 123° 50'E on 2 December 1943. This position is in the area assigned to CAPELIN at this time. An attempt to reach CAPELIN by radio, on 9 December 1943, elicited no response.
Photo courtesy: http://www.oneternalpatrol.com
Rank: Stewards Mate First Class
Date of birth:
27 January 1926
Date of death: 10 January 1946
County: Knox
Hometown: Knoxville
Service Branch: Navy
Division/Assignment: U.S.S. Capelin (SS-289)
Theater: Pacific
Conflict: World War II
Awards: Purple Heart
Burial/Memorial Location: Manila American Cemetery, Fort Bonifacio, Manila, Philippines
Location In Memorial: Pillar XIV, Top Panel
---
Image Gallery
Click a thumbnail below to view at full size.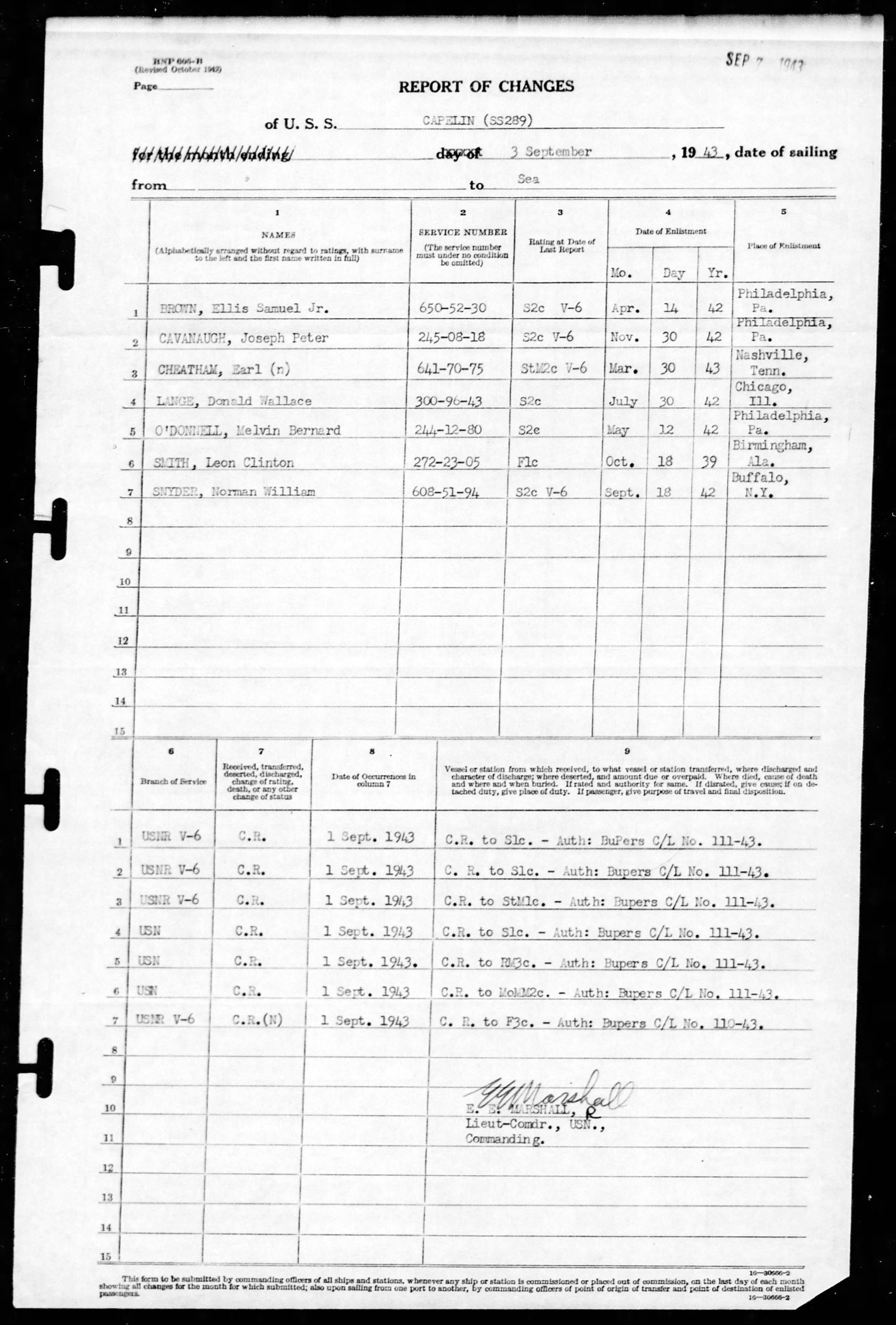 ---