Sergeant Dickie Walter Reagan was a casualty of the Vietnam War. As a member of the Army, SGT Reagan served our country until May 6th, 1970 in Thua Thien, South Vietnam. He was 21 years old and was not married. It was reported that Dickie died from artillery fire. His body was recovered. Dickie was born on February 3rd, 1949 in Lumberton, North Carolina. SGT Reagan is on panel 11W, line 117 of the Vietnam Memorial Wall in Washington D.C.
On 06 May 1970 Fire Support Base Henderson, about 9 nautical miles south-southwest of Camp Carroll, was occupied by elements of the 2nd Battalion, 501st Infantry, as well as artillerymen. FSB Henderson came under attack, first by heavy mortar fire, then assault by a North Vietnamese Army battalion. By the time the fight stopped, 24 US soldiers were dead and two missing: Sp4 Reagan was one of those killed.
Funeral Services for Sp4 Dickie Walter Reagan, 21, who was killed in action in Vietnam May 5 will be held Wednesday at 4pm from the First Baptist Church, South Lumberton, with the pastor, Dr Turner, officiating. Interment will be in Elizabeth Heights Cemetery with military honors. Survivors are one daughter, Tannis Lavita Brown; his mother, Mrs Margaret McDonald Reagan; one sister, Miss Anna Marie Reagan. Lumberton High School class of 1966.
He is the Son of Mrs Margaret McDonald Reagan, 1705 Nevada Street, Lumberton, NC; Father to Tannis Lavita Reagan Brown; Brother to Mrs Anna Marie Reagan.
He served with Recon Platoon, Echo Company, 2nd Battalion, 501st Infantry Regiment, "Geronimo", 101st Airborne Division, "Screaming Eagles", USARV.
He was awarded The Bronze Star Medal, The Combat Infantryman's Badge(CIB), The Purple Heart Medal for his combat related wounds, The Army Commendation Medal, The Vietnam Service Medal, The Republic of Vietnam Campaign Service Medal, The National Defense Service Medal.
Photo's submitted by Tom Reece. Photo is courtesy of his daughter, Tannis Lavita Reagan Brown.
Rank: Sergeant
Date of birth:
3 February 1949
Date of death: 6 May 1970
County: Campbell
Hometown: Lumberton, Nc
Service Branch: Army
Division/Assignment: 501st Infantry Regiment, 101st Airborne Division
Conflict: Vietnam
Awards: Purple Heart, Combat Infantrymans Badge, National Defense Medal, Vietnam Service Medal, Vietnam Campaign Medal, Good Conduct Medal
Burial/Memorial Location: Elizabeth Heights Cemetery, Lumberton, Robeson County, North Carolina
Location In Memorial: Pillar XXII, Top Panel
---
Image Gallery
Click a thumbnail below to view at full size.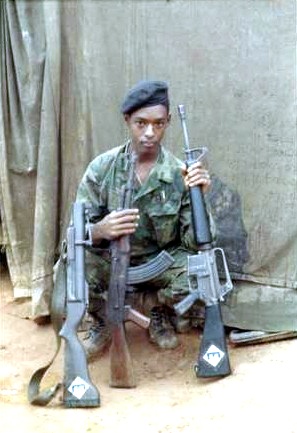 ---