David Thomas Weir
Sgt. David T. Weir of Cleveland, Tennessee, was a military career man doing what he wanted to do and what he felt he needed to do. He was a graduate of Bradley Central High School where he played football as No. 24. His favorite sport was football, and he also enjoyed camping and the outdoors and was a member of Waterville Baptist Church. He was a history buff who studied all of the wars, and knew the times and dates of each one. He was preceded in death by his grandfather, Earl Thomas Weir, and is survived by his wife, Alison Weir, one son, Gavin Weir, parents Charles Lynn and Jackie Weir, three brothers and their spouses Chris, Jeff, and Tim Weir, one sister and spouse, Missie Burgraff and grandmother, Beulah Weir. He was 23.
Burial: Chattanooga National Cemetery, Hamilton County, Tennessee
From Bradley News
Cleveland Mourns Death of Young Soldier In Iraq
by B. Jay Johnson
The battle for freedom in Iraq hit home this week. Flags fly at half-staff across Cleveland and Bradley County to honor the memory of Army specialist David Weir. The 24-year old solider was killed last Thursday in Baghdad in what U.S. military officials describe as a running gun battle with insurgents with alleged ties to Al-Qaeda.
Late Monday night during a telephone conversation with Bradley News, Sergeant Weir's father said the military had provided him with some limited details surrounding the circumstances of his sons death. "I was told that David went above and beyond the call of duty during the attack," said Lynn Weir.
Weir also revealed that his son's body was on its way home and could be back in Bradley County in two to four days.
Weir also shared with the Bradley News details of an intimate conversation he had with his son." Here's what he told me," said Weir. "Look at the streets of Baghdad on TV. Do you want the streets here in the United States to look the same way?" Weir said there was no question his son was proud to be in Iraq fighting for our freedom.
On the day Weir was killed, he reportedly spoke with his brother, Chris, on the telephone. Chris Weir said his brother told him it had been another violent day in Baghdad and that he had just been caught in the crossfire of a mortar attack apparently aimed at another group of U.S. soldiers. Military officials say just four hours after that phone conversation, the insurgents struck again. Tragically, Sergeant David Weir had become the latest U.S. casualty in Iraq.
David Weir had just re-enlisted and his promotion to sergeant had been scheduled to take effect October 1 but the Army awarded the rank posthumously. Weir entered the Army in February of 2004. He was a member of the 101st Airborne Division stationed at Fort Campbell, Kentucky.
All across the Cleveland area, people are talking about the young husband and father whose life was taken so soon. Sergeant Weir is also being remembered at stores and businesses.
At Cookes Food Store on Keith Street the marquis out front usually informs shoppers of special buys and what's on sale — but not this week. Instead, the sign pays tribute to the fallen hometown hero.
The store had displayed an American flag to mark the fifth anniversary of 9/11 last Monday. Store managers say it will now stay in place a while longer out of respect to Sergeant Weir and his family. When we heard about his death, says Sharon Smith, we were glad we hadnt taken it down.
Smith says she is deeply saddened by the young soldier's death. She, too, has a son who has served in Iraq. Staff Sergeant Ray Henderson is now back at Camp LeJeune, North Carolina.
"I picked up the phone and called him immediately after hearing about it," she says. She wanted to know whether he knew Sergeant Weir. He told her he didn't.
David Weir was the middle of five children born to Lynn and Jackie Weir. He leaves behind wife Allyson and their 18-month-old son, Gavin.
Sergeant Weir was a 2001 graduate of Bradley Central High School and was a member of the Bears football team. He wore number 24. That jersey will be on display when the high school holds a memorial service for Weir at Bear Stadium.
Rank: Sergeant
Date of birth:
22 September 1982
Date of death: 14 September 2006
County: Bradley
Hometown: Cleveland
Service Branch: Army
Division/Assignment: 101st Airborne Division, 61st Cavalry Regiment
Conflict: Iraq
Awards: Bronze Star, Purple Heart
Burial/Memorial Location: Chattanooga National Cemetery, Chattanooga, TN
Location In Memorial: Pillar XXV, Top Panel
---
Image Gallery
Click a thumbnail below to view at full size.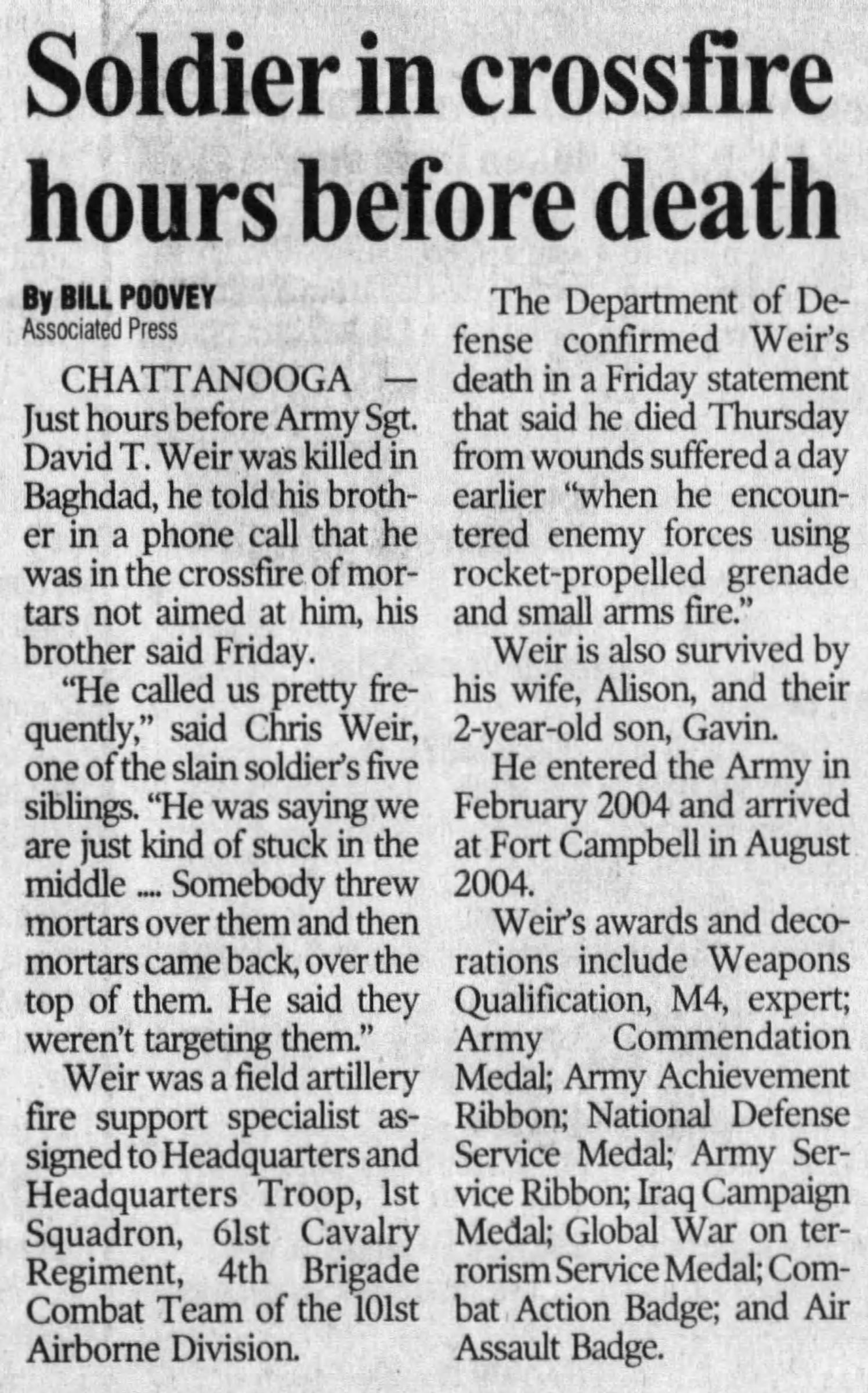 ---