-David Stewart Whitman
-His tour began on January 20, 1969
-G Company, 2nd Battalion, 9th Marines, 3rd Marine Division
-Service Occupation: Rifleman
-Died at age 19 in Quang Tri, South Vietnam
-Cause of Death: Hostile, Ground Casualty, Gun, Small Arms Fire
-Buried in Knoxville National Cemetery on March 11, 1969 (Section B, Site 7219)
The Knoxville News Sentinel
March 5, 1969
Pfc. Whitman had barely escaped death three weeks ago, according to a letter, one of two his parents received yesterday, the same day they learned he was killed. The young man reported he had been rescued by helicopter during a narrow escape, after which his unit was given two days of rest before being sent back to the front lines on patrol. Pfc. Whitman also joined the Marine Corps as a volunteer last summer after graduation from Austin-East. He finished his basic training at Camp Pendleton, Calif., and spent Christmas with his family. He died Feb. 27 of a gunshot wound in the stomach, his father said. Young Whitman was killed about 25 miles from Vandergriff Base.
I was just at an estate sale today near seattle wa . and found the same picture of this US fallen combat soldier . my heart grieved the moment I saw his loss and tragic loss and story . Such a magnificent looking American .No you are not forgotten ! I,m not sure what you need but I do feel compelled that he not be forgotten. Thanks to all combat veterans your the best.
–Submitted by Matt Sabo
See also– https://www.knoxnews.com/story/news/2022/05/27/knoxville-david-whitman-killed-vietnam-but-his-story-lives-on-memorial-day/9555475002/
Rank: Private First Class
Date of birth:
25 May 1949
Date of death: 27 February 1969
County: Knox
Hometown: Knoxville
Service Branch: Marine Corps
Division/Assignment: 9th Marines, 3rd Marine Division
Conflict: Vietnam
Awards: Purple Heart
Burial/Memorial Location: Knoxville National Cemetery, Knoxville, TN
Location In Memorial: Pillar XXIII, Middle Panel
Sponsored by: Matt Sabo
---
Image Gallery
Click a thumbnail below to view at full size.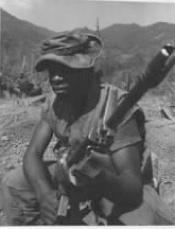 ---