David Kitzmiller Edwards was born 21 July 1916, Tennessee to William Erwin Edwards and Effie Lora Crosby.
He died non Battle 9 November 1944. He was killed in the line of duty, in a crash of C-54A Skymaster #42-107438.
Three other airmen also perished in the accident:
1st Lt James Benedict Waltz
Flt. Off Roy W. Huddleston
MSgt Robert A. Bumpass
F/O Edwards was a flight instructor in the Army Air Corps in Colorado, Texas and Florida. His plane went down in the Bermuda Triangle while he was on a rescue mission, serving as a Navigator, since the assigned Navigator was sick that day.
The Knoxville Journal, Sunday November 12, 1944
Morristown, Nov. 11 – Lt. D.K. Edwards, son of Mrs. Effie Crosby Edwards of Dallas, Texas and nephew of Mrs. H. Evans-McKinley, Bryan and Powell Crowby of Grainger County, was killed Wednesday in a plane crash in Florida, relatives here were informed yesterday. Lieutenant Edwards, former student at Morristown High School and Carson-Newman College at Jefferson City, was attached to the Army Ferrying Command. His wife and small son have been making their home at Homestead, Florida.
Rank: Flight Officer
Date of birth:
21 July 1916
Date of death: 9 November 1944
County: Hamblen
Hometown: Morristown
Service Branch: Army/Army Air Forces
Division/Assignment: Army Ferrying Command
Conflict: World War II
Burial/Memorial Location: Spring Hill Cemetery, Harrodsburg, Mercer County, Kentucky
Location In Memorial: Pillar X, Top Panel
---
Image Gallery
Click a thumbnail below to view at full size.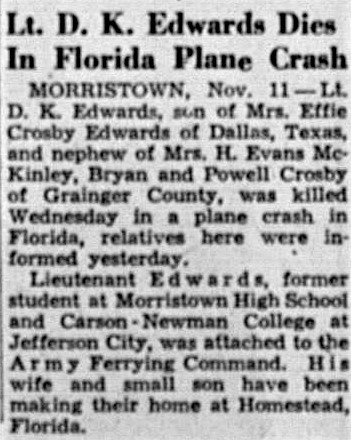 ---