Creed Carl McCarter was stationed on the USS Maddox.
On 8 June 1943, Maddox departed Norfolk for Oran, Algeria, where she became a unit of Task Force 81 TF81, the assault force for the Sicilian invasion. As the assault troops opened the Amphibious Battle of Gela on 10 July, Maddox was on antisubmarine patrol about 16 miles offshore. Steaming alone, the destroyer was attacked by a German dive bomber. The plane dropped four 250 pound bombs, the first landed in the water, the second two hit the fantail and detonated the powder ammunition magazine and the last bomb hit in the water by the side of the ship. The Maddox sank in 90 seconds, 70 men survived, but 212 men went down with the ship including the captain. The USS Maddox, DD-622, has the unfortunate distinction of having been the fastest sinking U. S. warship to be lost in World War II. He is memorialized at the Rome American Cemetery, Nettuno, Italy.
The family was told that Creed was below deck and unable to make it out. Creed was the son of Minyard Mellon McCarter and Mettie Oakley McCarter Ogle.
Rank: Fire Controlman First Class
Date of death: 11 July 1944
County: Sevier
Hometown: Sevierville
Service Branch: Navy
Division/Assignment: USS Maddox DD-622
Theater: Europe
Conflict: World War II
Awards: Purple Heart
Burial/Memorial Location: Sicily-Rome American Cemetery, Nettuno, Italy
Location In Memorial: Pillar XVII, Bottom Panel
---
Image Gallery
Click a thumbnail below to view at full size.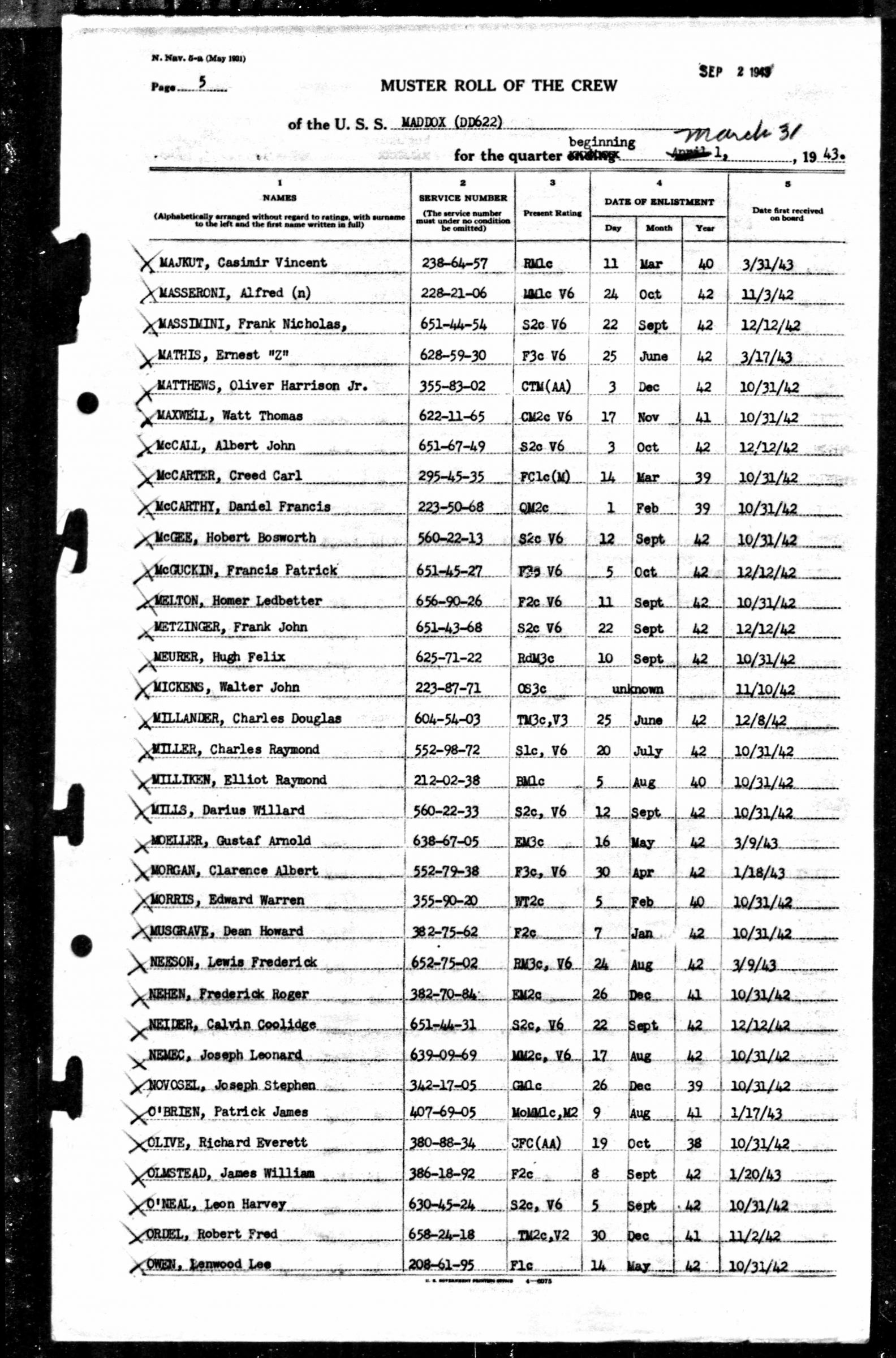 ---