Clarence A. Dacus
Born 23 November 1920
Died non Battle 10 November 1945
Son of Arnold Dewie Dacus and Aussie Irene Adams
Buried Forest Hills Cemetery, Chattanooga, TN
Staff Sergeant Clarence A. Dacus, of Chattanooga, was killed by injuries sustained in an airplane accident six miles outside of Middlesboro, Kentucky on November 10, 1945. He enlisted in the United States Army on July 30, 1941 at Fort Oglethorpe, Georgia. At the time of his enlistment he had completed high school and was a semiskilled welder and flame cutter.
He was stationed with the 240th Army Air Force Base, 17th Bombardment Operational Training Wing in Sioux City, Iowa and was on a training and inspection flight from Middlesboro, Kentucky to Knoxville, Tennessee when the B-25 encountered fog and bad weather over the Cumberland Mountains and crashed into the side of a mountain killing all five aboard. The B-25 Mitchell was piloted by Colonel Norris Perry, of Sedro Wooley, Washington and a Knoxville resident during the war; also on board were Major Frank Hayley resident of Birmingham and Gainesville, Florida, Staff Sergeant Clarence A. Dacus of Chattanooga, Tennessee, Sgt. Clayton Marsh of St. Paul, Minnesota, and Corporal Chester S. Anderson of Hutchinson, Minnesota.
The following is a description of the accident from the official report:
"The pilot had intended making a flight from Bowman Field to Knoxville, Tenn. The weather en route as given by Bowman Field Weather Office was CFR but Marginal. However, inasmuch as the pilot did not possess a current instrument card, he was briefed upon the route by the Operations Officer.
Shortly before the crash, the plane was observed flying very low along a valley in the Cumberland Mountains approximately 55 miles from Knoxville and in a south easterly direction. The plane entered a cul-de-sac with a high mountain directly ahead. This mountain named Canada has an elevation of approximately 2600 feet and an incline of approximately 60 degrees. The Pilot apparently began pulling up as he noticed the steepening incline. Approximately 200 feet up the slope, the plane began shearing off tree tops. The pilot must have maintained a very high angle of attack as the plane kept climbing for approximately 500 more feet before the main impact. With the main impact, the plane exploded and the engine landed 50 feet higher. All of the occupants were killed instantly. At the time of the crash, observers stated that the top of the mountains were in the overcast and visibility was very low.
There has been no evidence found of engine trouble. One observer stated that both engines were functioning shortly before the crash.
The pilot departed at 1027 CST and crashed at 1105 CST approximately 30 miles to the left of a direct course from Bowman to Knoxville."
Rank: Staff Sergeant
Date of birth:
23 October 1920
Date of death: 10 November 1945
County: Hamilton
Hometown: Chattanooga
Service Branch: Army/Army Air Forces
Division/Assignment: 17th Bombardment Operational Training Wing
Conflict: World War II
Burial/Memorial Location: Forest Hills Cemetery, Chattanooga, TN
Location In Memorial: Pillar X, Middle Panel
---
Image Gallery
Click a thumbnail below to view at full size.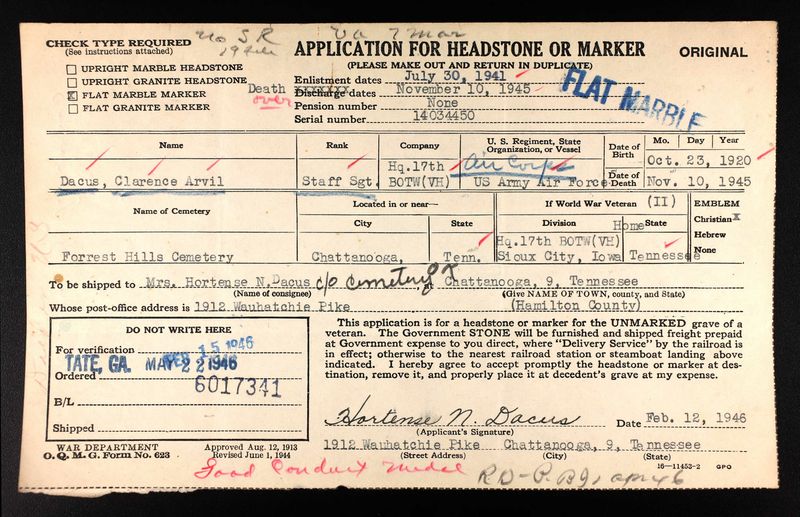 ---