1st Lieutenant Charles B. Franklin #O-789463, US Army Air Forces, was assigned to the 67th Bomber Squadron, 44th Bomb Group Heavy, flying as a Navigator on B-24's with serialnumber 41-23794, out of Shipdham, England in the air offensive against Nazi Europe. His B-24 was shot down on 15th of February 1943.
He is listed on the Tablets of the Missing, Cambridge American Cemetery, England.
44th Bomb Group Roll of Honor and Casualty by Will Lundy
15th February 1943, German Raider Togo, Dunkirk France:
The target for this hurried afternoon mission was a German Raider thought to be the Togo, which was found on the morning reconnaissance flight. It was thought that the ship was ready to slip out at any time to raid Allied shipping. Crews were hurriedly called and briefed, with 17 planes of the 44th BG soon airborne. they rendezvoused with aircraft of the 329th Squadron, 93rd BG, and were led by the 67th Squadron's Captain Cullen and the CO of the 67th Squadron, Major Donald W. MacDonald, as the formation's Command Pilot. Two aircraft were lost a third crash landed on the beach south of Ramsgate.
B-24D-H #41-23794 Q, MACR #16003,Boardwalk Flyer
Crew members
1Lt Rufas A Oliphant Jr., Pilot, South Carolina
2Lt Charles E. Wilkes, Co-pilot, Nashville Tenn
1Lt Charles B Franklin, Navigator, Carter County Tennessee. He is also listed as from Elizabeth, N.J.
2Lt Chales W. Bryant, Bombadier, Ohio
TSgt Clyde Littell, Engineer, Michigan
TSgt Harry B. Burns, Radio Oper., New Jersey
SSgt William E. Douthit. Gunner, Georgia
SSgt Richard E Frye, Gunner, California
SSgt Cecil D. Goddard, Asst Engineer, Georgia
Sgt Albert L Boutin, Gunner, Connecticut
Sgt Woodrow Lawley, Gunner, Alabama
Lt Oliphant's aircraft was damaged by Flak on the bomb run about 15h40. It was crippled, but kept flying.
The following comments were filed by Major H.M. Light:
The airplane that I was on did not get any major flak damage and the pilot, Lt John H. Diehl, spotted Lt Oliphant and slowed up for him, as well as another ship piloted by Capt. Thomas Cramer, who a few minutes later managed to crash land his on the British beach, Lt Oliphant was slowly losing altitude when coming off target. Then all of a sudden several FW-190's came out of the sun and started in on us. The sun blinded and hindered our gunners from firing. I operated my nose gun and only got about three burst at them. My Navigator, Lt George Kelly, only got of about the same number of shots with his side nose gun. The Jerries did a good job because they had us completly bewildered. On the first pass they got one of Cramer's engines on the second pass they got another one of his engines and set fire to one of Oliphant's. Then, on subsequent passes, the enemy fighters got a third engine on Cramer's and and another on Oliphant's. At about half way between France and England, whils still over the Channel, I noticed the engines afire on the left side of Oliphant's aircraft, and I also saw the nose of that ship filled with swirling flames. Then it looked like the fire swept back to the cockpit. Next thing I saw was the ship going down towards the sea. I did not see the plane strike the water, but our Tail Gunner, Sgt Milford Spears, stated over the interphone that the plane exploded as it hit the water. I did not see any chutes.

MS Togo was damaged, she was repaired and made a radar ship, survived the war, sinking in November 1984 off the coast of Mexico.
Rank: First Lieutenant
Date of death: 15 February 1943
County: Carter
Service Branch: Army/Army Air Forces
Division/Assignment: 67th Bomber Squadron, 44th Bomber Group, Heavy
Theater: Europe
Conflict: World War II
Awards: Air Medal, Purple Heart
Burial/Memorial Location: Cambridge American Cemetery, Cambridge, England
Location In Memorial: Pillar VII, Bottom Panel
---
Image Gallery
Click a thumbnail below to view at full size.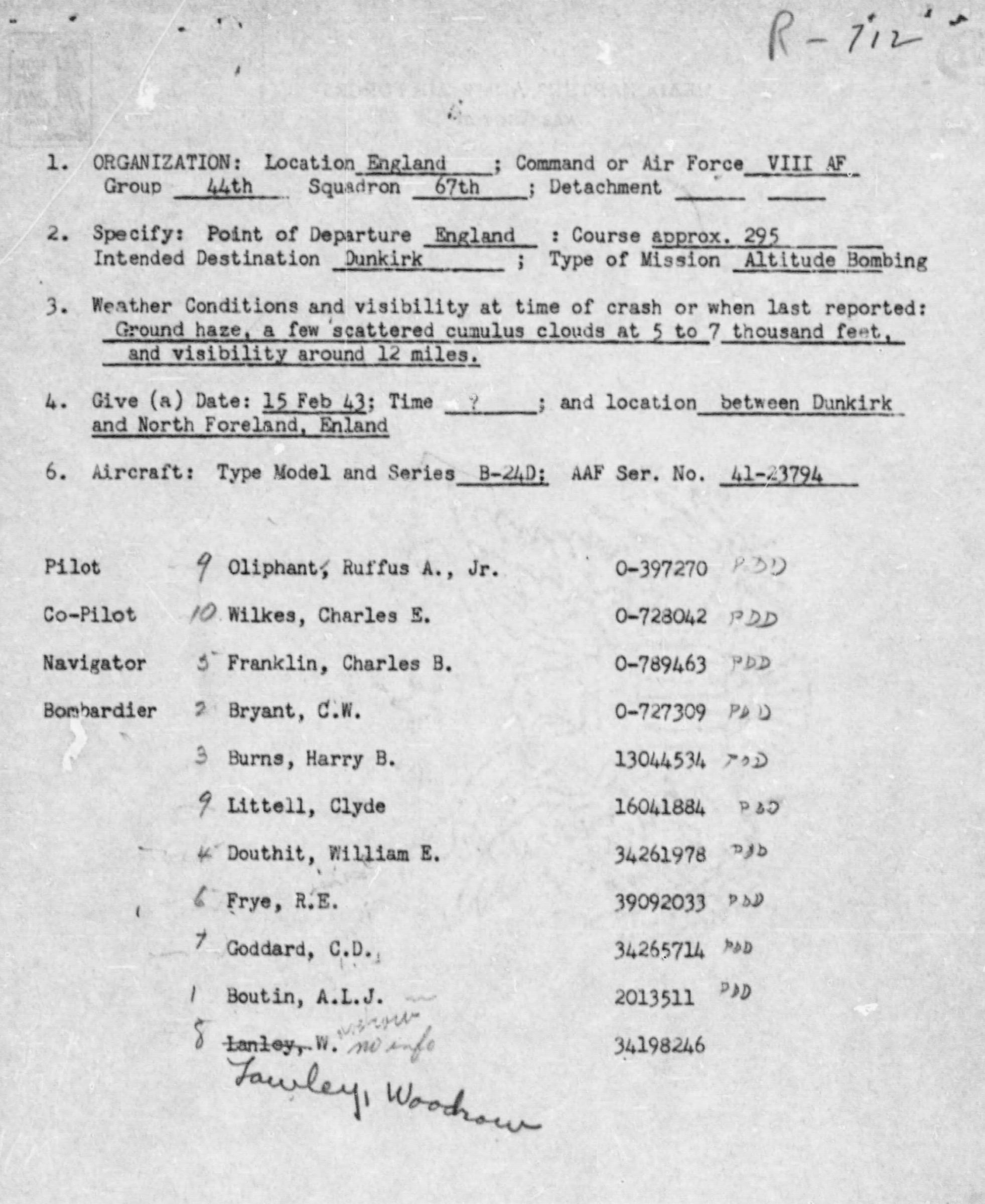 ---