Cecil Anson Coppock
27th Regiment 5th Marine Division
Cecil Coppock Body Due From Iwo Jima
The body of Pfc. Cecil A. Coppock, 19, of Millertown Road, 5, who was killed in the fierce Japanese assault at Iwo Jima. March 9, 1945, will arrive in Knoxville at 155 p.m. today over the L & N Railroad. It will be taken to Rose Mortuary pending funeral arrangements. Coppock formerly was an employee of the Southern Railway. He was a student at Central High School and well known in Knox County. Survivors include his parents, Mr. and Mrs. Conley Coppock brothers, Conley C. Jr., of Florence, Ala. David L. and Robert Samuel Coppock, Knoxville sisters, Mrs. Goldie Hawkins, Jefferson City, Mrs. Lelia Mannion of Panama Canal Zone Miss Marie Coppock, Atlanta, Ga. Miss Virginia Coppock, Knoxville grandmother, Mrs. R.S. Gammon of Detroit. – The Knoxville Journal, Friday, April 9, 1948
Coppock, PFC. Cecil A., 19, of Millertown Road, Route No. 5, died on Iwo Jima March 9, 1945. Before entering the Marines he was an employee of Southern Railway, student at Central High School. He was serving in the 5th Marine Division. Funeral services will be held at 2 p.m. Sunday at Rose Chapel. Rev. M.J. Smith officiating. American Legion Post No. 2 in charge of services at the grave. Interment in Lynnhurst Cemetery.
Rank: Private First Class
Date of birth:
3 October 1925
Date of death: 9 March 1945
County: Knox
Hometown: Knoxville
Service Branch: Marine Corps
Division/Assignment: 27th Marines, 5th Marine Division
Conflict: World War II
Burial/Memorial Location: Lynnhurst Cemetery, Knoxville, TN
Location In Memorial: Pillar VIII, Top Panel
---
Image Gallery
Click a thumbnail below to view at full size.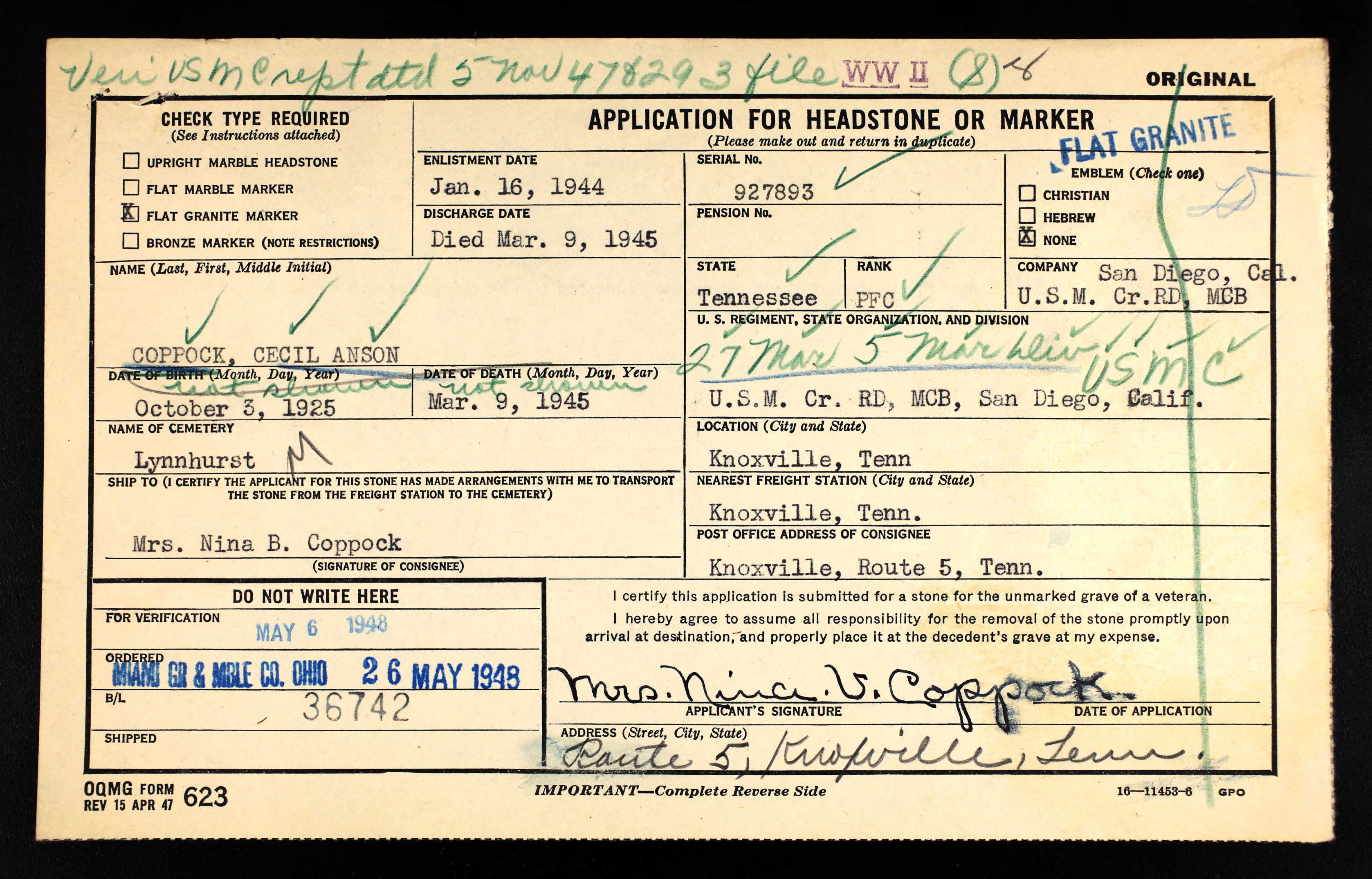 ---