Carl William Miller
Chief Gunners Mate Carl W. Miller served in the Pacific theater of the war aboard the USS Houston (CA-30). He was killed in action on March 1, 1942 in the Battle of Sunda Strait.
He was initially reported as missing in action and his death was officially declared on Saturday, December 15, 1945. He is memorialized at Manila American Cemetery in Fort Bonifacio, Manila, Philippines.
Parents: Mr. and Mrs. Luther Miller, Rt 1, Townsend, TN
Shipped aboard the Heavy Cruiser USS Houston CA-30. The Houston was assigned to the ABDA fleet and participated in the battle of Java Sea where most of the Allied fleet was sunk except the Houston and Cruiser HMAS Perth. Ordered to retire from the battle, the two cruisers complied. The next day the two cruisers reappeared and attacked the Japanese landing fleet in Banten Bay sinking and damaging several transports in a night action. Attempting to withdraw, the two cruisers found their retreat blocked. Perth was sunk at 23h36. The Houston then fought on alone against the superior Japanese Fleet. Receiving continuous shelling until she rolled over and sank sometime before 01h00 on 1 March 1942. It was 9 months before the ship's fate was known. And not until after the war that the details of the last battle learned from the Crew that had been POWs. Captain Rooks, Ship's Captain, received the Medal of Honor for this action, posthumously.
Rank: Chief Gunners Mate
Date of death: 1 March 1942
County: Blount
Hometown: Townsend
Service Branch: Navy
Division/Assignment: USS Houston (CA-30)
Theater: Pacific
Conflict: World War II
Awards: Purple Heart
Burial/Memorial Location: Manila American Cemetery, Fort Bonifacio, Manila, Philippines
Location In Memorial: Pillar VI, Bottom Panel
---
Image Gallery
Click a thumbnail below to view at full size.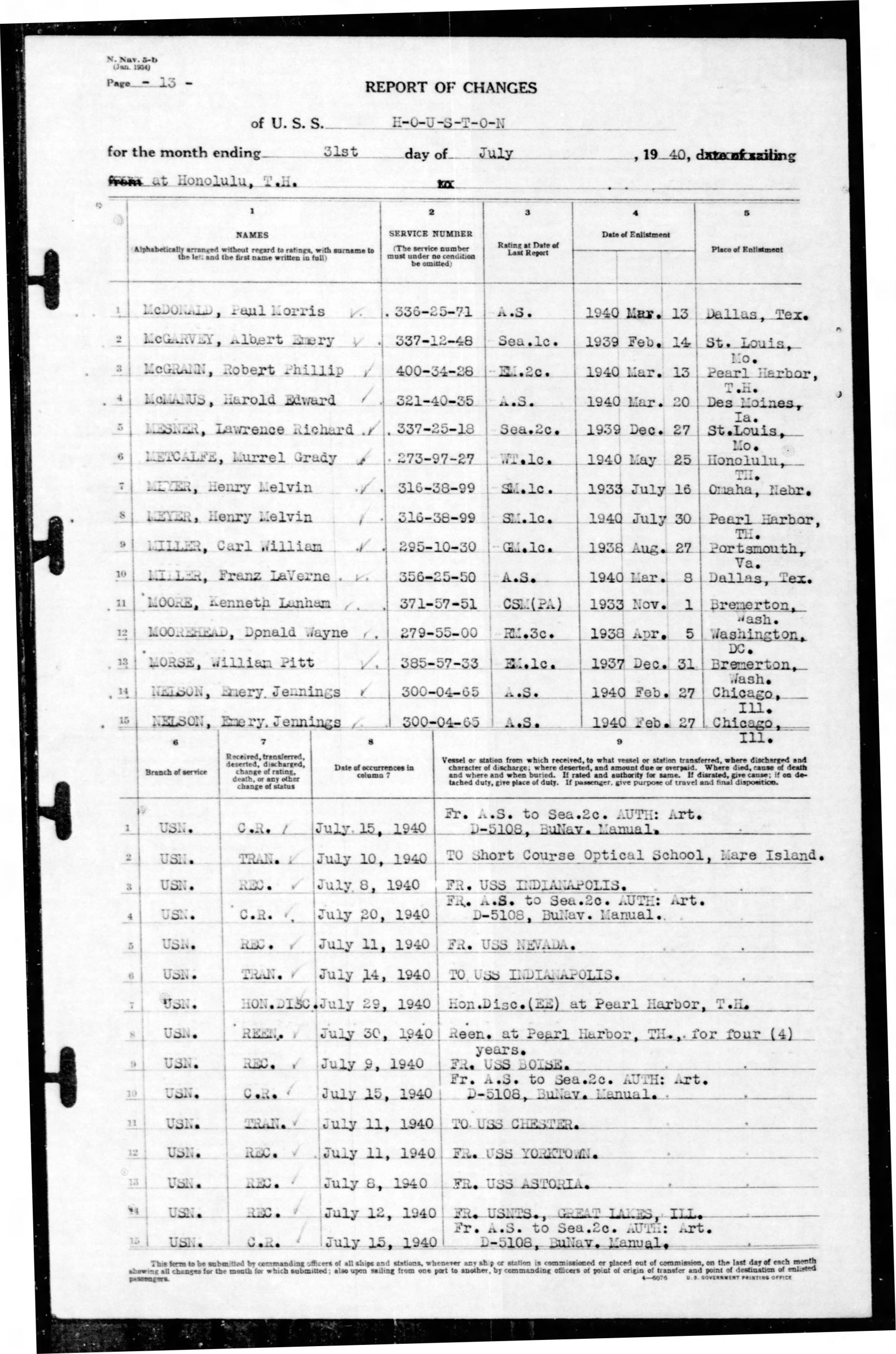 ---