Aircraft B-24D with serial number 42-72963 departed from APO #420 on a combat mission to the Marshall Islands.
Statement from Captain Jesse E. Stay:
The last time I saw Lt. Bechert's airplane, #42-72963, he followed me directly over the target in formation. We peeled off to make individual runs and to get a better view of the target. The conditions were semi-instrument so lost track of him. As we came back towards the target we saw Lt. Dechert on his bombing run. That was the last time I saw him. We circled the target, made our run and peeled down into the clouds. We had seen no Zeros in the air until we were on our last run. As we cleared the target we were attacked by five Zeros. We saw no Zeros attacking Lt Dechert as he made his run. Static interference on the Command Frequency was strong enough to make reception practically impossible.
Crew members
Pilot, 2nd Lt George R. Dechert
Co-Pilot, 2nd Lt Robert S. baker
Navigator, 2nd Lt William E. Barwick
Bombardier, 2nd Lt William G. Roy
Engineer, T/Sgt Eugene L. Snodgrass
Assistant Engineer, S/Sgt Robert E. Lipe
Radio Operator, T/Sgt Ralph J. Walbeck
Assistant Radio Operator, S/Sgt David L. Buckles
Armorer Gunner, S/Sgt Carl J. Anderson
Gunner, S/Sgt Willie T. Little
Staff Sergeant Anderson is memorialized at Honolulu.
Rank: Staff Sergeant
Date of death: 1 December 1943
County: Knox
Service Branch: Army/Army Air Forces
Division/Assignment: 42nd Bomber Squadron, 11th Bomber Group, Heavy
Theater: Pacific
Conflict: World War II
Awards: Air Medal, Purple Heart
Burial/Memorial Location: Honolulu Memorial, Honolulu, Hawaii
Location In Memorial: Pillar VIII, Top Panel
Sponsored by: John Griess
---
Image Gallery
Click a thumbnail below to view at full size.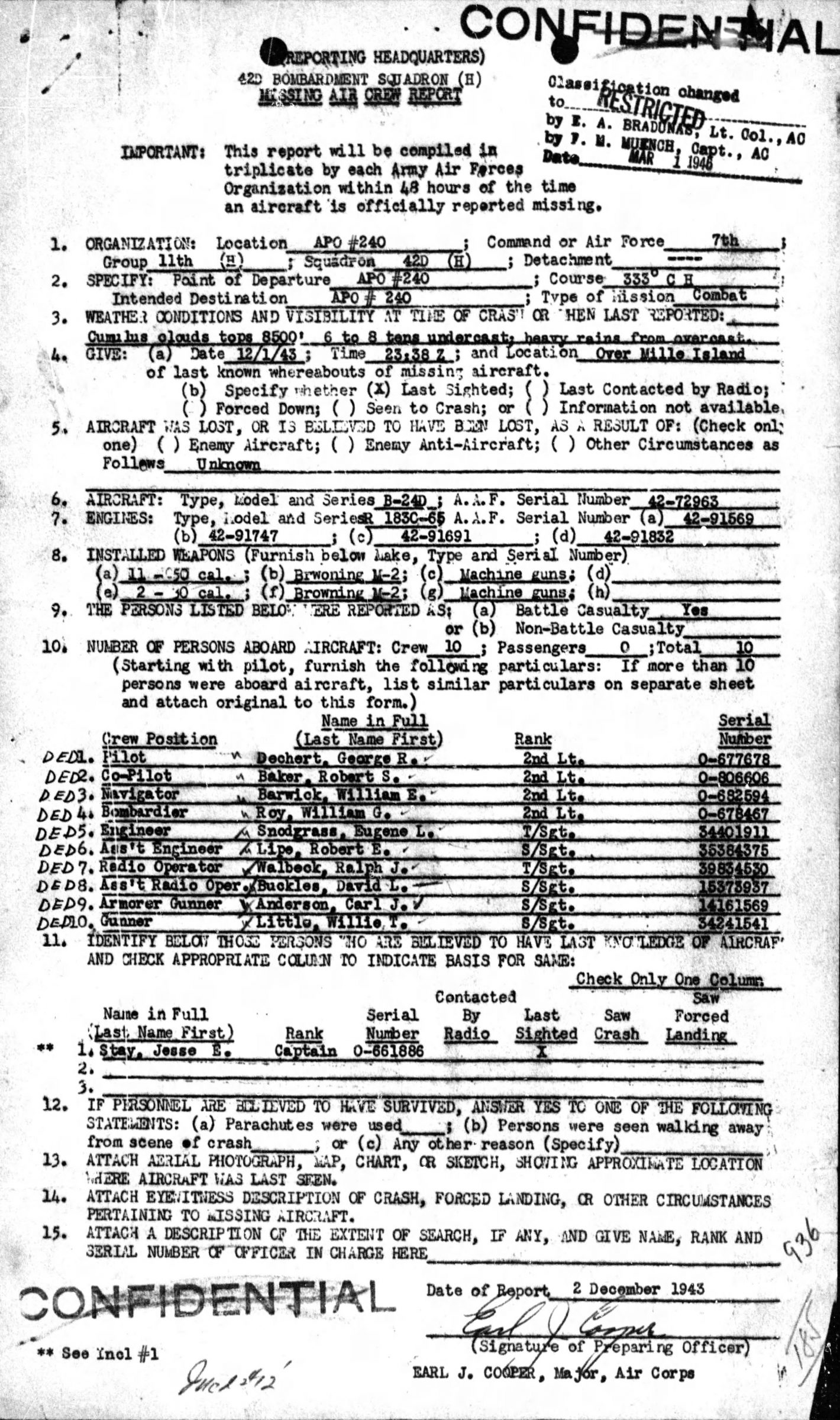 ---