Carl Hines Flynn served on the U.S.S. Stewart (DD224) and was transferred to the U.S.S. Pillsbury on 22 February 1942. He was officially declared dead on 25 November 1945 and is memorialized at Manila American Cemetery.
Brother: Mr. James C. Flynn, Sevierville, TN
There are no logs or battle reports giving the details of the action in which Pillsbury, Asheville (PG 21) and Edsall (DD 219) were sunk between the 1st and 4th of March 1942. A powerful force of Japanese ships was operating to the south of Java to prevent the escape of Allied ships from that area. The Japanese force consisted of four battleships, five cruisers, aircraft carrier Soryu and the destroyers of Destroyer Squadron 4.
Interrogation of officers of the Japanese Task Forces at the time garnered the following information. In a night surface action, Pillsbury and Asheville were sunk by "teamwork" firing of three cruisers of Cruiser Division 4 and two destroyers of Destroyer Squadron 4 in Bali Strait, Netherlands East Indies. Edsall was sunk by gunfire of four battleships of the 3d Battleship Squadron, two cruisers of Cruiser Division 8 and two bombers from Soryu.
All three sinkings took place approximately 200 miles east of Christmas Island. After sinking the three U.S. ships, the Japanese forces retired from the scene hastily.
Rank: Watertender Second Class
Date of death: 1 March 1942
County: Sevier
Hometown: Sevierville
Service Branch: Navy
Theater: USS Pillsbury
Conflict: World War II
Awards: Purple Heart
Burial/Memorial Location: Manila American Cemetery, Fort Bonifacio, Manila, Philippines
Location In Memorial: Pillar XVII, Bottom Panel
---
Image Gallery
Click a thumbnail below to view at full size.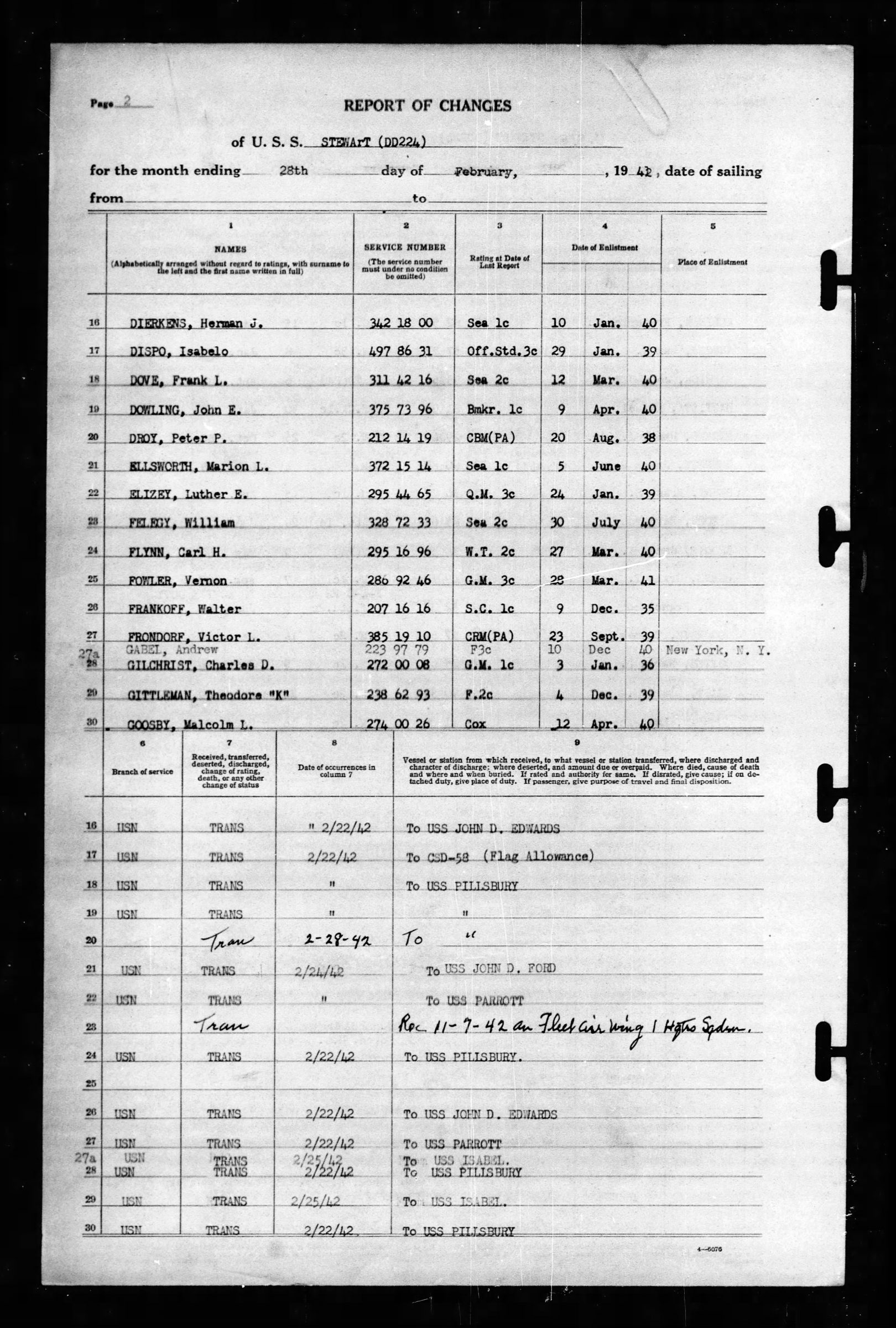 ---