Calvin Ray Johnson
Born 18 May 1934
Died 15 October 1956
Buried at Hillcrest Cemetery, Cleveland, TN
Seaman, US Navy
Served on the U.S.S. Bayfield
Dixon Evening Telegraph (Illinois), 15 March 1952
19 Crewmen treated for Diphtheria
Honolulu, – Nineteen crewman from the transport USS Bayfield were hospitalized as navy medical experts today continued their battle against an apparent outbreak of diphtheria.
Navy doctors said seven of the 19 definitely have diphtheria, and that the other may have.
Tripler General hospital, where the men are under treatment, said it has not positively diagnosed the illness as diphtheria. Culture and laboratory tests will be completed tomorrow, the hospital said.
Navy physicians said Seaman Calvin R. Johnson of Cleveland, Tenn., has developed pneumonia in addition to diphtheria and is in very serious condition.
The Bayfield and its 360 crewmen are in strict quarantine here. The Japan-bound transport, which was carrying no troops, was directed to dock at Honolulu after radioing that several men apparently had diphtheria. All members of the crew were inoculated late Wednesday after an air force plane parachuted anti-toxin to the ship at sea.
My brother Calvin Ray Johnson, USN was on the USS Bayfield heading for Japan in the Spring of 1952 when there was an epidemic aboard the ship, and they were forced to return to Hawaii. The first diagnosis was diphtheria with a possible case of scarlet fever, and the ship was put in quarantine for several weeks. Later my family was notified that it was sleeping sickness. My brother was in a coma for six weeks and never regained use of motor skills, but his brain function was excellent. The corpsman assigned to care for him also was stricken but later was able to return to duty. In May of 1952 Ray was moved to Oak Knoll Hospital in Oakland, California and remained there until November of 1952. He was transferred to a Veterans Hospital in Tuscaloosa, Alabama where he remained until June of 1954 when my parents along with the military decided to move him home, since he was strictly a nursing patient. He lived for two years and is buried at the Hillcrest Cemetery in Cleveland, TN. Although he was never able to walk or talk, he was an inspiration to all who knew him, and the twinkle in his beautiful blue eyes never dimmed. The US Navy and the Veterans Affairs were wonderful during this ordeal, and we were always grateful to the late Estes Kefauver for the assistance he gave my parents. There is a Korean War Memorial on the lawn of the Bradley County Courthouse in Cleveland, TN and his name is inscribed on it.
-Submitted by Martha Jeffries
Rank: Seaman
Date of birth:
18 May 1934
Date of death: 15 October 1956
County: Bradley
Hometown: Cleveland
Service Branch: Navy
Division/Assignment: USS Bayfield
Conflict: Korean War
Burial/Memorial Location: Hillcrest Cemetery, Cleveland, TN
Location In Memorial: Pillar XX, Top Panel
---
Image Gallery
Click a thumbnail below to view at full size.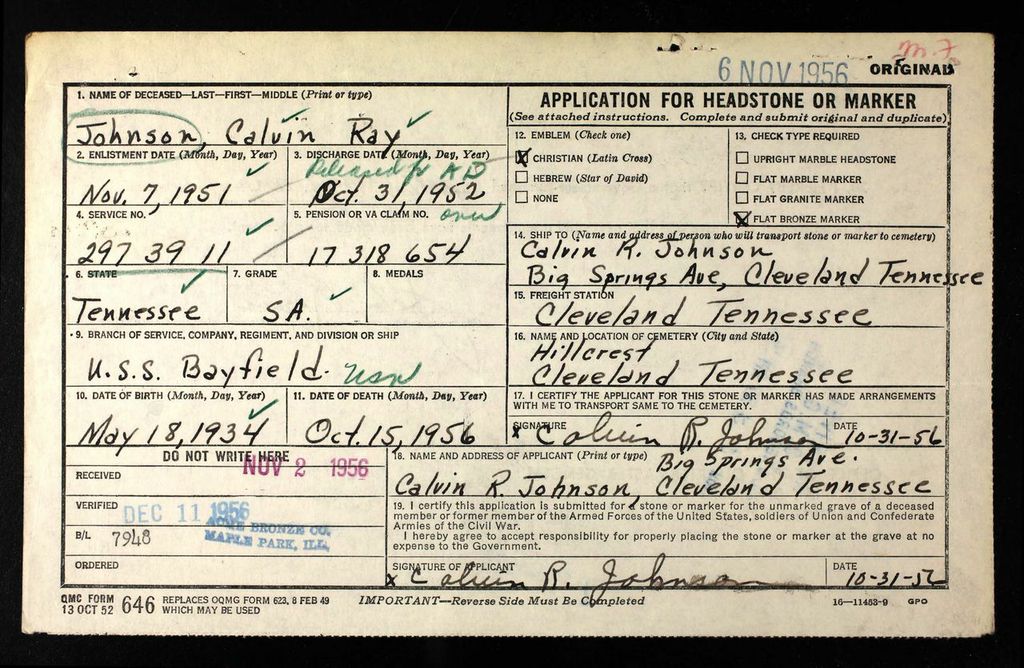 ---