SSgt. Calvin Fielder was born on October 25, 1931, and was originally from Chattanooga, Tennessee. He served his country in the Vietnam War as a 16-year veteran of the United States Army in 173RD AHC, 11TH CAB, 1 AVN BDE. His tour in Vietnam began on December 23, 1965. On November 19, 1968, SSgt. Fielder was killed in a helicopter crash over Tay Ninh, South Vietnam, at the age of 37. He is memorialized on the Vietnam Veterans Memorial on Panel 38W, Line 10. The following is a tribute to SSgt. Fielder:
MaryRita Cooper
Calvin worked at my parents' little Mom & Pop grocery store when he was in high school. He used to help take care of me when I was a toddler. And he died trying to help take care of us all.
Sep 23, 2008
SSgt Fielder was flying as a passenger in a 173rd UH-1 helicopter on that fateful morning. He was going on R & R to Japan and was dressed in a Class A uniform. I was a Crew Engineer in the 173rd Assault Helicopter Company. The last time I saw him we were taking off from Lai Khe Airfield. Sergeant Fielder was boarding his aircraft to depart for a vacation. He was in 173rd's Maintenance Platoon, thus the irony that the aircraft he was flying on suffered a mechanical failure resulting in the crash that took his life.
You were a fine man, Sergeant Fielder, my mentor, my friend and my brother-in-arms I will never forget you. May God rest your soul.
-Submitted by John C. Jackson, MSG ret, US Army
SSGT Calvin Fielder, DOB Oct 25, 1931, serial number RA14456986, From Chattanooga, Tennessee, killed in a helicopter crash on Nov 19th, 1968. Crash was due to a hanger bearing failure causing lost tail rotor control. He, and I, were assigned to the 173rd Assault Helicopter Company, 11th Battalion, 1ST Aviation Brigade, Lai Khe Airfield. Rep. of So. Vietnam.
My best friend and mentor back in 1968 was Calvin Fielder. I never called him anything, but Sargent Fielder as he was an E6, SSGT, so no idea if his friends called him "Cal" or something? I was 20; he was in his mid-thirties, pushing 40. I think he had just turned 37 when he died. He was on his 3rd tour in Vietnam. We were in 3 Corps, at Lai Khe Airfield. I know he got the Air Medal with 2 Oakleaf clusters which is like getting the medal a second and third time. I think he also had a Bronze Star. He had a girlfriend in Japan he planned to marry. He was a stickler for detail and I saw him inspecting the aircraft he was goin to be flying on, a UH-1D helicopter. As I flew by for our morning sorties. He was in a CIass A uniform which was tan in color. He felt the quality of maintenance was low so he was going be sure the aircraft he flew on was o.k. I laughed as I saw him checking the hanger bearing that support the tail rotor driveshaft.
I remember going to the Mess Hall at noon when we got back. Someone asked, "Did we have a ship down today?" His buddy said "Ya, Sgt Fielder was killed. It was due to a hanger bearing failure." That was Nov 19th, 1868. That memory haunts me horribly. I also know he is on the Viet Nam Memorial Wall but no idea where. I thought that it was nice that we listed him Vietnam Memorial Wall6 because I saw the accident report and he was listed as a "Pac," or passenger of the downed aircraft. So, he didn't die fighting the enemy but, on a trip, to see his girlfriend in Japan. No one but me knows this.
I loved Sgt. Fielder. He mentored me, gave me sound advice and was my best friend. He was a black guy and I remember him saying in southern drawl, "Let's go look at this raggedy-assed helicopter" that we were working on together.
John C Jackson, Spec5, MSG, US Army, US Air Force(ret)
Rank: Staff Sergeant
Date of birth:
25 October 1931
Date of death: 19 November 1968
County: Hamilton
Hometown: Chattanooga
Service Branch: Army
Division/Assignment: 173rd Aviation Company
Conflict: Vietnam
Burial/Memorial Location: Chattanooga National Cemetery, Chattanooga, TN
Location In Memorial: Pillar XXII, Bottom Panel
---
Image Gallery
Click a thumbnail below to view at full size.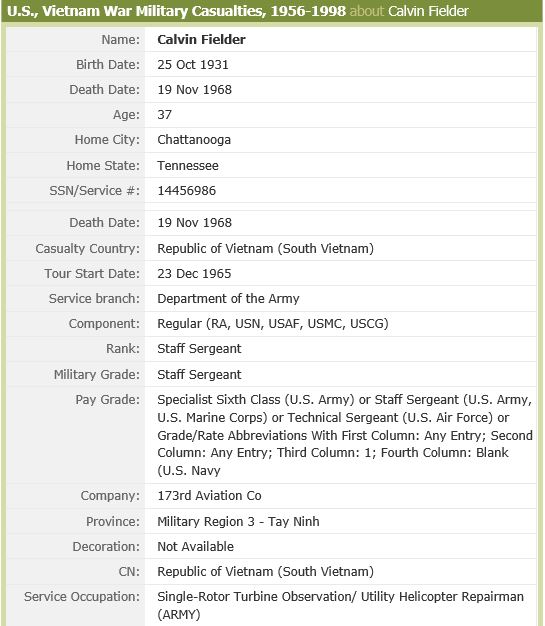 ---