PFC Bruce Ellis Armstrong was born on October 16, 1948, in Chattanooga, Tennessee. PFC Armstrong served his country in Vietnam with D Company, 3rd Battalion, 1st Infantry, 11th Infantry Brigade in the United States Army. His tour of duty began on July 19, 1969. PFC Armstrong served in Vietnam for slightly under eight months when he was critically wounded amid hostile action in Quang Ngai province, South Vietnam, on April 1, 1970, and passed away 11 days later on April 12, 1970, at the age of 21. PFC Armstrong is buried at Chattanooga National Cemetery in Chattanooga, Tennessee, and is memorialized on the Vietnam Veterans Memorial on Panel 12W, Line 126. The following are tributes made to PFC Armstrong:
S. Brown
Chattanooga, TN
Bruce, it's been so many years since I saw your smiling face, but you are not forgotten, I remember our days in school, you were just a happy carefree kid, then you stood up and became a man when you went away to war. You paid the ultimate sacrifice and you will alway be our hero. We love you and miss you, but you will always be in our hearts. The guys and girls of Riverside High.
Saturday, April 13, 2002
Bruce or Butch as we called him back then was a wonderful person…. Big, strong guy with a heart of gold. Always looked out for the smaller guys in the neighborhood. I will never forget you man.
Dwight A. Aker
Bruce and I came into Vietnam together and were a signed to Delta company, 3 of the 1st. When we left Chu Lie for the field, Bruce wanted to carry an M60 and I became an RTO. I went to 5he rear in March to become a member of the American Div band. It was on that fateful day that " Big Jack" found me and let me know that "Strongarm" (as he was known to his brothers) had been wounded and was in serious condition. I have not stopped crying since.
–Submitted by Henry Chester
Bruce and I came in country (vietnam) together. After a little refresher, we were a signed to the same unit. Bruce was bold and wanted to carry the M60 and he did so with confidence. Our batallion was located in the northern part of south Vietnam. The mounteness train was no plant place. I once heard that seeking the nav was lick searching for ghost. It was. I was the batallion radio operator and got a rear assignment the month before Bruce was fatally injured. I still shed tears 49 years later when I I think about brother "Strongarm".
–Submitted also by Henry Chester
Picture from Chattanooga State Technical Institute Yearbook, 1968
Rank: Private First Class
Date of birth:
16 October 1948
Date of death: 12 April 1970
County: Hamilton
Hometown: Chattanooga
Service Branch: Army
Division/Assignment: 1st Infantry Division
Conflict: Vietnam
Awards: Purple Heart
Burial/Memorial Location: Chattanooga National Cemetery, Chattanooga, TN
Location In Memorial: Pillar XXIII, Top Panel
---
Image Gallery
Click a thumbnail below to view at full size.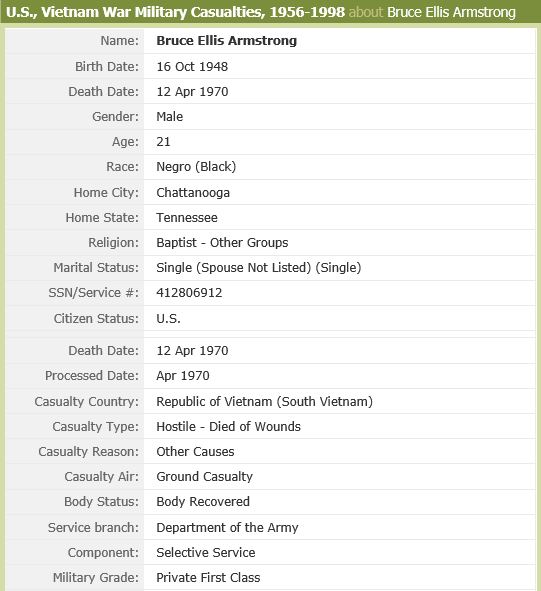 ---