-Company B Battery, 77th Artillery Regiment, 1st Battalion, 1st Cavalry Division
-Length of Service: 16 years
-His tour began on February 6, 1970
-Died at the age of 40 in Tay Ninh, South Vietnam
-Cause of Death: Hostile, Ground Casualty, Artillery, Rocket, or Mortar
-Married
-Buried at Fort Sill Post Cemetery in Oklahoma on April 13, 1970 (Section V, Site 2744)
-During the period immediately prior to the Cambodian incursion US and ARVN units conducted extensive operations along the South Vietnam and Cambodian border. During March and April of 1970 the 2nd Battalion, 8th Cavalry opened and closed seven fire bases to support these operations. Fire Base Illingworth, located on Route LTL-20 about 35 kilometers northwest of Tay Ninh City, was opened on 17 March, assaulted by a battalion of the 272nd NVA Regiment in the early morning hours of 01 April, and closed on 04 April as the focus of US operations shifted.
While the assault on FSB Illingworth cost the North Vietnamese nearly two hundred dead, the Americans paid a high price too – 25 known dead, 54 wounded. Benjamin V. Childress was one of five members of the B Battery, 1st Battalion, 77th Artillery to die in the assault on Fire Base Illingworth.
Photo from; http://www.honorstates.org
Rank: Staff Sergeant
Date of birth:
10 March 1930
Date of death: 1 April 1970
County: Knox
Hometown: Knoxville
Service Branch: Army
Division/Assignment: 77th Artillery Regiment, 1st Cavalry Division
Conflict: Vietnam
Awards: Bronze Star, Air Medal, Purple Heart
Burial/Memorial Location: Fort Sill Post Cemetery, Fort Sill, Oklahoma
Location In Memorial: Pillar XXIII, Middle Panel
---
Image Gallery
Click a thumbnail below to view at full size.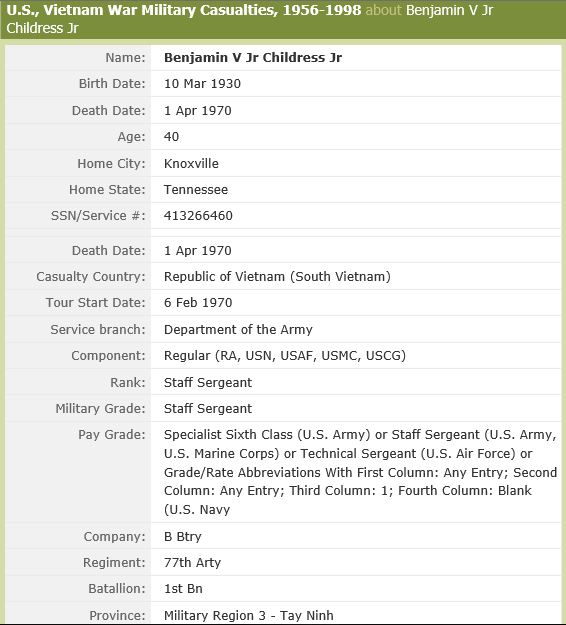 ---