Sergeant Keeton was a member of Company D, 1st Battalion, 32nd Infantry Regiment, 7th Infantry Division. He was listed as Missing in Action while fighting the enemy in North Korea on December 2, 1950. He was presumed dead on December 31, 1953. His remains were not recovered. His name is inscribed on the Courts of the Missing at the Honolulu Memorial.
Sergeant Keeton was perhaps a victim of one of the grimmest and saddest incidents in modern US Army history, the destruction of Task Force Faith in early December 1950. This task force was the right-side "bookend" (the 1st Marine Division was the "left bookend") to the fighting at the Chosin Reservoir in late 1950. The long-lost remains of its CO, LTC Don Faith, were found 2013.  See this story for more info.
Update:  as of June 2016, the remains of Sergeant Keeton have been found and identified.  See the story.
From the Knoxville News Sentinel, June 24, 2016:
"Home after 66 years"
Sgt. Keeton, 'one of Scott County's own,' died in Korea By Mike Blackerby
East Tennessee offered a loving embrace and a long overdue welcome home on Thursday as the remains of Army Sgt. Bailey Keeton Jr. were returned to his native Scott County. "He was only 17 when he left here to go into the military, and we never saw him again," said his brother, Ron. "He never came home."
It took 66 years, but Keeton finally found his way back home as his remains arrived in a casket draped in an American flag just before noon at McGhee Tyson Airport.
Keeton was reported missing in action on Dec. 2, 1950, near the Chosin Reservoir in North Korea. "They were overrun by the Chinese, and when they retreated he was not accounted for," his brother said. In 1953, Keeton was listed as killed in action. His remains were among those of nine soldiers found in 2004.
Keeton's remains were identified last year after he was originally declared missing in action on Dec. 2, 1950, during the Battle of Chosin Reservoir in the Korean War, the area where Keeton was last seen.
After years of forensic work that included DNA samples taken from Keeton's younger brother and sister, the missing GI's identity was recently confirmed.
Airport officials and those waiting in Scott County rolled out the red carpet for Keeton, who was awarded the Purple Heart and various other medals.
"He is one of Scott County's own and has been gone for 66 years," said David Wa lker of West-Murley Funeral Home in Oneida, Tenn.
Walker rode along in the black hearse that took the remains of Keeton on the final leg of his journey — the 65 miles from the airport to the funeral home in Oneida.
Full military protocols were in effect as an honor guard removed Keeton's casket from the plane and loaded it into the hearse.
A phalanx of military personnel saluted as the hearse carrying Keeton passed.
There were also escorts by police and the Patriot Guard Riders as the procession started toward Scott County.
"His coming back home has generated a tremendous amount of pride and interest in Scott County," Walker said. "This has touched Scott Countians like nothing else in many, many years."
Walker said businesses in Scott County posted messages on their marquees welcoming Keeton home. Walker also expected roadside crowds to gather as the hearse neared Scott County.
Services, which will be open to the public, will be at 12:30 p.m. Saturday in the chapel of the funeral home on Alberta Street in Oneida.
The Keeton family will receive friends 10:30 a.m. Saturday until the funeral. Burial will be at 2 p.m. in the Hazel Valley Memorial Cemetery on Verdun Road.
"I anticipate attendance will be phenomenal," Walker said. "We're preparing for about 200 people (at the burial) on Saturday. That's not counting the people coming to visitation to pay their respects."
Ron Keeton said it's a final farewell he thought he'd never get to give his brother in person.
"He's coming out of a bitterly cold and unfriendly environment, to an environment that is warm and friendly," the brother said. "It's a good feeling. Even if it has been 66 years, it feels like he's coming home."
Rank: Sergeant
Date of birth:
21 April 1930
Date of death: 2 December 1950
County: Scott
Service Branch: Army
Division/Assignment: 32nd Infantry Regiment, 7th Infantry Division
Conflict: Korean War
Awards: Purple Heart, Combat Infantrymans Badge, Korean Service Medal, United Nations Service Medal, National Defense Service Medal, Korean Presidential Unit Citation, and Republic of Korea War Service Medal
Burial/Memorial Location: Hazel Valley Memorial Cemetery
Location In Memorial: Pillar XXI, Middle Panel
---
Image Gallery
Click a thumbnail below to view at full size.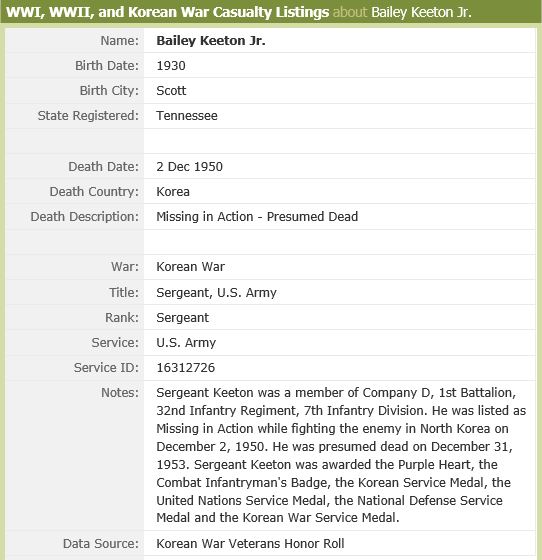 ---