Born 15 March 1923
Died non Battle 16 November 1943
Buried at Valley View Cemetery, Elk Valley, TN
Sergeant
752nd Bomber Squadron, 458th Bomber Group
Sgt Long was the Top Turret Gunner and Engineer on board aircraft B-24 with serial number 41-28577. He died during a training accident.
Crew members
Pilot, 2nd Lt Sigmund B. Hons
2nd Lt Eugene J. Austenfeld
2nd Lt James B. Fahey
2nd Lt William Y. Ingalls
Sgt Charles A. Nichols
Sgt Arlie Long
Sgt Eugene W. Randall
Sgt Warren H. Buicke
Sgt Charles H. Shephard
Rank: Sergeant
Date of birth:
15 March 1923
Date of death: 16 November 1943
County: Campbell
Service Branch: Army/Army Air Forces
Division/Assignment: 752nd Bomber Squadron, 458th Bomber Group
Conflict: World War II
Burial/Memorial Location: Valley View Cemetery, Elk Valley, Campbell County, TN
Location In Memorial: Pillar VII, Middle Panel
---
Image Gallery
Click a thumbnail below to view at full size.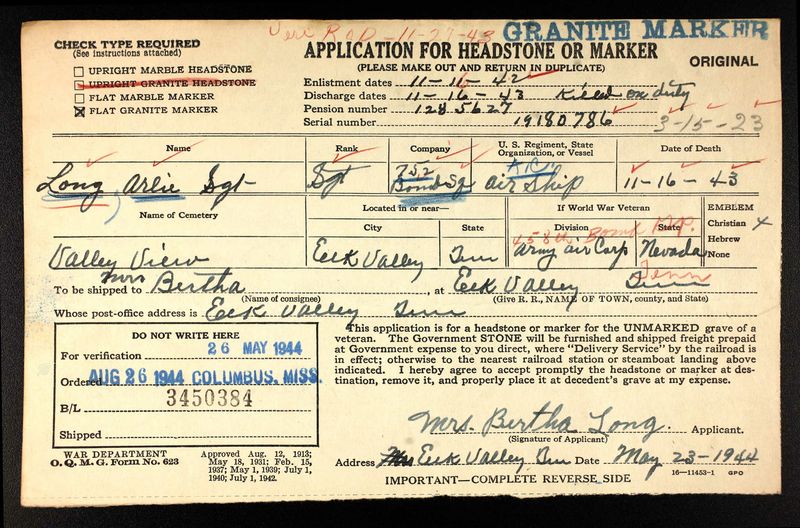 ---