Alvin Klason Broyles Jr. was an ROTC graduate of East Tennessee State University. When he died in viet, he held the rank of Captain in the Army.
Ground casualty; gun or small arms fire
He was the son of Alvin Klason "Chalkie" Broyles, Senior and Ruth Marie Copp. He was married to Marjorie Blanche "Margie" Creech and they had three children.
Capt. Broyles was born in Limestone in 1934. A 1952 graduate of Science Hill High School where he was a member of the Junior ROTC, Broyles attended East Tennessee State College and was an ROTC Cadet. Broyles entered the Army Reserves in 1954 as a Second Lieutenant and Armor Officer. Following graduation from ETSC, he was commissioned a Second Lieutenant in the Army as an Infantry Officer and later promoted to First Lieutenant, then Captain. Following training and service throughout the U.S. and Germany, Capt. Broyles completed the U.S. Army Ranger Course and the Defense Language Institute's Foreign Language Center, learning French to prepare for volunteer duty in Vietnam. In 1965, Capt. Boyles was dispatched as a Military Advisor to the Army of the Republic of Vietnam where he helped train, assist, and advise a regiment of the ARVN. He was selected Outstanding Advisor in the Field and in 1965 was killed in action by small arms fire in Vinh Long Province at age 30. Broyles was Washington County's first service member to give his life in Vietnam. He was awarded the Silver Star, Soldier's Medal, Bronze Star Medal, Purple Heart Medal, National Defense Service Medal, Vietnam Service Medal and Vietnam Campaign Medal, as well as the Combat Infantryman's Badge.
Rank: Captain
Date of birth:
8 August 1934
Date of death: 28 April 1965
County: Washington
Hometown: Johnson City
Service Branch: Army
Division/Assignment: SD-5891, HQ, MACV ADVISORS, MACV
Conflict: Vietnam
Awards: Silver Star, Soldier's Medal, Bronze Star, Purple Heart, National Defense Service Medal, Vietnam Service Medal, Vietnam Campaign Medal, Combat Infantryman's Badge
Burial/Memorial Location: Monte Vista Memorial Park, Johnson City, Washington County, TN
Location In Memorial: Pillar XXIV, Middle Panel
---
Image Gallery
Click a thumbnail below to view at full size.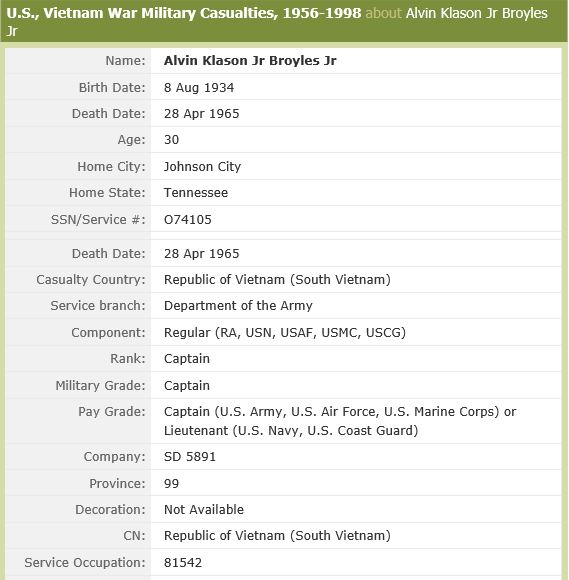 ---