Flight Officer Almer Lister was the pilot of aircraft P-51D20 with serialnumber 44-63381. He departed from Iwo Jima on a fighter sweep mission to Kasumigaera, Japan.
Statement from 1st Lt Louis C. Gelbrich, Air Corps:
While returning from a strike against the Japanese Empire on 5 August 1945, Flight Officer Almer D. Lister was forced to bail out of his airplane. At 1620, I watched him parachute down, approximately 300 miles north of Iwo Jima. I did not see him hit the water, but located him in the water, still in his chute. I made three passes over him, seeing him every time, still in his chute. On the fourth pass I was unable to locate him. I continued to circle over the area he was in, but could not locate him. I was sent home and Pearl flight, having plenty of gas, continued the search.
F/O Lister is commemorated at Honolulu Memorial, Honolulu, Hawaii
Rank: Flight Officer
Date of death: 5 August 1945
County: Knox
Service Branch: Army/Army Air Forces
Division/Assignment: 46th Fighter Squadron, 21st Fighter Group
Theater: Pacific
Conflict: World War II
Awards: Air Medal with Oak Leaf Cluster, Purple Heart
Burial/Memorial Location: Honolulu Memorial, Honolulu, Hawaii
Location In Memorial: Pillar VIII, Middle Panel
---
Image Gallery
Click a thumbnail below to view at full size.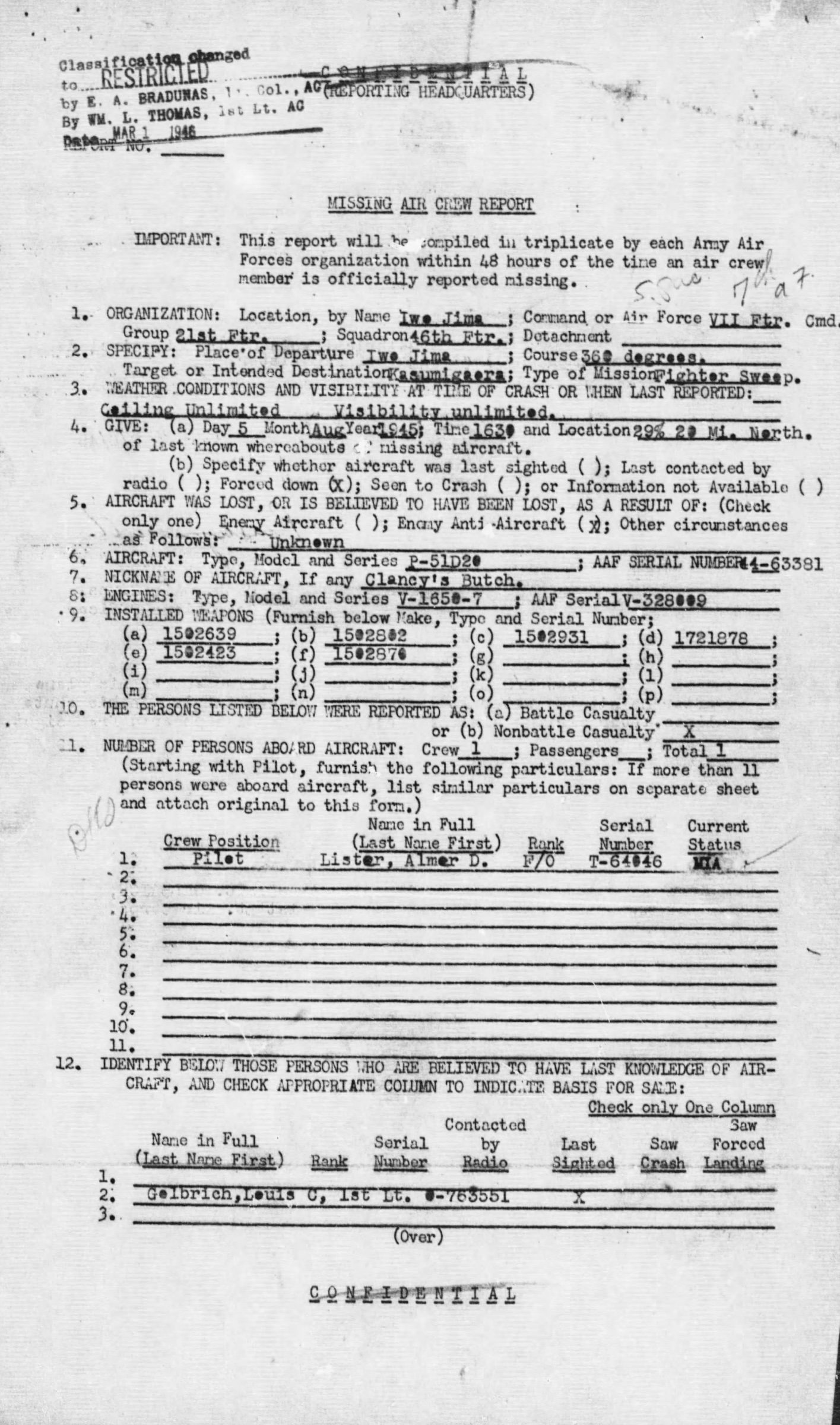 ---