First Lieutenant Allan Shields Bettis was the pilot of a F-51D Mustang night fighter with the 12th Fighter Bomber Squadron, 18th Fighter Bomber Group. On April 13, 1952, while on a combat mission, after making a run on a target, his aircraft crashed. He is listed as Missing in Action and was presumed dead on December 31, 1953. The following is an account from the pages of the 18th Fighter Bomber Wing Roll of Honor.
Bettis, 1st Lt. Allan Shields – 12th Fighter Bomber Squadron pilot Killed In Action in April 1952. Lt. Col. Joseph T. Crane, Jr., USAF, CO of the 12th FBS wrote to Lt. Bettis' family on 15 April 1952, "I know that you are terribly upset and in an effort to relieve some of the uncertainty and anguish I will attempt to reconstruct as well as possible the events leading up to Al's accident. Al departed K-46 Air Base in Korea at 1645 on April 13, 1952, with a flight of four aircraft. Their mission was to bomb rail lines 6 miles Southeast of Chongju on the Northwest coast of North Korea. The flight to the target was uneventful and the dive bomb run was started. From pilot reports Al's aircraft was seen, apparently hit by anti-aircraft fire and out of control. The aircraft was observed to crash with no evidence of parachute. The pilots with him immediately searched the adjoining area of the crash but no signs of life were observed. Another account written on 14 April 1953, by Major General John H. McCormack, USAF, Director of Military Personnel, noted, "The review just completed concerning your son discloses that he was a member of a four plane flight of F-51 aircraft which departed Hoengsong Airdome, Korea, on 13 April 1952, for a rail cutting mission in the vicinity of Chongju, North Korea. The flight arrived over the target without incident and began the attack. Lieutenant Bettis' plane was seen as he started his bombing pass, but continuous observation of his F-51 was not maintained because of the prevailing conditions. As the flight leader pulled up from his pass, he noticed your son's aircraft in an inverted spin at an altitude of 5000 feet. He immediately radioed Lieutenant Bettis to bail out but received no response. The F-51D momentarily appeared to be under control but upon descending to 2000 feet, it began spinning again and crashed to the ground, exploding upon impact. An aerial search of the crash area by the accompanying pilots failed to find any trace of your son or his parachute and to date no further information has been received which might clarify his status." Another account specified Major Bruce R. Clark as the group leader that day.
His name is inscribed on the Courts of the Missing at the Honolulu Memorial.
See MIA listing:  http://www.dtic.mil/dpmo/korea/reports/documents/pmkor_una_usaf.pdf
Rank: First Lieutenant
Date of birth:
10 November 1929
Date of death: 13 April 1952
County: Jefferson
Service Branch: Air Force
Division/Assignment: 12th Fighter Bomber Squadron, 18th Fighter Bomber
Conflict: Korean War
Awards: Purple Heart, Air Medal, Korean Service Medal, United Nations Service Medal, National Defense Service Medal, Korean Presidential Unit Citation, and Republic of Korea War Service Medal
Burial/Memorial Location: Honolulu Memorial, Honolulu, Hawaii
Location In Memorial: Pillar XX, Bottom Panel
---
Image Gallery
Click a thumbnail below to view at full size.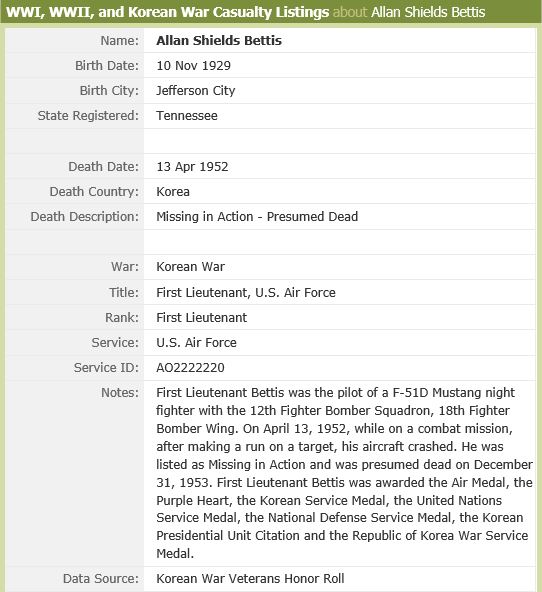 ---